No, smarty pants, it's not a typo.
I'm not talking about meta as it's used around here to denote talk about dK by dK.

I'm talking about mettā--the Buhddist understanding of unconditioned loving-kindness, compassion for all sentient beings. Before you non-DFHs click the hell out of here, here's a lotus blossom, offered in the spirit of mettā. Please stay.

As progressives, Democrats, leftists of all stripes, what really brings us together more than the idea that peace, justice, and equality are the only worthy goals? We may have various conceptions of these grand words and ideas and how to achieve them, but ultimately we all believe in the possibility of a just and peaceful world.
It's discouraging to live in a world that daily witnesses the proliferation of violence. The wasteland grows. At the same time, world daily astonishes us with advancements in science and technology, explosions of creativity and innovation of every sort and on every register of being. Why should peace and justice be out of reach? Our greatest challenges for all these years that humans have inhabited Earth.
It's particularly discouraging when we witness all kinds of infighting on the left, here, there, everywhere. Yes, I agree whole-heartedly that spirited discussion is good for discernment and hashing out ideas. But does it have to be accompanied by personal vitriol?
What would it be like to argue with someone against a mettā backdrop, a stage of unconditioned loving-kindness and compassion, as the foundation and support even for those in heated argument. Can we engage in conflict in the cradle of compassion? What would that be like?
Anyway, that's what I've been thinking about lately. One teacher suggests to start the circle of mettā close to home, where it may come more naturally, gradually extending the circle of loving-kindness moving outward to what and who resists most the soft touch of your compassion. This is the work of a lifetime. The perfect elegance of simplicity and challenge combined.
Maybe going mettā is a good way of going meta.
For the Buhddist monks of Burma, part of their political protest was to gather together and chant the Metta Sutta (You can listen here--just scroll down to mettā chant). Its power is not just personal but political. It's not just for harmony between two, but the basis for peace itself. Loving-kindness meditation doesn't just heal the meditator but the world. This is not a metaphor.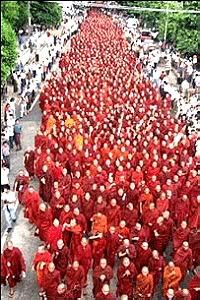 As a mother would risk her life
to protect her child, her only child,
even so should one cultivate a limitless heart
with regard to all beings.
With good will for the entire cosmos,
cultivate a limitless heart:
Above, below, & all around,
unobstructed, without enmity or hate.
Whether standing, walking,
sitting, or lying down,
as long as one is alert,
one should be resolved on this mindfulness.
This is called a sublime abiding
here & now.

And maybe this practice doesn't even require a formal practice, but just a stance that is enlivened by compassion first.
Living as if peace were possible, as if it is already here--that is ultimately the challenge of practicing loving-kindness in this accelerated, competitive, ruthless, often cruel world.
But what else should we do? What other choice do we really have?