Across wwwLand and out in the other world, many people said goodbye to John Edwards Wednesday. Some had a tear in their eye. Some had glee in their hearts. Judging by most of what I saw and read, it must have been about the best press John has received since he started his campaign.
His two rivals were gracious in their farewells. Some people who had done their very best to ignore him while he was actually in the campaign said how important his message had been now that he is no longer a candidate. No surprise. As the advocacy-journalist I.F. Stone once said: "Funerals are times for pious lying." And that was how everybody – including many of Edwards's supporters – seemed to view the candidate's announcement, as an obituary, not merely the end of a campaign but the death knell to all the issues he spoke so eloquently and passionately about.
That's not, I think, how John Edwards saw his speech, as a funeral oration, a-goodbye-so-long-nice-knowing-you-thanks-for-your-efforts-we- fought-the-good-fight-but-now-it's-somebody-else's-job kind of speech. Maybe it's just the superannuated dirty f'n hippie in me, but what he said sounded more like a call to action.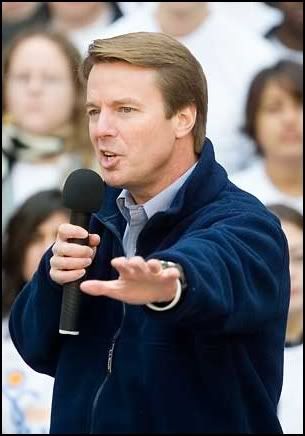 Do not turn away from these great struggles before us. Do not give up on the causes that we have fought for. Do not walk away from what's possible, because it's time for all of us, all of us together, to make the two Americas one.
That doesn't sound like what John was saying meant merely to get behind whichever candidate ultimately wins the Democratic nomination, although he obviously meant that too. And he's right. Anybody who really truly believes that President John McCain would be better than President Hillary Clinton or President Barack Obama can ignore that part of John's advice and stay at home or vote for a third-party candidate come November 4. You would think that we'd had enough of this sow-the-wind, reap-the-whirlwind behavior at the ballot box, but there'll always be some people who just don't get it.
However, what John said Wednesday wasn't all or even mostly about Democratic politics. It wasn't about "people-powered politics" as a slogan, but rather the reality. And people-powered politics – long before the phrase was invented – has always been about a broad-based people's movement outside of electoral politics. Students for a Democratic Society, in its sane, early days, had a good name for it: "participatory democracy." But I'm not just talkin' 'bout my generation.
The Abolitionists, the feminists and suffragists, the trade union organizers, the Grangers, the Jim Crow foes, the environment champions, the opponents of unjustified wars, the fighters for gay rights, the human rights advocates – every reform movement – began and continued its struggle outside party politics. Only after years, often decades, did the fruit of those struggles become confirmed by legislation passed by elected officials. Struggles into which people gave up their money, their energy and time, their liberty and, sometimes, their lives before politicians did more than give lip service to the causes they espoused. Without the movements, reforms never would find a place on the national agenda; without sympathetic politicians, they would never be implemented. It's a difficult, but essential pairing.
For political activists, for Popular Front Democrats like me and thousands of others, it's always a frustrating, sometimes infuriating interplay. In this era when the traditional media – the Foxagandists and their imitators, as well as the less obvious conduits for lies and BS – seem intent on making electoral politics as close to a version of American Idol cum Survivor as possible, the frustration and fury is enhanced because we know what they do to messages like those of a Dennis Kucinich or a John Edwards. Marginalize them if they aren't already marginalized. Twist, distort, ridicule, if need be. But the most powerful tool in their kit is: Ignore. That, indeed, is exactly what is done to the message of reformers themselves.
John Edwards is a politician, the leader of an election campaign that went sadly went awry, not the leader of a reform movement. But he is the welcome ally of all us rabble in the struggle against the two Americas, against the greedheads and those who claim to despise the idea of class warfare but practice it – from the top-down – every day. The alliance did not end Wednesday, as John proved by returning to the place where he started his campaign, New Orleans.
The city has a special meaning for him, as it should for every progressive. Because it is the starkest symbol and most terrible reality of the two Americas in 2008. A place that was half-demolished because of incompetence and arrogance, and that goes unrestored – physically, socially, economically – because of neglect and malice. John said Wednesday:
This journey of ours began right here in New Orleans. It was a December morning in the Lower Ninth Ward when people went to work, not just me, but lots of others went to work with shovels and hammers to help restore a house that had been destroyed by the storm.

We joined together in a city that had been abandoned by our government and had been forgotten, but not by us. We knew that they still mourned the dead, that they were still stunned by the destruction, and that they wondered when all those cement steps in all those vacant lots would once again lead to a door, to a home, and to a dream.

We came here to the Lower Ninth Ward to rebuild. And we're going to rebuild today and work today, and we will continue to come back. We will never forget the heartache and we'll always be here to bring them hope, so that someday, one day, the trumpets will sound in Musicians' Village, where we are today, play loud across Lake Ponchartrain, so that working people can come marching in and those steps once again can lead to a family living out the dream in America.
Some people may think his call to rebuild – in the most literal way – was sappy, a political stunt. It was anything but. By a long shot, New Orleans is not all our government has abandoned, of course. Maliciously, intentionally abandoned. Evidence of it abounds everywhere. The economic stimulus plan passed by the House of Representatives is replete with it.
Whoever walks up to the podium on January 20, 2009, takes the oath of office and speaks for the first time as President to the nation, ought to take the words in John's third paragraph excerpted above and repeat them, and tell us s/he has taken them to heart and that the first 100 days of the new administration will include not just a promise but a plan to do exactly what John said, rebuild New Orleans. Far more than that must be done to deal with the two Americas. But such a pledge would offer proof that those who today said John Edwards's message matters aren't just saying so for effect, but truly believe it.