For three beautiful hours today, I didn't think about the primaries, the judiciary, John McCain, my deadlines, my taxes, or Ralph Nader. I felt like a kid, fresh as a daisy and warm as toast in the 81 degree weather at the ballpark.
I'm lucky enough to live in Tucson, Arizona, and we have three teams that Spring Train here- the Diamondbacks, the Rockies, and the White Sox. And all of the other teams in the Cactus League show up here off and on throughout the month of March. You can see a game every day here, for 32 days. Today, at 1:00 in the afternoon, the offseason ended for me when our mayor stepped up to home plate, read a Proclamation that basically said "Whereas, Baseball Kicks Ass and Tucson loves it and here we go!"
And he stepped up on the mound, threw a lame-ass pitch that didn't make it to home plate, we all cheered like fools because we love him, and bang! Winter's over! Baseball's begun!
Here are a few pictures, for those of you who have to wait for April. Everyone looked great, and some looked, uh, really great.
Joe Crede, back at third base for the White Sox (back surgery kept him out last year) is still as cute as ever. Spring Training is really fun, because everyone is just hanging out, the players are really friendly, and the park is small enough that you can hear the conversation in the dugout. There are scouts everywhere, it's really a happening scene but very mellow.
I got to see a few young pitchers working out today and let me tell you, 6'8" and 250 looked very tasty all done up in the form of #61 for the Sox, Adam Russell. I'm a tall girl, but I felt like I could climb up Adam like a tree. Yow! Adam, your official photo does not do you justice.
I ran into Paul Konerko in the parking lot, which was cool, he was laughing like a kid. And here he is about to hit a beautiful line drive.
And I was taken by surprise to see Marcus Giles step up in a Rockies uniform- I think I missed a trade in there somewhere.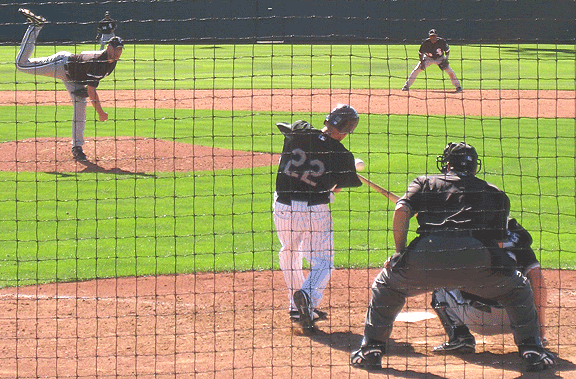 What a great day.