As an Obama supporter, it really annoys me whenever I see a Clinton supporter say that we're just drinking the Kool-Aid. Recently, though, I've been thankful that this phrase has been turned back towards the Clinton camp.
Still, on a recent trip to supermarket I passed the Kool-Aid section and noticed all the wonderful flavors of Kool-Aid and wondered what flavor Kool-aid would be most appropriate to either camp.
With the help of Wikipedia's list of flavors and some other resources, I tried my best to find the right flavor for each side.
I eliminated any of the simple basic flavors, such as Cherry, Punch and Strawberry. Let's go down the list and take a look at some of our favorite Kool Aid Flavors:

Blue Berry


I think this one can work for Obama. I love the blue color and I hope to see lots of blue when he wins the election!

Changin' Cherry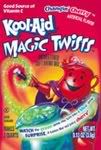 Changin' Cherry also works quite nice for Obama but I'm not too thrilled about the magician. It alludes towards illusions and trickery. Boo!

Cherry Cracker


I'm soooo not going there.

Chicken
Chicken!? Seriously? There's a chicken Kool-Aid? I couldn't find any confirming information on this so I'm going to assume Wikipedia's entry is wrong until I find out otherwise.

Ice Blue Island Twist


Obama's blue, he's cool as ice and grew up in Hawaii. I like this one.

Lemon-Grape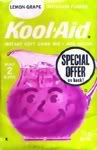 Outdated and it combines two of my least favorite flavors, lemon AND grape. I think this is Hillary's flavor.

Oh Yeah Orange-Pineapple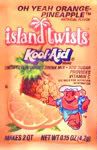 I just like this one since this is the Kossack Kool-Aid. It's orange and we support Obama more, hence the pineapple.

Scary Blackberry



I ain't touching this with a 50-foot pole.

Purplesaurus Rex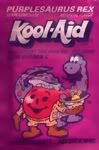 There's a dinosaur on the front. It's not totally blue, and it's not completly red. Did we find Hillary's flavor? Well, probably not as purple can indicate a union of the red and blue states.

Sunshine Punch


I'm liking this one too for Obama. After 8 years of Bush in office it's time to let the sun rise! It also has a nice commonality with Obama's campaign logo.

Strawberry Split Punch


The split alludes to divisiveness and Hillary is certainly a polarizing person. Is this Hillary's flavor?

After looking through the flavors, I personally like Ice Blue Island Twist for Obama and Lemon-Grape for Hillary. But that's just my opinion. What do you think?