Cross posted to The Core4 by Brixton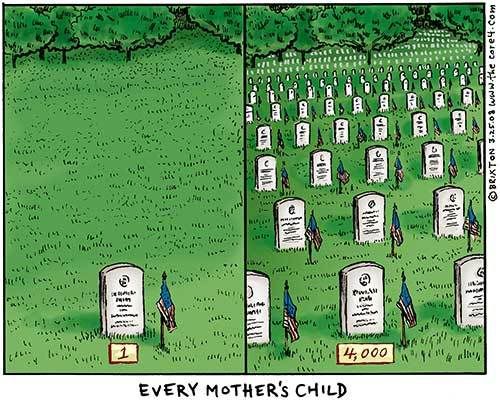 Milestones, benchmarks, lists and scores. Anniversaries. We love them in this country.
Yesterday, we hit the gruesome mark of 4,000 American dead in Iraq. A number, a statistic.
And there's the problem. We turn people into numbers, souls into statistics.
There were speeches in the can to mark the occasion.
According to White House mouthpieces, it's the President who feels these deaths most keenly. Really? What about the mothers and fathers and sisters and brothers and wives and husbands and children and friends and lovers of our honored dead? And the Vice-President answered a journalist's query about the American populace' disdain for the war with a casual "So?" And the seven-time draft deferee added that the dead were all volunteers.
The arrogance and hubris of this duo defy belief.
But back to the point. 4,000. Most major news services reported an IED hit a vehicle outside Baghdad killing four to reach the plateau of 4,000. You know the number. But can you recall anyone reporting who they were? And anyone questioning whether the media got it right? No on both accounts.
There were not four killed together outside Baghdad, but three. On March 22nd, confirmed by the Department of Defense on March 24th. National guardsman, assigned to the 1132 MPs, out of Rocky Mount, North Carolina-
Sgt. Thomas C. Ray, II, 40. From Weaverville, N.C.
Spc. David S. Stelmat, 27. From Littelton, N.H.
Sgt. David B. Williams, 26. From Tarboro, N.C.
Brethren sacrificing their lives at the same instant.
The fourth, ultimate casualty was Pvt. Tyler J. Smith, 22. From Bethel Maine. He died from 'indirect fire' at FOB Falcon, near Baghdad, no less significant, but not with the MPs. He's not been confirmed by DOD as of this writing. Likely too much column space or keystrokes expended for the media to get the story straight.
Why is this important? Because it shows a lack of exactitude and respect. When men are laying down their lives, the very least to be expected is to get it right.
And this blasted number 4,000. Why is 4,000 any more important than 1,000 or 2,000? I guarantee you, the parents of number 275 grieve as much as the children of number 861, or the friend of number 2027, or the wife of number 3, 999.
And what of the very first casualties? Sgt. Kendall Damon Waters-Bey, 27, of Maine died in a copter crash in Kuwait on March 21, 2003- 2 days after the official go-date for the Iraq war. Or that Master Sergeant Evander Earl Andrews, 36, of Maine as well, died a year and a half earlier, on October 10th, 2001 in Qatar, as the very first official death of Enduring Freedom.
And imagine the thankless task of serving in Afghanistan. 5 out 10 Americans don't know we're engaged in war there and 8 out of 10 can't find it on a map. Did you know that Staff Sgt. William R. Neill, 38, from Holmden NJ died in Sperwan Ghar, Afghanistan this past Friday, the 21st.? He didn't factor into the 4,000, so I suppose he didn't rate.
And we Americans can be awfully self-centered. We opt for the round number of 4,000 and dismiss the 308 coalition dead beyond that mark that have paid with their lives at our invitation.
We've all noted the number 4,000. But it's no more significant than the number 1, or God help us, number 4,001. Or beyond.