OK - I don't watch that execrable show "Dancing with the Stars" but I do read the LA Times. This Sunday's edition featured a piece written by Times TV critic Mary McNamara in which she brought up the question that Dare Not Speak Its Name - What the hell is wrong with so many female actresses in Hollywood today?
Before anyone skewers me for writing about what on the face of it appears to be a very trivial subject let me say this issue goes right to the heart of female objectification and in particular the intense pressure put on female actresses to "look" a certain way. Unfortunately that "look" has lately come to appear freakish. Taut, inexpressive faces featuring jumbo-sized lips, arched brows and shiny foreheads with large Chiclet-like teeth and bolted-on breast implants.
This is Priscilla Presley BEFORE any surgery: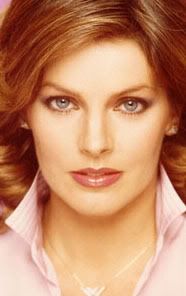 This is the same woman 20 years later. See any differences?
As Times TV critic Mary McNamara said today:
What on earth did she do to herself? And why?... It is a question that arises with alarming frequency while watching television these days.

For a critic, this poses a dilemma -- while it is appropriate, indeed, necessary to point out technical things like disruptive camera work or shoddy set design, what exactly are you supposed to say about an older actor's strange shininess, newly bee-stung lips or eyes that seem to have changed shape and placement?
As a gay man I'm prolly more burdened by aesthetics and the need to "look" a certain way than a lot of the rest of the populace. The line of beauty is giving hugely exaggerated weight in the gay community. I'm not arguing against the desire or need to appear attractive in any way, or even necessarily against plastic surgery.
What I am saying is this - actresses in Hollywood are under intense pressure to appear attractive and in their pursuit of that elusive goal some of them are going to extremes and end up looking like freaks. In a society which imagines itself to be "polite," such as ours, no one, least of all the opinion leaders like Mary McNamara, brings up this issue even when some of our most well known actresses begin to look eerily unlike themselves.
When Carrie Fisher began popping up again last year -- as a divorce lawyer in "Weeds," as a crazy former TV writer on "30 Rock" -- we were all so glad to see her working again, no one quite had the heart to mention that her face was so changed you had to hit the rewind button a few times to make sure it was her. And, mercifully, the short-lived "Viva Laughlin" was so all-around bad that no one felt obligated to dwell on, or even mention, the much-speculated-upon changes to Melanie Griffith's visage.
The lure of popular culture in today's entertainment-focused age is so strong that this desire to "look" better is filtering down to the level where even 15-year old Ali Lohan, sister of constantly rehabbed Lindsay Lohan, recently got her lips injected so they looked "fuller." Of course she won't admit it but it's obvious to anyone who can look at a before or after picture.
Is this an issue of unfair expectations from Hollywood or is Hollywood simply responding to society's expectation of it? I've read Naomi Wolf's "The Beauty Myth" and understand traditional and even 3rd Wave Feminism's perspectives on the issue. But I'm still more than a bit confused about why women, women who are naturally attractive to begin with, go through so much expensive and painful plastic surgery when in the end it doesn't get them more jobs and they really end up looking worse than when they started.
...television is a visual art, and if people are going to significantly alter the way they look in ways not directly connected with the roles they are playing, it can affect not only their performance but the whole tone of the show.

So you tell me, what is a critic supposed to say when part of the problem with a show is that the leading lady's face seems incapable of movement or her eyes appear to be moving toward the sides of her head or her lips just look weird?

Reviewing many of the new shows for the past fall season and midseason replacements, I noticed at least three fairly famous faces that looked decidedly, and distractingly, different, frozen or tugged into almost immobility that made certain emotional scenes almost laughable.
Indeed. As our world's becomes a faster and faster and increasingly more visual place I have a feeling we're going to be seeing a lot more of this. The days of women "aging" into different roles is coming to an end - in today's Hollywood there would be no place for great actresses from the past like Bette Davis or Greer Garson. Previously they were considered to be Grande Dames, today they'd just be called, well - "Old."