Welcome to the Midnight Oil. This diary is open for discussion from a few minutes after midnight through a few minute before (maybe two days later, maybe three). The intro remains the same, but the body is always changing.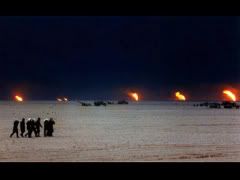 ....................................
Populist movements don't build themselves, they grow from a process of people learning how to support a series of populist campaigns in a populist way, rather than as passive consumers of corporate political marketing campaigns.
It doesn't matter what the "horse race" outcome of the campaign is, if we fight the campaign. Fighting it, we learn how to fight. Learning how to fight political battles, we become citizens again. Becoming citizens again, we reclaim the Republic that lies dormant beneath the bread and circuses of modern American society.
Picture Credit: David Leeson (#8)
House Rules: This is Not Your Everydaily Kos
Be excellent to each other
You are allowed ... encouraged ... to say something hours ... days, even ... after the Oil is lit
Open Thread rules apply to the comments ... follow the topic of the comment you are answering, a main comment can be on anything of interest to the patrons of the Midnight Oil Bar
Be kind to people on slow connections ... wait 16 hours before posting "fun" video clips (8 hours for Party Diaries)
Say something, come back eight, twelve hours later to see if there was an answer
Feel free to use the Rec button to let people know you passed by ... but be careful not to overdo it, we don't want this thing up on the wrecklist!
Don't worry about "jumping the tip jar" ... We don't need no steenking tip jar!
Forward : Permalink : Backward : House Rules

Daily Diary Roll
Spreading fires
Added through the day Monday and Tuesday and ... ???
Circular Firing Squads Of The Left Posted by Stephen Suh (Cogitamus)
Grangemouth strike: Anglo Disease in action? by Jerome a Paris (European Tribune)
The UK and US have pursued one economic strategy ... put financial markets in charge of deciding how the economy should be organized ... this is an example of how it can go awry
Arrogant power: Rome and the US by Ted Welch (European Tribune)
Landscaping as if Water Mattered by NoMoreLies (h/t ecology tag)
Gas Tax Holiday will Hurt the Economy by ThatPoshGirl (h/t Public Transportation tag)
Heather Ryan Fights For Good Jobs by RDemocrat
NAFTA - 20000 Tons of Mexican PCB Waste to Texas by LakeSuperior (h/t environment tag)
Urban Sprawl and Sustainability: a Tale of Northern Cities by Asinus Asinum Fricat
OH-16: John Boccieri for Congress (blog launch, h/t GARoach)
The Vermont solution: Bill McKibben's Deep Economy by: cassiodorus (Docudharma)
Gas Theft: Welcome to the End of Oil by dirkster42 (h/t Peak Oil tag)
Oil - I've had enough by taonow (h/t peak oil tag)
Seed Banking by Adrienne Shelton (h/t LaEscapee)
Whither Hybrid Minivan? by ebs42 (h/t Energy Independence tag)
McCain's gas tax holiday: Bravo! by Jerome a Paris (European Tribune)
Year of the Potato by ablington (h/t environment tag)
High Tech Agriculture Has Problems by jgoodman
First time diarist, go drop some comments
Richard Hobbs for Santa Clara County Supervisor, Santa Clara CA (campaign site)
this is how we build our bench
EENR for Progress: Americans are Dying by sarahlane (EENR)
Speaking of Bill O'Niell and Doc Vic Wulsin, our two strong friends of UHC ...
Ed Fallon, Actual Democratic Primary Challenger for the nomination in IA-03 (campaign site)
The Generals are where we build Majorities ...
... the Primaries are we we build backbones Actblue
Elesha Gayman, Democratic State Legislator in Iowa, in her first big for re-election (campaign site)
Don't be confused by the thank you message on the site from her winning campaign last time ... the new campaign is getting rolling ...
Original Sparks
Vote Energy Smart, not Energy Dumb (Energy Smart)
Growing Vegetables on City Rooftops by Bruce F (h/t TomP)
If Gas Prices are all that matter, we've lost by xrepub (h/t Environment tag)
Rain Forest Destruction and Oil Palm Plantations: What You Should Know by geodemographics
(h/t Environment tag) Importing biofuel inputs is is Greenwashing an unsustainable energy economy
The Source of Life is Ebbing Away From Us by Asinus Asinum Fricat
(PolitiCook, h/t Environment tag)
A Lonely Mockingbird sings at Midnight by jillian (h/t Environment tag)
Big business switches sides w/poll by: rjones2818 (Docudharma)
Pelosi to Block Vote on Colombia FTA by TomP (h/t TomP)
ACLU: Patenting Abstract Ideas Violates The Constitution by: TomP (h/t TomP)
Dems Exceptionally Well Positioned To Expand Majority In Senate By Eric Kleefeld
(TPM Election Central)
Judge Says No to Uranium Mining Near Grand Canyon by environmentalist
The Fight for Gauley Mountain By Bob Kincaid (Deer Hunting with Jesus)
New Gov. Report Shows FDA Fails to Protect the Public by ufw
Elizabeth Edwards: Still Fighting. Still Blogging! by NCDem Amy (h/t Universal Health Care tag)
I walked to work today. by drbloodaxe
actually doing something in reaction to FishOutWater's diary!
Dr. James Hansen: "A Guaranteed Disaster" Planned CO2 Cuts Too Little, Too Late by FishOutofWater (h/t drbloodaxe)
Catching Up with Jonathon Tasini
Killing In The Name of So-Called "Free Trade" by Tasini (EENR)
General Electric: Killing Chinese Workers For A Cleaner Environment (Huff&Puff&Post)
Sen. Clinton, You Want Who To Fix Our Economic Mess? (Huff&Puff&Post)
EENR For Progress: Standing With Our Military Families and Our Veterans by edgery
EENR For Progress: Standing with Our Military Families and Our Vets by: edgery (EENR Edition)
Armed Robbery with a Loaded Fountain Pen by Micheal Perelman (EconoSpeak)
The Headbonker's Ball: Native bees are thriving in some surprising places in California by Matt Jenkins (Orion Magazine, h/t LaEscapee)
A Dream Reborn ... Green by A Siegel (h/t green jobs tag)
Vegetables of Mass Destruction Discovered In Urban Neighborhoods, Food Gap Under Siege by Hardhat Democrat (h/t sustainability tag) Give Midnight Oiler Hardhat Democrat some support
Passive Survivability by gmoke (h/t ecology tag)

Midnight Thought
So, how is our fight going a Progressive Populist People's Chamber?
I did a round up before the Ohio primary ... and Ohio is where I live, so I naturally start here (TGAL) ... Burning the Midnight Oil for Edwards' Victories in the Fall
Two of these are listed among some MSM lists of House Races most likely to flip:
John Boccieri, Democratic Challenger for OH-16
John Boccieri's "Get Involved" page
and
Mary Jo Kilroy, Democratic Challenger for OH-15
Join Team Kilroy Sign-Up Page
If you are of a mind to be pushing now in the most marginal races, those are two good ones to support.
Also requiring mention when thinking of flipping seats from Actual Republicans to Actual, Real Deal Democrats, friend of the EENR, Larry Kissell, Democratic Challenger in NC-08.
I also have to keep in mind a strong Southwest Ohio friend of Universal Health Care, Doc Vic Wulsin, Democratic Challenger for OH-2, and up by Lake Erie, a strong Northeast Ohio friend of Universal Health Care and strong friend of Labor in Bill O'Niell, Democratic Challenger for OH-17.
Dr. Vic Wulsin, coming off a strong challenge in 2006 and winning her primary handily is also considered a very serious prospect.
And at the same time, in any other year, Bill O'Niell would be considered a top tier challenger in the state, but is in danger of being overlooked given the other high profile candidates ... a little spring spotlighting from the blogosphere could go a long way in not only giving LaTourette the biggest fight of his tenure in Congress ... but also the last.

But, of course, its not all the Buckeye State
However, I would be remiss if I did not put a spotlight on, underline, boldface and highlight in blinking text A Seigel's recent blog on some of the biggest swings we can make in terms of booting out Staunch Dead Energy Parasite Republicans and replacing them with supporters of America'a Energy Independence:
Vote Energy Smart, not Energy Dumb (Energy Smart)
Kay Barnes, Democratic Challenger for MD-04, going up against Sam Graves, a rock ribbed solid Energy Parasite Republican.
Debbie Cook, Democratic Challenger for CA-46, going up against Dana Rohrbacker, a strong supporter of surrender of US Sovereignty to overseas oil producers and their US Oil Industry collaborators.
Tom Perriello, Democratic Challenger for VA-05, and sometimes the candidate says it in a nutshell:
We need to commit to independence from fossil fuels within a generation
... while the strongly pro-Energy-Parasite Republican incumbent Virgil Goode knows that he has to make a show of it, but seems to think that the last few dregs in this country represent part of a permanent contribution:
I also support the utilization of nuclear power and expanded drilling opportunities for natural gas and oil in this country so that our energy needs are met by domestic and not foreign sources.
Bob Lord, Democratic Challenger for AZ-03, a strong supporter of the New Energy Economy, against John Shadegg, deep in the pockets of the US collaborators of overseas fossil fuel producers.

And if you only have a couple of bucks
And never forget, if you only have a couple of bucks to scrape together, that a couple of bucks can make the big difference to an underdog, insurgent campaign. So I want to finish with a nod to two insurgents who both need and deserve to be the headliner acts for tonight:
Gilda Reed, Democratic Challenger for LA-01
As the EENR endorsement diary said:
If any area in the United States needs a progressive representing them it's Louisiana's 1st CD. The district is home to Lake Pontchartrain to Slidell to Hammond. There are so many neighborhoods in the 1st district that have yet to be rebuilt since Katrina battered the area. There's no excuse for it, and the people of Louisiana deserve better. They deserve a Representative that will fight for them, and that person is Gilda Reed.
And the position of LA-01 on the front-line of the climate crisis was not just a temporary aberration ... southern Louisiana is quite literally losing land, and the side effects of our parasite on fossil fuel Energy Dependence strategy is one major reason why. If we can do anything to improve the prospects ... whether this election or the next ... of helping someone willing to fight for interests of the people of LA-01 rather against them, it just seems to me like the right thing to do.
And finally, Heather Ryan, Actual Democratic Challenger for KY-01 ... because KY-01 is exactly the political terrain where Progressive Populists can fight and win. It is, indeed, the type of territory where traditional Washington insiders would "forgive" a "51 percenter", a 'half Democrat, half Republican, but voted for the Democratic Speaker at the beginning of the session' "D". And it is exactly the type of territory where a scrappy fighter in the House can gain and hold the trust of the people in her district.
Midnight Oil -

The rich get richer, the poor get the picture
The bombs never hit you when you're down so low
Some got pollution, some revolution
There must be some solution but I just don't know
The bosses want decisions,
the workers need ambitions
There won't be no collisions
when they move so slow
Nothing ever happens, nothing really matters
No one ever tells me so what am I to know

You wouldn't read about it, read about it
Just another incredible scene,
there's no doubt about it
...