With little (no) fanfare, this week single payer health care in Illinois took a giant leap forward.
In a week that included an appearance in Chicago by Rep. John Conyers speaking on HR 676, our national single payer bill, there was a contentious hearing in Springfield and dramatic movement forward on HB 311, Illinois' single payer bill.

On Tuesday of this week, April 15, IL Rep. Mary Flowers held a hearing on her bill HB 311, Illinois' single payer bill, in the Illinois House Health Care Availability and Access Committee.
That day ten Illinois Representatives signed on as co-sponsors, (including Harry Osterman, my critter).
Prior to the hearing, on April 10, fourteen Illinois Representatives signed on as new co-sponsors (although two later removed their names) and on Monday, April 14, both House Speaker Michael Madigan and Majority Leader Barbara Flynn Currie added their names as chief co-sponsors.
Add two more on Wednesday for a present total of 28.
Rep. Flowers, a tireless advocate for single payer, expressed her thanks when asked about the week's events:
I couldn't have done it without everyone (who supports single payer) because they believed in it all along, especially when it wasn't popular.
Thank you, Rep. Flowers. She stated she will be scheduling hearings on her bill throughout the state.
Dr. Quentin Young of the PNHP,was excited with the development:
We want to celebrate this as a giant step forward.
We're pleased with the representatives who have chosen to be sponsors of the bill.
We're going to work very hard to make the people of Illinois recognize this great opportunity, and to secure the support of the senate and the governor's signature on a bill that would make Illinois the first single payer state in the nation.
There has been some speculation on some local blogs regarding the timing of this activity, but you'll have to google it yourselves-
I'll leave that to those with the time for speculation.
Especially in Springfield where it appears that you can't buy a donut without starting a rumor war.
But if other potential health care plans for Illinois involve mandates, I say do whatever it takes for single payer.
And I'm inclined to think the best anyway, because any politician who would dare to dabble
with using single payer health care as a political tool
grossly underestimates the intelligence, commitment and tenacity of single payer supporters.
You can ask the California governor about that.
Nicholas Skala, also of PNHP, testified at the Springfield hearing.
His assessment as to why HB 311 came up in committee now:
...there was nothing to it besides the timing of everyone involved. I was working full-time on this when it was introduced, and now I'm in law school, so my time is limited. Rep. Flowers, Quentin (Dr. Young) and I had been going back and forth over possible hearing dates all summer, made at least one, and then cancelled it. This was simply the earliest time that it worked out for everybody.

When it was clear it was being called up in committee, there was obviously interest in it, and we got maybe 15 new sponsors in the preceding days.
As to the Springfield hearing itself, Mr. Skala states:
The hearing itself was eventful. There were about a dozen groups down there in support of the bill, and maybe 7 witnesses. At the opening, the room was packed with lobbyists, but as the "yea" votes came floating in and it became clear the bill was going to pass, they left without bothering to testify...I was the third witness, and sort of the designated question-answerer/beat-up-on-guy for the Republicans.
By all reports, Mr. Skala's performance in front of the committee was stellar and HB 311 was approved by committee on an 8-4 vote.
Please take the time to contact your Illinois Representative.
Find out who they are here.
Find their phone/emails here.
Please show your support if they have signed on to HB 311, and encourage them to do so if they haven't.
And there is presently no single payer bill in the Illinois Senate, so please let your Senator know as well that you support a single payer solution in Illinois.
PDA, the Progressive Democrats of America, also has an action page here. They'll be happy to look up your Rep for you.
And if you're a single payer supporter who doesn't have the privilege of living in the earthquake country of Illinois, feel free to contact the Democratic leadership in Illinois and let them know the rest of the country is watching and wants to see Illinois lead on single payer health care.
House Speaker Michael Madigan
Senate President Emil Jones, Jr.
Governor Rod Blagojevich
Yes this is just a step in the process, but it is a very significant one.
And it comes on the heels of Rep. John Conyers visit to Chicago last Friday the 11th.



Rep. Conyers, sponsor of our national single payer health care bill, HR 676, spoke at the invitation of Northwestern University's law and medical communities. The event was open to the public and the venue had to be changed to accommodate everyone who responded. Both Dr. Young and Mr. Skala also spoke.
Mr. Skala opened the evening with a comprehensive power point presentation on single payer, and highlighted the horror of personal bankruptcies due to medical bills, in light of the 75% who had health insurance.
Dr. Young spoke of health care history in this country, and cited the recent Annals of Internal Medicine survey which states 59% of physicians now support single payer, a change of seismic proportions.
And then the inimitable Rep. Conyers:
"I always like the members who get up and plead for something
and they want to get it for the kids.
I want to get 676 for me."
Rep. Conyers likened the political evolution of HR 676 to the years it took to pass the Martin Luther King holiday, but reiterated his commitment to its passage.
The Rev. Jesse Jackson, who shares a long and compelling history with both Rep. Conyers and Dr. Young, also showed up unexpectedly and briefly addressed the crowd. He chose to refer to single payer as a crusade rather than a campaign, and looked for ways to include more people in the single payer fight, especially those most affected by our broken health care system.
Quite a week in Illinois for single payer health care.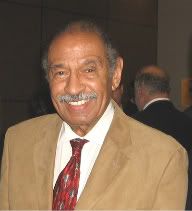 As Rep Conyers stated last Friday,
"The immorality of the way this health system works is so profound ...that you're either with us on this or you're against us."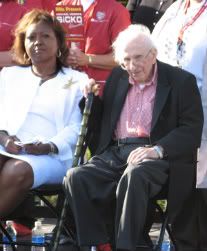 Rep. Flowers and Studs Terkel last summer during a Michael Moore appearance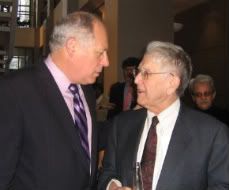 IL Lt. Governor Pat Quinn and Dr. Quentin Young