With sadness, I bring you the news that we have lost another soldier, 26-year-old U.S. Army Spc. David P. McCormick, who died in Baghdad of wounds he received when his forward operating base was hit by a rocket attack.
I wish I could tell you about his bravery, kindness and hopes. But there is so little out there written about him; it seems unfair that a life given in service should go nearly unremarked. Please join me tonight in recognizing the loss sustained by his family, friends and colleagues and in honoring the memory Spc. McCormick.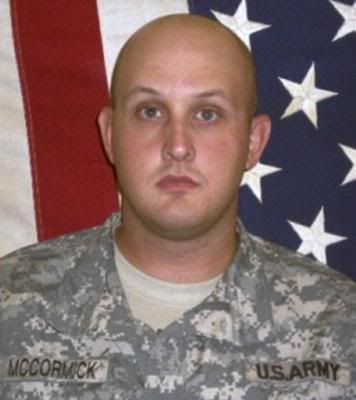 Spc. David P. McCormick, 26, of Fresno, Texas and the 1st Squadron, 75th Cavalry Regiment, 2nd Brigade Combat Team, 101st Airborne Division, Fort Campbell, Ky.
(Here is a picture of him taken in happier times.)
The Houston Chronicle spoke with McCormick's minister, Rev. Mike Zimmerman of the First Baptist Church in Bay City, Texas. He noted that David McCormick grew up and went to school in Bay City before enlisting in the Army alongside his brother nearly four years ago.
"He was a pretty quiet person," Zimmerman said. "He was looking forward to getting out and wanted to go to college for business administration."
We mourn tonight that this dream will never be realized.
Update (from operculum):
The Matagorda Advocate has more:
"He always had an overwhelming sense of integrity and honor," said his older sister Kristy Davis.

The 2000 graduate of Bay City High School was deployed from Fort Campbell, Ky., in October on his second tour of duty in Iraq. He worked as a cavalry scout training Iraqi soldiers as peacemakers.

Family and church were very important to David, his mother, June McCormick, said. He was the youngest of four children and had a very strong relationship with each of his siblings, she added.

"He was always very patriotic, loyal and Texas proud," June said.
The Chronicle says that McCormick's brother, Will McCormick, was coming from San Diego to attend David's funeral. He is also survived by two other siblings and by their mother, June McCormick.
Kentucky's governor, Steve Beshear, has asked that flags fly at half-staff over state offices in McCormick's memory. The Patriot Guard will also ride in his honor.
So little. Yet I have to hope that he had love and friendship and purpose in his life. I know that hearts are breaking tonight over his loss and that many people who knew David are remembering that time -- "That time that we went fishing... played football... hung out over a beer..." For all of those people: May your memories of him bring you comfort amid your sadness.
Godspeed, Spc. David P. McCormick.
******************************************************************************
May the memories of all 4,065 of our fallen continue to shine brightly for all those they leave behind.
May their families and friends find healing and peace.
******************************************************************************

What You Can Do
More than 30,000 service members have been wounded and soldier suicides are at a record level. Those currently serving in the wars in Iraq and Afghanistan would also be grateful for support, even if it's only a letter or a small care package.
Go visit: * Anysoldier.com and Ninepatch's diary on sending care packages * Operation Helmet * Fisher House * Greenies' diary, "Random Acts of Remembrance and Other Ways to Support the Troops" * Noweasels' diary, "Top Comments: In Honor of Major Edition"
******************************************************************************
About "I Got the News Today" (IGTNT)
I Got the News Today is a diary series intended to honor service members who have died as a result of the wars in Iraq and Afghanistan; its title is a reminder that almost every day a military family gets the terrible news about a loved one. Diaries about the fallen usually appear two days after their names are officially released, which allows time for the IGTNT team to find and tell their stories.

Click here to see the series, which was begun by i dunno, and which is maintained by Sandy on Signal, monkeybiz, noweasels, MsWings, greenies, blue jersey mom, Chacounne, twilight falling, moneysmith, labwitchy, joyful, roses, SisTwo, SpamNunn and AGirlinMI.

If you would like to comment on this tribute, but don't have an account at Daily Kos, contact monkeybiz here (address at top of page).
Please bear in mind that these diaries are read by friends and family of the service members chronicled here. May all of our remembrances be full of compassion rather than politics.