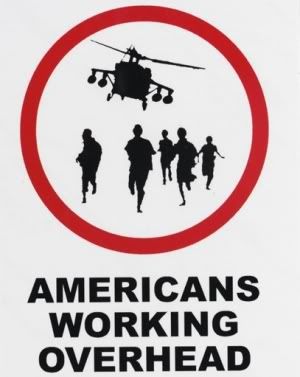 Living overseas as I do, even in a country as friendly to America as the United Kingdom, I'm sensitive to the damage done to America's reputation by the Bush administration.
I saw the above sign this weekend for the first time, as I strolled an idyllic footpath by a canal in the English countryside. It adorned the stern door of a narrowboat on the canal.
I googled it to see where it originated. It is another wonderful example of the art of Banksy, fast beocming one of the most influential young artists in Europe.
And guess what? He doesn't like what he sees of America. Look below for more of his art. It is quite moving and unsettling at the same time.
Banksy started as a graffiti artist, and some of his best work is on obscure walls - now protected as works of art. Being of the generation that dismisses grafitti, it wasn't until a Belgian family visiting me last year insisted that the only priority they had in London was seeing Banksy's works that I began to take him seriously.

A soldier frisked by a little girl.

The fleeing napalmed Vietnamese girl flanked by Micky Mouse and Ronald McDonald.

Dorothy having her basket searched at a checkpoint.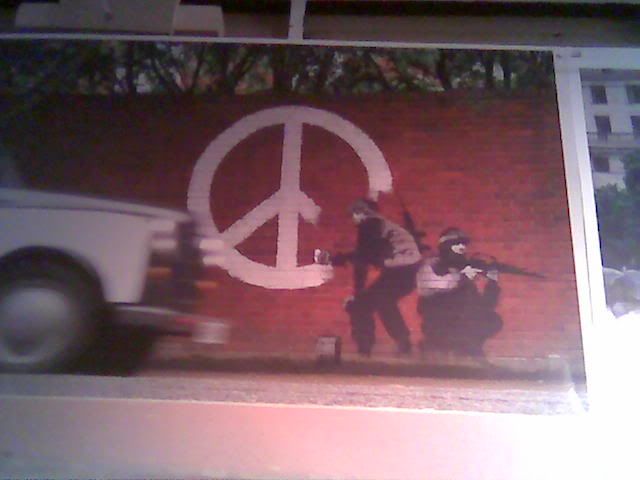 GIs for Peace

Oil is thicker than Blood
The first thought I had on seeing "Americans Working Overhead" (now part of the collection of the Victoria & Albert Museum, no less) was of a late night/early morning story I heard in Iraq in 2003. This old school British military intelligence type was recounting his flight with the Kurds to the mountains as Saddam's troops devastated Erbil in 1993. He said that the helicopter snipers had a game of shooting babies and toddlers off the shoulders of their fleeing fathers for fun. I wondered as I looked at Banksy's stencil if Americans play such games now. I doubt Banksy would put it past them, and he is influencing a new generation of European youth in their perception of my country.