Lunch break is always painful for me because that's the time of the day I have to watch the best front-page diaries go sailing by without leaving a comment. (I only have a couple of minutes to glaze over websites.)
So I missed out on the Veep-a-thon today. Coincidentally, I was talking with a friend and fellow kossack this weekend about who would make a good VP pick for Obama. Nothing clicked then. At lunch today it did, and I couldn't post, dammit!
I had a bunch of criteria, and I'll list those after the bump, but one criteria some are hesitant to mention is that Obama's veep is more than a Vice President. He/she should be an insurance policy against foul play -- that's about as lightly as it can be put I guess. Someone that those most likely to commit the unthinkable would not want assuming power after the fact.
And I came up with a name nobody mentioned (unless my text search betrayed me.) It's an out-of-the-box, out-on-a-limb suggestion, from a non-policy-wonk, but who knows... at the very least I expect to be constructively berated...
See if you can guess before you see the picture at the bottom.
First qualification: I do not believe most of the voters who say they will not vote against either Obama or Clinton if their candidate fails. However, voting against someone, and just not being enthused enough to slog through a November squall to cast your vote -- two entirely different matters.
Lots of women, especially those for whom this may be a last chance to vote a woman into the whitehouse, could fit that category. Yeah I know, they already got to vote for Ferraro for VP, but that never panned out. Plus there's a risk of McCain trying to raid the base/fence-sitters with a female VP candidate.
And as to the meme that a female veep would be "pushing it" with a Black candidate, well there is probably a lot of overlap between people who vote on the negative side of gender and race -- my gut instinct says it would be more of a win than a loss.
As far as I'm concerned, from an "electable" standpoint, definitely female.
Second qualification: Some sort of foreign policy experience/history/ties, to shore up the ticket in areas of perceived weakness.
Third qualification: Already pretty "well vetted" -- has endured some treatment by the right wing smear machine and come out on top for the most part
I know right now you're probably thinking I'm a sneaky "Hillbot" making a case for the "Dream Ticket" but I promise you that's not it -- here let me put your mind at ease:
Fourth Qualification: not currently holding any important seats, like governorships or senate seats.
That should make it easier. No, nothing yet?
Fifth qualification: Some sort of military or quasi-military experience.
Any guesses yet? Kinda narrows the field a bit given our gender balance in the military, right?
Sixth qualification (optional): Someone who expressed soft support for Hillary Clinton during the primary. This helps with the "grand reunification." But NOT a croney, manipulative, school-of-mark-penn machine sleaze. Someone who is unlikely to undercut him for some hail-mary 2012 power play.
Finally, to the point I mentioned in the intro, the Seventh Qualification: someone that acts as a life insurance policy for Obama. Someone that the more sinister "powers that be" probably hate and fear, but would only get that part of the right wing rallied and to the polls who would probably have gone and voted/canvassed anyway.
So now I'm going to reveal my suggestion, though I have to admit it is a bit silly for me to suggest this person without even having read her book, and being a nobody I certainly haven't been able to ask her if she'd be willing to serve...
Guessed yet? Last chance....
...
...
wait for it....
...
...
wait for it...
...
...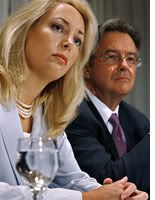 (added bonus qualification: in addition to having been smeared to death but still ending up looking the winner in the end, most of her career is state secret. Just want you want in a Veep -- a stone wall.)