The makers of the batteries for today's modern EVs have much to be proud of. A little over a decade ago, the best EVs on the market ran on lead-acid batteries (a technology so primitive that Thomas Edison didn't find it suitable for the EVs of his era) and nickel-cadmium cells (toxic enough to make lead-acid look clean). Today's battery upstarts like A123 (lithium phosphate) and AltairNano (lithium titanate) are already becoming superstars in the EV community with their long-life, high performance cells.
That said, their achievements pale in comparison to what's coming our way. Read on to learn how over a dozen technologies in the lab today promise not only to have EVs match the range of gasoline cars, but completely blow it away.
A typical wall socket provides 1.8kW of electricity. A mere pound of titanate batteries or just over a pound of lithium phosphate batteries will do the same. Your typical lead-acid car battery is highly toxic, lasts 500-800 charge cycles, has 85% charge efficiency, and holds 30 watt hours per kilogram (Wh/kg). A titanate battery is has low toxicity, will last for at least 25,000 cycles, is near 100% efficient, and holds around 100Wh/kg. Lithium phosphate batteries have similar stats -- they are nontoxic, but have so far only been tested to a mere 7,000 charge cycles. Did I mention that both kinds can be "fast charged" -- in under ten minutes (and that's only the start)?
These are on the market today. By any standard, batteries have advanced by leaps and bounds in the past 5-10 years, partially thanks to our greater understanding of nanotechnology. But this is absolutely nothing in comparison to what next-generation batteries are going to be like.
-----------------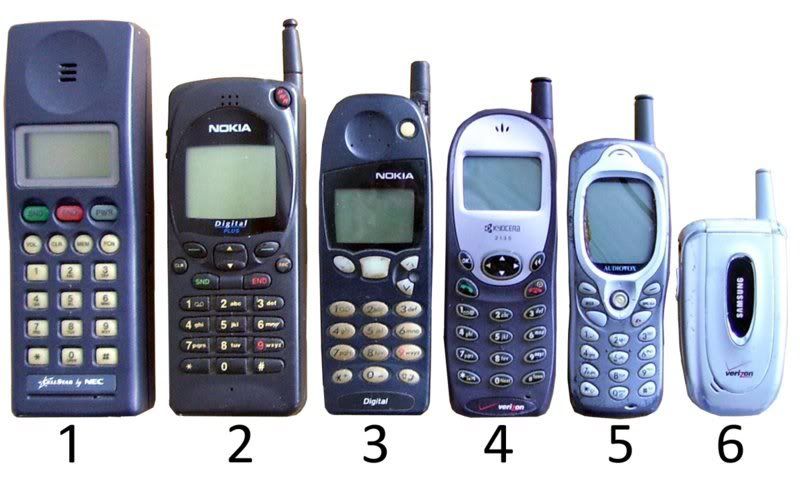 As anyone who remembers the cellphones of the early '90s can attest, an advancement in battery technology can make a huge difference in size, weight, and general convenience. While more and more people are becoming familiar with conventional lithium ion and lithium polymer batteries, fewer are familiar with their phosphate, titanate, and spinel brethren. These are mainly working their way into our lives in new cordless power tools and remote control cars and aircraft. While they sacrifice some of the energy density (amount of energy you can get out of a battery of a given weight), they gain lifespans of decades or more, high power output, fast charging, and low toxicity. But this is only the beginning.
First, a little background on lithium ion batteries of all stripes. Energy is stored and used in a lithium ion battery by -- as the name suggests -- moving around ions of lithium. On one side of the battery is the cathode, which in conventional cells is made of lithium cobalt oxide (LiCoO2). This comprises about 60% of the cost of mass-produced lithium ion batteries thanks to the cost of the cobalt and is the only relevantly toxic component. Any battery that can ditch this (like the phosphates and spinels do) stands to gain tremendously. On the other side is a graphite anode which, while cheap, can't hold much lithium. In-between is an electrolyte, a solution that ions of lithium can move through, and a thin polymer membrane that keeps the cathode and anode apart but lets lithium past. When charging, the lithium moves from the graphite anode to the LiCoO2 cathode, and when discharging, it moves back.
Any improvement in either the cathode or the anode can have significant improvements in the energy density of the batteries, but when you improve both of them, that's when the changes really shine.
Now, some of our more astute readers may be thinking, "isn't the energy density of even the best batteries two orders of magnitude lower than that of gasoline?" Why yes, it is! The more traditional li-ions have an energy density of around 160Wh/kg, while the new safe, long-life, high power batteries have only 100Wh/kg. Gasoline has an energy density of about 12,000Wh/kg. That's a big difference! However, all is not as it seems, for batteries don't compete with gasoline for space and weight -- they compete with the massive weight that is the internal combustion engine, since they use electric motors, which are smaller and lighter. You can see the full calculations here, but to sum up, a typical car with a 12 gallon gas tank would run on par weight-wise with an EV of the same range if the EV's batteries got about 340Wh/kg.
Well, what are we looking at, battery-wise?
---------------
Cathodes:
Argonne Laboratories' composite Li2MnO3/LiMO2 or LiM2O4 (M=nickel or manganese) cathode: Entering commercial production. 200Wh/kg, 500Wh/L. Charge rate unknown, but likely high due to stability. Combines high energy density with long life and safety. Cheap (1% the raw material cost of a LiCoO2 cathode)(1)(2)(3)(4)(5)
Hybrid Technologies' "superlattice" manganese-cobalt-nickel-titanium cathode: 936Wh/kg is claimed for the cathode alone (over a 2x improvement over LiCoO2). The cathode material is reportedly already produced at an industrial scale, and allows for a wide range of possible voltages per cell. Fast charge/discharge reported.(1)
Nanocomposite metal fluoride cathode: 400-500Wh/kg for the battery as a whole with high power density, being developed by Electro Energy with grants from the USAF.(1)
Anodes:
Lithium vanadium oxide anode (such as Samsung's prototype): 695Wh/L when paired with a traditional LiCoO2 cathode, boosted to 745Wh/L by vapor deposition of a Li metal film. This is 2-3 times the volumetric density of traditional li-ion. Slightly lower expansion than a graphite anode, suggesting longer life. 80% capacity after 500 cycles (not as much of a problem with high energy density batteries, as you go farther on a cycle). Subaru's prototype G4e uses such a battery, and is capable of fast charging.(1)(2)
Graphite-encased tin nanoparticle anode: Tin nanoparticles are trapped inside tiny graphite spheres, allowing them to swell extensively without cracking. Allows for higher voltages, no charge loss through solvent interaction, and energy densities of 831 maH/g (depending on the voltage, this would equate to thousands of Wh/kg, although this only applies to the anode, not the complete battery). Higher voltage eases fast charging. Currently loses ~30% of charge capacity in 100 cycles -- still very energy dense. (1)(2)
Silicon nanowire anode, such as the Stanford/Yi Cui prototype: As reported on in Going EV #2: The Kingdom and the Ion. Uses nanowires on a stainless steel substrate to avoid the major problem of cracking in silicon anodes due to their swelling as they absorb lithium. 10x the lithium absorption on the first charge as compared to a normal graphite anode, 8x on subsequent charges, leading to "several" times the energy density without a cathode improvement and the full improvement with a corresponding cathode advance. 1000-cycle validation expected by summer of 2008, and commercialization expected in five years, with a cost cheaper per Wh than conventional li-ion.(1)(2)(3).
Carbon nanotube/silicon nanoparticle anode: Nanoparticles of silicon that have carbon nanotubes grown atop them, then are bonded together with carbon, manage to prevent silicon cracking. 727mAh/g after 20 cycles (thousands of Wh/kg for the anode alone).(1)
Cathode and anode advances can be combined for a dramaticly amplified effect. Of course, Li-ion isn't the only game in town...
Other energy storage technologies:
Lithium-sulphur: 250Wh/kg.(1)

Sodium-ion batteries: 400Wh/kg with only minimal expansion/contraction during charge/discharge and a very high surface area.(1)
EEStor's EESU ultracapacitor: Scheduled to hit the market in early to mid 2008, also with a rapid charge time (4-6 minutes) at 342 Wh/kg and 1600Wh/L(1).
---------------
What's to make of all of this? A couple general conclusions can be drawn:
The odds of all of these advances failing is staggeringly low. It is foolish to bank on any particular technology in the lab making it to market. However, once you have this many (and many more that I've probably missed), it becomes foolish to bet against them all.
What we're looking at here is, within the next decade, commercial production and sale of batteries with energy densities ranging from several hundred to a thousand or more watt hours per kilogram. Batteries that likely cost no more (and even potentially significantly less, due to the ability to ditch the cobalt) than today's lithium-ion batteries.
These advances mean vehicles with ranges matching or significantly greater than that of conventional cars with internal combustion engines. The upper end of this energy density spectrum means an entire day's worth of nonstop highway driving on a single charge.
As for the main criticism that you occasionally hear -- world lithium supplies -- read this or wait for my next diary. As for toxicity, as I mentioned earlier, the phosphates and spinels are nontoxic, and the titanates have low toxicity. The worst aspect of the phosphates and spinels is the electrolyte which is corrosive and irritating (but non-persistant), non-teratogenic, non-mutagenic, and poses no reproductive toxicity. The resource requirements are minimal and likewise relatively mild. In the case of lithium phosphate batteries, the cathode is made from phosphoric acid, an incredibly common chemical which, among other things, is found in soft drinks; iron; and a lithium salt (discussed above), with the particles bonded together by carbon from burning sugar. The anode is just graphite, like you find in pencils. The membrane is an incredibly thin piece of plastic. This compares to internal combustion engines whose weight comes from steel (produced in a very polluting smelting process), in vehicles whose main environmental issue, despite all that steel, is that they burn several times their own mass in toxic gasoline into the air.
For more on EVs, check out part 1 and part 3 in the "Going EV" series.