I went to my town's Memorial Day parade and ceremony today. In it was an Interfaith Network for Peace and Justice group. They carried a simple sign that said, "The Interfaith Network grieves the loss of our Illinois troops in Iraq".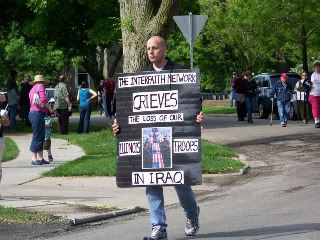 Along with that sign they carried a rope. Hanging from this rope were the names and pictures of all Illinois soldiers that have been killed in Iraq, one sheet of paper for each soldier. The rope was almost a block long, and was carried by somewhere around 30 people. (I'm kinda guessing here, I didn't count.)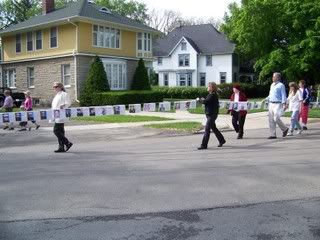 The tragedy of this situation is below the fold.
This group has been a very vocal protester of the war. They can be found on a busy corner of downtown every Friday night, rain or shine, heat or freeze. However, today was obviously not a protest. Today was simply to do what Memorial Day is meant for: Honor our fallen soldiers.
For some reason, some people didn't like that. One man shouted a rude comment from the sidewalk (unfortunately, no one in the group that I talked to understood what was said). There was another man who shouted back at the first in support of Interfaith, and a fight almost broke out.
At the end of the parade, as the group was on their way to the park where the ceremony was being held (I was with them at this point), a man wearing a cap proudly stating "Korean Vet" said to us, "I'd put you all in jail if I had my way."
What is it about honoring the fallen that gets people so up in arms? Could it be that people don't want to think that maybe we're losing? Could it be that they don't want to be reminded of the true cost of war? Could it be that they don't want to be reminded that their idea of Supporting Our Troops means putting more of them in the line of fire? Or could it simply be that being forced to examine the war for what it has done challenges their steadfast belief that this war was the Right Thing To Do?
It is a true tragedy that some people can not even put aside their differences and find the common ground we all share this day: Grief for our fallen men and women.