Yesterday, at 5:01 p.m. PST, lesbian rights pioneers Phyllis Lyon and Del Martin became the first same sex couple to be legally wed in San Francisco following the May 2008 ruling by the California State Supreme Court. Lyon and Martin have been together for 55 years.
Lyon and Martin were also the first same sex couple to be married in San Francisco four years ago when Mayor Gavin Newsom directed the County Clerks Office to accept fees from and issue marriage licenses to same sex couples.
Yesterday outside of City Hall, crowds gathered, in some part, to witness history being made. Not all the crowd, however, was happy with history being made. Not by a long shot.
I took some photos. Here they are (that is, after the fold):
Phyllis Lyon and Del Martin were married in City Hall in a private ceremony. While they were inside, there was a crowd outside City Hall, singing, laughing, hoping to catch a glimpse of Lyon ad Martin once they had been legally married.
Lyon and Martin were the only couple married in City Hall after 5:01 pm, Monday June 16, 2008. Today, June 17, 2008 begins, in earnest, legal same sex marriages in San Francisco and across the state.
There have been a few stories on dKos detailing the extraordinary lives and contributions of Lyon and Martin to the L part of the LGBT Equal Rights Movement, so I won't expound much more about them except to say they are heroes of mine. And incredibly decent and funny and committed and generous and tough individuals who together have been a couple for more than half a century.
That speaks volumes.
So, here come the photos.
When I got to City Hall, the first thing I was taken aback by was the fact that there was a nice sized crowd outside. There was a small band playing, people were singing and chatting and laughing and clapping. Most of the people were there to celebrate and commemorate the historical moment that belonged to Phyllis and Del.
Almost everybody that is: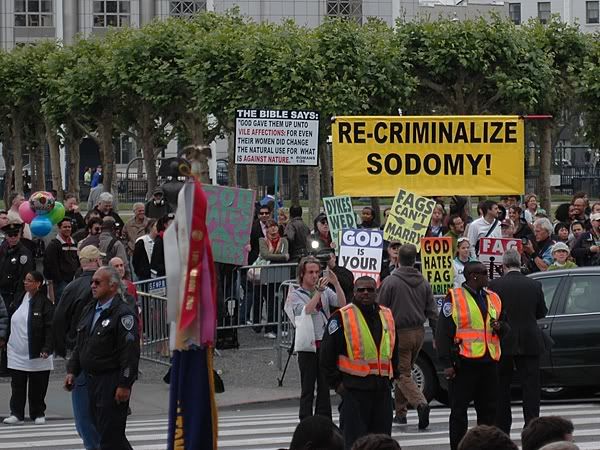 Their signs ran the usual gamut of bigoted commentary from twisted to obscene to crass to flat out fucking crazy, as did several of the folks holding these signs: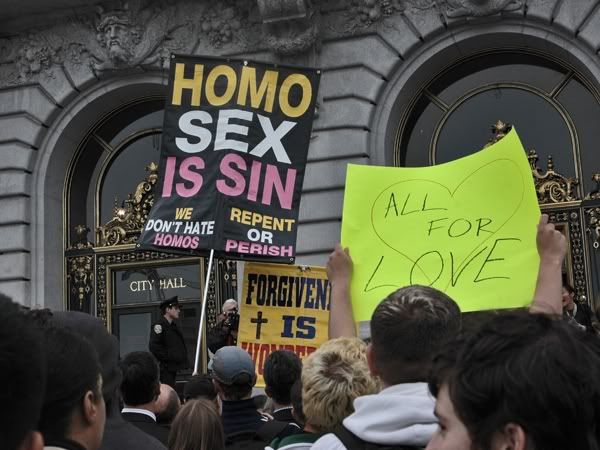 There were a few famous LGBT individuals who were there yesterday but sadly, the crowd control police were really strict about where we could stand for photos so I was only able to get three quick shots of these three men:

former U.S. Ambassador to Luxembourg Jim Hormel

Supervisor Tom Ammiano

Supervisor Bevan Dufty
There was one woman there, looking a lot like Mae West meets Sophie Tucker, selling fabric roses (business was not booming, but she was having a good time nonetheless):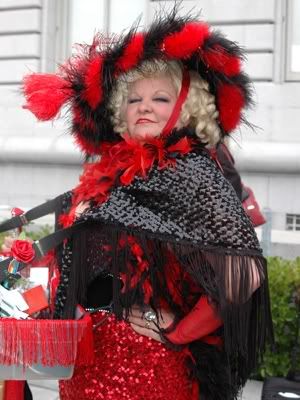 For their part, the anti-queer protesters had what I dubbed as the No-Promo-Gay Marriage-We-Hates-Homo-Mobile: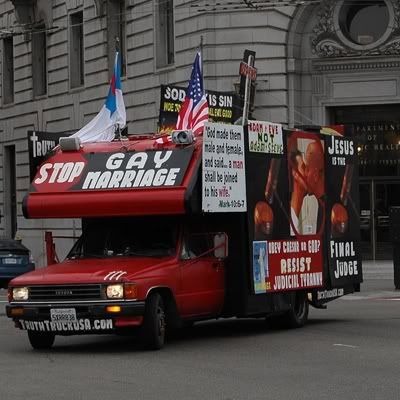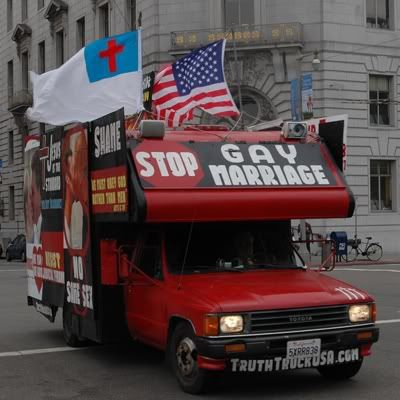 which kept driving around City Hall, over and over, again and again. Obscene, wrong, hate-filled AND environmentally-unsound....
As the evening wore on, chants went around the crowd, champagne bottles were popped open, people brought (and shared cake) -- Ben and Jerry's was there giving away FREE ice cream too -- and pictures were being taken, interviews being given, friends were meeting up -- all in all a fun, not so unusual and very respectful crowd of LBGT folks, their friends and their families.
Of course there were kerfluffles (verbally) between the very cool crowd and the very small but visible bigoted bunch, but ultimately, whether it was the march of time or the fact that it was a atypical San Francisco summer evening (meaning it was getting cold), the bigots slowly but surely left.
Some even left in packs:
I saved the best for last. While the religious extremists who were there in protest had both offensive signage and were spouting off offensive commentary (about bestiality, about "reforming, " about recruiting children, etc.) it was the same old, same old. Nothing new to their routine, not even the level of disrespect they showed to Phyllis Lyon and Del Martin on this, the joyous and amazing occasion of their wedding.
The fundamentalists' bemoaning of the decline of Western Civilization really fell on deaf ears considering that we were all there to honor these two women who have been a couple since 1953.
But as I said, I saved the best for last.
The title of the diary comes from a sign that a person protesting the protesters had. It was a priceless sign, speaking to the hypocrisy of the religious extremists who take the one and only one section of the Old Testament and forget the rest of the restrictions and things forbidden in Leviticus.
She was there to remind everyone about the unholiness of eating lobster:
The sign was a moment of pure brilliance.
But wait, there is one more thing. What really struck me yesterday was the fact that the crow seemed so over the protesters, to the point of thoroughly ignoring them or just dismissing them with the wave of a hand or the turn of a head.
This last picture says it all to me. These two women were watching the crowd, cheering, talking to each other and paying no mind to the protesters at all. Their only acknowledgment of the religious extremists was the small sign (homemade) that one of the two women held held. And she held it the entire time that I was there: