The thing about airplanes, you know, is that airplanes get lift through aerodynamic factors like the Bernoulli effect, angle of attack, and so on. Those phenomena don't care (if anything can "care") about what power source you use to harness them, or what precise configuration you put your wings in, or... any of that, you know? There are aircraft driven by piston engines, turbofan engines, turboshaft engines, ramjet engines, there are aircraft with one set of wings, two sets, at least one with three sets of wings, there are aircraft where the wings are fixed to the hull and aircraft where the wings spin around very rapidly to generate lift (those are called helicopters, by the way). If it will fly, it's likely someone's built at least a scale model of it. Why? Because flying is awesome. And I say that with full sincerity.
Well, early in the history of flight, people tried putting different kinds of engines on their airplanes. It led to a fair amount of hilarity, although unintended.
Sure, gasoline-powered piston engines were what eventually won out, because they provide a fair amount of power for a relatively small mass. Gas-powered airplanes won out for this reason whereas steam-powered airplanes, which achieved tethered flight on test tracks, never became practical due to the enormous weight of steam engines. Sure, you could drive the propellers like nobody's business, but your plane would have to be huge to accommodate the mass and bulk of a full-sized steam engine. At that time, nobody really knew how to build planes big enough, so the idea was abandoned. Oh, and the couple of really spectacular accidents didn't help the idea either. (A smashed gas piston engine might burn fiercely, but you can run away from a fire. A damaged steam engine explodes with a force equally as awesome as its work output. You can't outrun boiler fragments or shock waves.)
But in 1946, the power of nuclear fission had been revealed. An engine "burning" uranium or plutonium for fuel, rather than coal or oil, could produce useful work far beyond anything achievable with organic fuel, and it would be able to keep working for long periods of time without needing to have the tanks topped off. If you didn't mind the human-factor problems of keeping an aircraft flying for six months at a time, well, you could keep a nuclear-powered aircraft in the air for six months at a time.
The prototype was to be named the X-6, based on the B-36 airframe. The B-36 was intended to be a World War II-winning bomber, but the war ended before it was finished, and, well... there were a bunch of heavy bombers just lying around, right? And the Cold War's nuclear bomber patrols hadn't quite gotten into their swing.
Why did they choose the B-36? Because MY NAME IS HUGE, that's why. A photo should illustrate.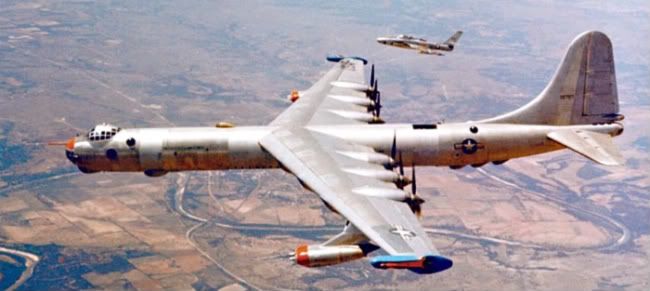 Six props and two turbine mounts with two engines each, for a total of ten engines. Nice, eh? Well, the idea was to mount a fission reactor in this beast, and use air heated by the reactor to spin the turbines (which would in turn spin the compressor, and the cycle would repeat).
What happened? Well, mainly it turned out that the radiation effects were just too dangerous. Even if the crew had been entirely shielded, the emissions from the core would have been strong enough to turn the hull brittle and the tires into goop. Another problem was that even with the enormous amount of power generated by the reactor core, the plane was so heavy that it flew like a brick. The final thing that happened to it was President Eisenhower, who said it was a ridiculous waste of money and pushed very hard to get it canceled. The final test flight for the modified B-36 was indefinitely postponed. Pretty much the same thing happened to the Soviet design, and for the same reason.
There was a later proposal for a fast bomber, which in concept sketches looked somewhat like the XB-70 Valkyrie, a six-engined supersonic monster with the dubious distinction of being the loudest aircraft ever built. (If you're interested, only two of these were built and one was destroyed by collision with an escort fighter; you can find the remaining Valkyrie in the USAF museum in Dayton, Ohio.) It would have used a similar reactor design to that of the X-6, but with the addition of traditional jet fuel injectors, for extra power at takeoff and during attack runs. What finally killed this, or similar aircraft, was the now-venerable B-52, an entirely chemically-powered aircraft with enormous fuel tanks, larger payload capacity than any nuclear-powered bomber, and the ability to be refueled in flight, which almost negated the extended-performance advantage of the nuclear-powered aircraft concepts. (The limiting factor would have been human endurance. Pilots don't like to be kept flying for days at a time, much less months, so I hear.)
There was one final gasp to nuclear power for aircraft, and that was Project Pluto. Having found that reactor shielding for crew was a serious weight issue in manned aircraft, some clever engineer thought up a way to put nuclear power in an unmanned aircraft, a cruise missile. Unlike previous designs, which used turbofans, Project Pluto was based on a nuclear-powered ramjet. The missile would have been accelerated to supersonic speed (required for the ramjet to operate) by rocket boosters, and then the main engine would take over, control rods out and everything. It would fly at blistering speeds, terrifying those it flew over both by its sonic boom and by the trail of toxic and extremely radioactive isotopes in its exhaust, until it delivered its payload, a megaton-range nuclear warhead, to the target. Some even suggested that there was no need for a warhead; the exhaust was so radioactive and poisonous, they said, that it would be enough to keep it flying over enemy territory for as long as it could, and then maybe crash it into a particularly hated city for even more poisoning as the core would be pulverized and dispersed, the dirtiest dirty bomb. Several engine test-runs were made.
Fortunately for us, Project Pluto, too, was killed when - and it really strains me to say this - something better came along, the ICBM. It was made obsolete by ballistic missiles, which had equivalent range, and which were powered by more traditional and less dangerous technologies like solid-fuel rockets. Even liquid-fueled rockets are less dangerous, and they can fail catastrophically if you so much as look at them funny, so that's saying something.
Nuclear powered aircraft have, I think, had their day in the laboratory, but for now, the project is dead. Nuclear-powered spacecraft? Well, we have a lot of those... nuclear power is useful stuff. Just not for airplanes.
.
.
.
Previous MSPW diaries can be found as follows (and don't read them if you're trying to preserve your unwarped mind):
MSPW 14: Psychic powers, courtesy of Uncle Sam
MSPW 13: Transgenic biosynthesis of useful compounds
MSPW 12: Lightning in a jar
MSPW 11: If you can control machines, they can control you
MSPW 10: Powered armor leads the way
MSPW 9: Noise-Marines, forward!
MSPW 8: Rapid prototyping brings engineering to the masses
MSPW 7: Putting Mentos and Diet Coke to good use
MSPW 6: Why Bjorn the Fel-Handed is probably unhappy
MSPW 5: Combining the latest concepts in farming and power generation
MSPW 4: Project Orcon, or why pigeons make good pilots
MSPW 3: Can cuttlefish drive?
MSPW 2: The hafnium bomb
MSPW 1: Building a better skunk