It became a sad holiday weekend for two US families. The 4th of July, this past Friday, 1st Lieutenant Daniel Farkas died in Afghanistan. The next day Sergeant 1st Class Anthony Woodham died in Iraq.


1st Lieutenant Daniel Farkas was a member of the New York branch of the National Guard. He was assigned to the 27th Infantry Brigaded Combat Team based at Syracuse, New York. He died at Camp Phoenix, Kabul.
Sergeant 1st Class Anthony Lynn Woodham was member of Arkansas National Guard Delta Company, 39th Brigade Support Battalion, 39th Brigade Combat Team of Heber Springs, Arkansas. He died at Camp Adder, Tallil.
Neither of the men died in combat, but still died in a strange land, far away from their hometown and their loved ones.
1st Lieutenant Daniel Farkas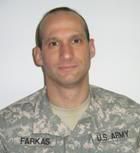 WSYR news
Daniel Farkas, who was from Brooklyn, joined the New York Police Department in 1988. He worked the 112th Precinct in Queens. He joined the New York Army National Guard in August 1992 and was assigned to the 27th Infantry Brigade Combat Team, based out of Syracuse. The unit is training the local army and police force. His brigade was mobilized in January and deployed to Afghanistan in late March.
1st Lt. Daniel Farkas died of injuries from a non-hostile incident, which is under investigation, the Department of Defense announced on July 7th.
He is the sixth New York Army National Guard soldier to die in Afghanistan since the 27th Brigade arrived there in April. Last week, two National Guardsmen from New York were killed in Afghanistan. On June 21, another three soldiers from that unit were slain in combat. Currently, 1,700 members of the New York Army National Guard are serving in Afghanistan.
There was an article about him in the New York Daily News:
Lt. Daniel Farkas, 42, was a 20-year-veteran of the NYPD assigned to the 112th Precinct in Forest Hills, Queens, police said.

Farkas' death comes as the U.S.-led coalition has struggled to beat back a resurgent Taliban allied with Al Qaeda.

Last week, the Pentagon ordered the 2,200 Marines in Afghanistan to extend their stay from October to November, and Adm. Mike Mullen, the Joint Chiefs chairman, warned that he lacked the extra troops requested by ground commanders because of existing commitments in Iraq.
The Times Union stated:
Farkas had served in Manhattan following the 9/11 attacks on the World Trade Center.

He arrived in Afghanistan in late March or early April as part of about 1,700 soldiers with the New York Army National Guard who are training Afghans to become members of the Afghanistan Army and national police force.

His death follows that of five New York National Guard soldiers who were recently killed by insurgents three on June 21 and two on June 26. The six men mark the first deaths in Afghanistan for the state National Guard.
According to the The Morning Call
The Department of Defense yesterday officially announced the death of Daniel Farkas, an NYPD lieutenant who died in Afghanistan in a noncombat incident on July 4.

Police Commissioner Ray Kelly praised the 20-year veteran. "He served his city and his nation in the most honorable ways possible, as a police officer and as a soldier," Kelly said.

Farkas worked at the 112th Precinct in Forest Hills. He joined the New York Army National Guard in August 1992. His brigade was mobilized in January and deployed to Afghanistan in late March.
An article in the Epoch Times states:
NEW YORK—Locals are mourning the recent loss of NYPD Lieutenant Daniel Farkas, who died at a U.S. military camp in Kabul, Afghanistan. Farkas was among NYPD officers who responded to the World Trade Center terrorist attacks on September 11, 2001. Farkas died on July 4 from injuries suffered from a non-hostile incident at a U.S. military camp in Kabul, Afghanistan. The incident is under investigation, according to the U.S. Department of Defense.

"All members of the New York National Guard regret the death of this officer," said Major General Joseph Taluto of the New York National Guard in a press release. "The National Guard will do everything it can to aid Lieutenant Farkas' family in their hour of need."

Farkas, 42, joined the New York Army National Guard in August 1992. Prior to deploying to Afghanistan he was assigned to a battalion located in the Bronx.
1st Lieutenant Daniel Farkas lived in Washington Park, Brooklyn. He is survived by his mother, two sisters, and two nieces.
The awards earned by 1st Lt. Farkas include the Afghanistan Campaign Medal, the Global War on Terrorism Expeditionary Medal, the Global War on Terrorism Service Medal, the Armed Forces Reserve Medal, the Overseas Service Ribbon, and the National Defense Service Medal. He has been awarded the New York State Defense of Liberty Medal for his service in Manhattan following the attacks on the World Trade Center, and also holds the New York State Physical Fitness Ribbon and New York State Aid to Civil Authorities Medal. He was awarded Army Commendation Medal and the New York State Medal for Merit posthumously.
May 1st Lieutenant Daniel Farkas rest in peace, and may his family and friends find the comfort they need to live with his loss.
`````````````````````````
Sergeant 1st Class Anthony Woodham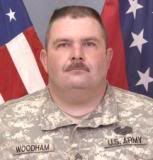 Sgt. 1st Class Anthony Lynn Woodham of Rogers, Arkansas was a member of Arkansas National Guard Delta Company, 39th Brigade Support Battalion, 39th Brigade Combat Team of Heber Springs, Arkansas. At the time of his death, he was a vehicle maintenance supervisor with the 1st Squadron, 151st Cavalry Regiment, 39th Brigade Combat Team at Tallil, Iraq.
He died from injuries "resulting from contact with an electrified piece of metal in the vehicle maintenance area," the military announced at first. Early news articles stated that the cause of death was electrocution, however a KATV news story indicates that he might have had a heart attack.
Maj. Gen. William D. Wofford, adjutant general of the Arkansas National Guard, said "My heart goes out to this soldier's Family. Our thoughts and prayers are with them during this trying time. No words can fill the gap left by such a loss."
"A dark cloud hangs over the Bowie Brigade today, and it's a day we had hoped we wouldn't see during this deployment," said Col. Kendall Penn, referring to the fact that while the brigade had losses in the past, this was their first for this rotation into Iraq. "There are no words that can describe the loss of a soldier, a loved one, a friend. Our thoughts and prayers go out to the family of Anthony Woodham in their time of mourning."
Arkansas seems to have a lot of pride in its National Guard. These past few years there were many articles in the media about the progress of Arkansas Guard troops and several were mentioned by name. Going back to 2005, an article in Arkasas Democrat Gazette told of when the 39th Brigade left Kuwait to return home:
FORT SILL, Okla. - Lt. Col. Allen Hargis stood in a sandy motor pool in Kuwait three weeks ago and said he was not leaving until every one of his soldiers was home safe and sound.

Hargis, of Hot Springs, came home Saturday with the last of Arkansas' 39th Infantry Brigade to leave the Arabian Peninsula. With the exception of six soldiers guarding the brigade's equipment on ships bound for U.S. ports, Arkansas' Bowie Brigade is home...

Sgt. 1 st Class Anthony Woodham came home to a house that is a little more empty. His father died while he was gone. His son, who just turned 8, anxiously waited for his dad with a green cast on his right arm, the result of a fall from the monkey bars.

He was looking forward to his dad adding to the handwritten notes and names decorating his cast.
The Arkasas National Guard reported in May of 2007:
CAMP DODGE, Iowa – With a potential deployment on the horizon, Soldiers with the 39th Brigade Support Battalion (BSB) and its Forward Support Companies heightened their expertise with wrenches and weapons during annual training here in May. The National Maintenance Training Center (NMTC), at Camp Dodge, offered the troops a state of the art training facility complete with top notch instructors to provide both individual and unit level training.

While the Soldiers received tactical training during the evenings, the daytime training focus was on the troops' technical skills which will keep vehicles in the fight during deployment.

..."This is mainly geared a lot toward the guys that are out there on the floor turning wrenches, but also towards the leaders and their roles and responsibilities," said Sgt. 1st Class Anthony Woodham, the field maintenance platoon sergeant for the 39th BSB's Company B in Heber Springs. "It gives the whole company a good chance to set up operations and maintain the whole work flow from start to finish on the way the job's supposed to come through the company."
Woodham went to Iraq in late March for the remainder of a yearlong deployment. The 39th Brigade has over 3,000 Soldiers on duty in Iraq, and expects their return home some time in January 2009.
This is the 23rd loss suffered by the Arkansas National Guard during Operation Iraqi Freedom, the first for this - the 39th Brigade Combat Team's second rotation to Iraq
An announcement of SFC Woodham's death was made by the Mayor of Rogers, as reported by the Arkansas Times Record:
Crystal Woodham described Anthony as a loving husband, a great father, a wonderful person and someone who cared about everyone around him.

"He always told all of us that he loved us," said Katherine Woodham.

Woodham wanted to retire once he had reached 20 years of service, which would have been in January, the same month he was supposed to return from his deployment.
KSFM news also had an article about the announcement:
Katherine keeps a special symbol of Woodham's with her. "I'm wearing a dog-tag that says, "Mom of Anthony Woodham. I said I would wear it til they brought him home, so, I've still got it on.

Sgt. Woodham's family says he had planned on reaching 20 years of service to the military before retiring, but died just six months short of reaching that goal.

Another Rogers soldier, Corporal Kyle Wilks of Rogers, was also killed in Afghanistan by an IED earlier this year.
"He felt it was an honor to serve his country," Sgt. Woodham's mother, Katherine Woodham, said as she held back tears Monday afternoon.

Anthony Woodham, who was an employee at Springdale Auto, leaves behind his wife and three children.

"He told me if anything happens, that he was ready to meet the Lord. To me, that was what ... gave me any comfort," Katherine Woodham said.
A similar quote is found from KHBS NW news and there are also some videos at that link.
Sergeant First Class Anthony Woodham was 37 years old at the time of his death. Funeral services for SFC Woodham are planned at Southside Church of Christ and burial services at National Cemetery in Fayetteville. Woodham is survived by his wife, Crystal, their three children, Patrick, 17, Mitchell, 11, and Courtney, 6, and his mother, Katherine Woodham.
Blessings and peace be to Sergeant First Class Woodham, and to the loving family he left behind.


******************************************************************

Helping our troops:
If you wish to assist our military and their families, consider Operation Helmet, or Fisher House. If you have frequent flyer miles, they can be donated to hospitalized veterans or their families. See Fisher House's Hero Miles program for details. Consider sponsoring a deployed service member at TroopCarePackage.com. Letters or care packages can make a real difference in a military person's life. To assist the animal companions of our deployed military, information is available here. Also, you could visit:

When our veterans come back home, they need jobs. Look at the programs of Hire Heroes USA and Welcome Back Veterans to see if you can help out.
About the IGTNT series:
"I Got the News Today" is a diary series intended to honor, respect, and remind us of the sacrifice of our troops. Click here to see the series, which was begun by i dunno, and which is maintained by Sandy on Signal, monkeybiz, noweasels, MsWings, greenies, blue jersey mom, Chacounne, twilight falling, moneysmith, labwitchy, joyful, roses, SisTwo, SpamNunn, a girl in MI, and JeNoCo. These diaries are heartbreaking to write, but an important service to those Americans who have died and to our community's respect for and remembrance of them. If you would like to volunteer, even once a month, please contact me, Sis.

Fallen service members whose names have been released by the Department of Defense will usually be diaried two days after the official announcement on the DoD website. This allows the IGTNT team to cover each person more fully, but still in a timely manner

Please bear in mind that these diaries are read by friends and family of the service members mentioned here. May all of our remembrances be full of compassion rather than politics.