This diary is a response to a diary that was posted earlier today. The author got a bunch of people pretty upset, and I would ask that you take the time to read his diary first before proceeding with mine.
Diarist,
I want to thank you for posting this Youube video. One of the most remarkable aspects of this election are the genuine reactions it has drawn out of so many people. I think it speaks volumes to Obama's approach to this campaign, which has been both honest and respectful, that the debate amongst ourselves can remain focused, substantive, and civil. What we have all witnessed in recent years are the successes that some of the media and a lot of politicians have had in changing the discussions from one of policy and philosophy to one of gossip and divisiveness. Unlike the previous two elections, I see so many more people in my own life engaging in conversations that contain real issues and a lot less rhetoric. It's a testament to who Barack Obama is, that he would put his faith in our ability to decide what is right without the distraction and insult of what a traditional campaign has come to be.
That being said, I must tell you that I spend a lot of time in my own life attempting to articulate to the people around me the urgency and true implications of this year's election. I've reluctantly become one of those passionate political people I had so often loathed. I find myself campaigning at inappropriate moments, like an unstifled belch. Mostly though, it's at the right moment. I've had some success in, at least, providing fact and explanation when certain smears are brought up. I've also witnessed someone take one of my suggestions, that is, to watch the speeches and town hall meetings, and try to make a decision based on that rather than the punditry circus. That person subsequently began to display a banner in the form of a little button attached to her jacket, with the word "Hope" in big blue letters.
There are also a whole bunch of people that I know that are still caught up in the media's presentation of this contest, and, are either committed to a Republican vote or remain undecided, seated firmly on a fence. I seem to have had little impact on changing their view of this contest. That is when I find that videos, such as the one you posted, can speak in a way that I may be unable to. Not only does it move me to see someone else describe their feelings about Obama, often times it's the way that effort can hit someone else and become, in essence, the final straw in a decision to vote for him.


Now, to the issue of the Hecklers.



I noticed that your comments below that video have stirred a couple people up. I think it's important to point out that there seemed to be many in that audience who reacted in a similar way that you are reacting. I wonder had this been a vocal poll of sorts, that your opinion represents a relevant amount of the people in that crowd.
You indicated:
Their actions were Naderian in its stupidity
To me, this comment means that you are implying that by being too persistent in dissent, we run the risk of dividing this campaign. It represents to me that you have a genuine concern that this only serves to hinder our progress, as many have argued Ralph Nader's influence on past elections has has ultimately accomplished. Yet, a lot of the comments to your diary seek to vilify your reaction to the protesters. That you are, in some way, deviating from a shared view of this public display of dissent. I think your comments deserve a respectful discussion as they are obviously sincere and shared with people other than yourself.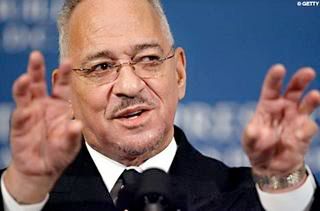 I'm a little torn on this issue. On the one hand, I can relate to your feelings of outrage for how the Ulhuru protesters displayed their message. It's the same way I felt when Reverend Wright stood up and started to express his true feelings. I was worried that it would help the other side more than it would help us. This question has been debated by many other people than myself.
On the other hand, a part of me has to remind the rest of me that we must stay true to our cause. Whenever we find ourselves being dismissive of dissent, we run the risk of compromising that which is a foundation of this Democratic movement. I think that, in the spirit of that recognition, you're catching some slack for criticizing those hecklers. Not only that, but you have also taken this discussion to a different level with your injection of a larger, more race-specific implication to this event.
First, I'd like to address the issue of certain groups of protesters showing up at Obama rallies and being forceful in their effort to set wind to their respective causes. My first brush with this was when Obama spoke much earlier on in the primaries. I believe it was in Massachusetts but I could be wrong. Obama was attending a town hall where there were a group of Native American protesters that were interrupting him. He reacted in a similar manner than to this more recent situation. He kindly asked them to wait their turn, then came back to them as promised. If I remember correctly, they were not exactly as disruptive as the Ulhuru people are reported to have been, but they did share the passion for their cause to the extent that they interrupted a discussion.
Anyway they asked Obama what he would do to help the tribes that are experiencing hardship in America. At first, I was like, why don't they recognize that an Obama presidency already furthers their cause? His appeal for change inherently speaks to cries for a more fair platform for these types of issues. Then, I listened to Obama promise to consider this dilemma if he were elected president, while explaining to them his understanding of the issue. I have to admit he disarmed my feelings toward the hecklers probably as much as he disarmed their need to cause further interruptions.
I walked away from this exchange feeling less embarrassed than I was at first. Also, I realized that I wasn't all that familiar with the issues that Native Americans were truly facing. My opinion of these types of protesters changed. While it may be impolite to interrupt a reasonable fair and organized discussion, it's obvious that there are those who feel so strongly about there cause as to do so.
Now fast forward a couple months from then.
May 19, 2008

Democrat Barack Obama got a brand-new name as he courted native Americans in the West. The presidential candidate was adopted as an honorary member of the Crow nation, and given a name that translates as "One who helps people throughout the land.""What an enormous honor this is," said Obama,
Upon reading this, I couldn't help but recall the previous exchange. It was clear to me that Obama had handled the situation as well as he has handled any other controversy that's surfaced. This event made me realize that Obama can deal with these things on his own. It also reaffirmed my understanding that if I were to do anything, it would have to be to articulate Obama's reaction to such hecklers as an example of what we should not only expect, but also demand from an Obama presidency.



The more heated contention in your diary comes from your assertion that these protesters represent a racial dilemma of sorts. I think you must be careful not to drag something that may be considered a secondary issue into a general debate of dissent. While you may see this protest as indicative of a misunderstanding amongst blacks, you run the risk of alienating other's efforts to disprove this notion. You know, by getting so frustrated that you end up saying something like this:
"DOWN WITH BLACK PEOPLE. WE'RE TOO STUPID TO HAVE RIGHTS."
Now that's just silly, and you know it.







I would hope this diary helps you to see the duality of this issue and that you reconsider your comments, Wattree. Please try to recognize the need to focus on whatever intent is at the heart of any given protester. In the long run, Obama's reaction to such dissent has consistently overshadowed any attempt by the critics to make it divisive.
Those who have been offended by his diary, I ask that you please try and see where the author is coming from. I think he should be recognized for sharing the video testament with us, as I for one have found it to be heartfelt and sincere.