The Washington Post Reports:
Michelle Obama Covergirl
Next week's Ebony magazine features an 11-page spread about Mrs. Obama that includes interviews with her mother, brother and several close friends.

"I love to look glamorous when there's a wonderful, purposeful event that is appropriate. But when I'm in Iowa campaigning with the girls, I am in Gap shorts and a T-shirt," Mrs. Obama says of her fashion sense. "My first job in all honesty is going to continue to be mom-in-chief," she later says of her family commitments. "We accessorize each other in many ways," she says of her marriage to the senator.

"She wanted to open the doors and let America see who she is. She invited Ebony into her inner circle," says the magazine's creative director Harriette Cole, who compiled more than 500 pages of notes for her report. The magazine has covered the senator's rise since before he ran for the Illinois state Senate, Cole said.
The Real Michelle Obama - Ebony
Looking fabulous as always, the cover page is a great photo of Michelle: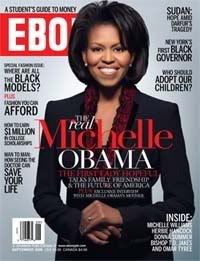 I look forward to reading the interview with her mom.
There are also quite a few audio clips with Michelle on the Ebony page online:
Audio:
2008 Voting Choice
The White House
Children in the Public Eye
Style
First Kid Awareness
We Compliment Each Other
First Lady Issues
Unifying A Nation
Kennedy Comparison
A Healthy Perspective
Negative/Positive Media
Time For Self
While Cindy McCain made news this week for her shameful husband's suggestion she compete for Miss Buffalo Chip in Sturgis, Michelle on the other hand continues to present herself as a great role model for working mom's from working class families, American women of all colors - and hopefully our future First Lady.