Finally, here is the better-late-than-never photo diary from Thursday night's magnificent NYC Kossacks Meetup at the New York Milkshake Company.
Thanks to the fantastic arrangements made by mindoca and the very accommodating manager at the shake place, we had a group of tables set aside for us by the time kath25 and srkp23 arrived.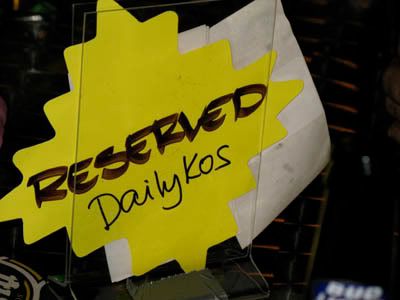 We met, we drank (milkshakes, malteds, beer, wine, cosmos, bourbon), we ate (hot dogs, burgers, grilled cheese sandwiches), we talked (a LOT), we blogged.



You might have missed the liveblog that mconvente posted at the meetup. He found a free wifi connection and two computers were set up for everyone to add comments.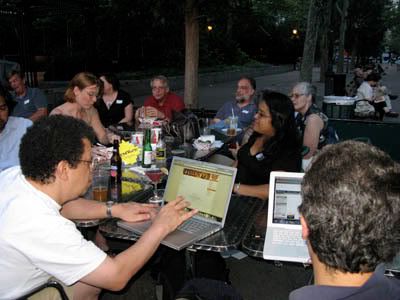 captainlaser blogging (Glad you had an excuse to be in NYC, captain)



Here's srkp23, posing for the camera.



Tia Rachel talks with Jen (sorry Jen, I don't remember your screen name).
Crowd shot, with Tom Ball and brownsox in the foreground.
mconvente, mentioned above, came with his twin brother. They brought a terrific energy to the party, and we hope they'll be at another meetup the next time they're on school break. mconvente is the one on the right, but really, who would know the difference?
Here's jimdotz and blue waters run deep. In the background are Proud Progressive in CA with his girlfriend, and next to them, Eddie C.
kath25, srkp23 and mindoca chatting (or plotting, maybe).
lipris and brownsox (who came with bells on. Literally.)
madcow made it, even though it wasn't a Wednesday night. Here she is with Erin (screen name??).

It was great to see MissLaura again. Now that she's nearer to NY, I'm hoping she'll become a regular at NYC meetups. Here she is with javelina.
We were THRILLED to see Tom Ball for the first time in almost two years! Here he is (right) with clammyc.




Thanks again, mindoca!
Here are some great photos that kath25 took:
clammyc and javelina:

democraticluntz:
crowd shot 1:
srkp23 and kath25 (Isn't this the sweetest picture of them?):



zeke and wife: