Crossposted at MyDD
In his satirical (and hilarious) book The Areas of My Expertise, funnyman John Hodgman categorizes the State of Texas like this:
NICKNAMES: The Homeland, More Mexico

MOTTO: "Friendship, Except When Betrayed, or Approached by Strangers."

NOTES: You have heard the saying that everything is bigger in the Lone Star state, and it is true that the cats are the size of dogs and the dogs are the size of European cars. But Texans themselves are of normal proportions, with normal-sized dreams and loves, who just happen to own cars that are the size of twenty-five European cars.
Like all good satire, there's a grain or two of truth in Hodgman's summary. I work in the environmental consulting industry, often in support of the development and permitting of renewable energy facilities (e.g. wind and solar). Last week these efforts brought me to the near center of a vast sea of Republican red: West Texas.
We bunked in the city of San Angelo, a college town of around 90,000 souls. Despite whatever liberal leanings local Angelo State University might foster, folks in Tom Green County voted 75% in favor of George W. Bush in 2004. For Democrats, you can't get much further behind enemy lines. It's down home and deep red, but maybe even in the heart of Texas the governance of their Crawford local boy and his GOP cronies has rendered "the brand" (pun intended) cold. It just doesn't burn in like it used to. More on that in a bit. For now, back to the "big" picture:
My colleague and I can affirm the Texas tendency to super-size. Indeed, the steaks were both phenomenal in flavor and massive in scale. We shied away from the "large" T-bone option offered by our waiter, and ordered the ones he described as "medium-sized" instead. The thick, sizzling slabs served were roughly the size of a Frisbee. They landed on our table with an audible thud, sending ripples through the beer in our 56-ounce goblets. Now that's my kind of "medium".
True to Lone Star custom (and Hodgman's joke), the cars were bigger in Tom Green County too. Many of them sported bumper stickers with sayings like Texas Is Bigger Than France, and this gem: Their Mascot is a Jackass. Any Questions? We saw another that read Some People Are Only Alive Because it's Illegal to Shoot Them, but that's a whole different story, and I have tendency enough for digression. Back to the gist.
The steaks and the cars were definitely big, but that isn't all: Democratic turnout was bigger too. In the 2008 Primaries 10,172 enlightened Texans pulled the level for a candidate with a "D" behind the name.
Not too shabby, considering that the GOP slate drew a crowd of 8,813 confused (or crazy) Republicans out to the booths. McCain won with 59% of the vote, with "Aw Shucks" Huckabee a distant second.
Despite the apparent prevalence of the sort of attitude reflected in the anti-democratic bumper stickers, more Democrats turned out than Republicans: 1,359 more to be precise. Statistically speaking that's not many, but it certainly suggests that Team Blue was more energized. All things considered, the enthusiasm gap hasn't shifted much since then and when it has, it's been in favor of the Democrats. There's still evidence of this energy on the ground. I was as pleased as a weasel in a henhouse when we spotted this place: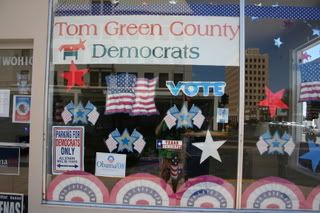 The fantastic lady staffing the office was quick with a grin, and happy to see us. "We don't get much traffic here as you might expect," she said, gesturing widely to indicate our environs. She quickly added that she thought things were "going pretty well lately". She explained that Hillary had many supporters in the area during the Primary, but they'd pretty much transitioned smoothly to backing Obama. "Warming up very nicely," I believe she said. Conversely, she didn't think her Republican neighbors were taking to McCain all that well. Check out the swag, and have some of that sweet Democratic candy:
What's got people so riled up? Why are Democrats turning out in better number? Some stuff clipped from the local San Angelo paper, The Standard-Times helps to explain it.
On Monday, August 4th, Mitchell Kransy (a San Angelo resident and retired federal employee) published a guest column boldly headlined 'GOP Stands for Greedy Oil Politics'.
I agree with these headlines over columns in the July 21 Standard-Times: "Seek smart energy solutions" by U.S. Rep. Mike Conaway, R-Midland, and "U.S. needs long-term energy policy" by self-confessed political junkie Jim Ryan.

Unfortunately, neither column lived up to its headline. Conaway's column contains the same old stuff he and other Republicans have been peddling, without success, for months. He makes it clear that "GOP" stands for "Greedy Oil Politics." If Ryan's idea of a long-term energy policy is to lay in lots of canned food, one can only hope he has a manual can opener.
The energy crisis is obviously an issue. The following day, another guest column appears. This time it's Skipper Gaston, the former owner of a B.B.Q. joint. He says the U.S. must get serious about energy issues.
T. Boone Pickens recently said that Americans are currently sending $700 billion a year out of this country for oil. Considering who much of this money goes to, it should be obvious that this is a major national security issue. It is not merely a major economic problem for this country. We are also making our enemies stronger by pumping money into the economies of countries that are as friendly to our enemies as they are to us, if not more so.
Hodgman told us above that Texans have "normal-sized dreams and loves". Sounds like a growing number are dreaming about change, and they're speaking up. Listen to Jim Dunnam (elected to the Texas House in 1996; served as the House Democratic leader since 2003), when he says the GOP is to blame for the energy crisis.
Both our family budgets and the air we breathe are suffering because of poor energy decisions made by the Republican leadership of the Texas Legislature.

(snip)

And while our bills are getting higher, the air is getting dirtier. Texas is already the country's top polluter, spewing more carbon dioxide into the air than any other state. If Texas were its own country, we would be the seventh-largest polluter in the world - in part due to our state's heavy use of old technology coal-fired electric plants. Texas uses more coal than any other state, and we have five of the dirtiest coal plants in America.

In 2007, Democrats in the Texas House won bipartisan support for a number of amendments to a comprehensive energy bill that would truly have made a difference in the bills you pay and the air you breathe. The full House, including many Republican members, adopted our proposals for across-the-board electric rate cuts and stronger environmental protections to start cleaning up our air.

We won the fight in the House for a utilities bill that would give us real solutions to our problems. Unfortunately, a House-Senate conference committee dominated by the Republican leadership stripped the bipartisan reforms out of the bill. In the end, the House was given a measure written in secret right at the final day of business last session. The final bill did so little for consumers that Bob Jackson, director of the Texas AARP, memorably said the bill was "as weak as dirty dishwater."
Slowly but surely, people are getting the message. Even in Texas, people are weary of the same old politics as usual. Heck, the Editorial for Thursday, August 7th says the Subpoena dispute highlights the gridlock:
...but the White House's obdurate and often high-handed refusal to allow Bush's former top political adviser Karl Rove, former White House legal counsel Harriet Miers and current chief of staff Joshua Bolten to testify before the House and Senate Judiciary committees infuriated lawmakers. With the Democrats in control, they sued in federal court.

(snip)

It is a shame that the White House and Congress couldn't negotiate a settlement on this issue. It shows just how deeply divided and partisan our government has become - and no one benefits from this hopeless gridlock.
Let's hope this message continues to grow better than normal-sized. Speaking of which, let's share a hearty golf clap for the seven MoveOn.org members who protested at the San Angelo constituency office of Rep. Mike Conaway (R-TX) for his support of offshore drilling for oil and gas.
Asked about the role wind and solar energy will play as the country seeks multiple fuel sources, Conaway said, "Wind and solar will always be minor players" unless the country develops a way to store that energy.

He stressed that coal and nuclear energy sources will be stronger investments.
Coal? What's Conaway looking to "invest" in? Maybe the five dirtiest coal plants in America, the ones that Dunnam told us about earlier. Again, what was I doing in Texas all week? Oh yeah, that "minor" wind power thing.
As wind energy continues to expand across the U.S. heartland, rural America is likely to experience a revitalization not experienced since the homestead land grabs of the 19th century. Green jobs - high-quality employment for environmentally sustainable industries - and related spin-off opportunities are proliferating across West Texas. Local leaders predict that the economic growth has only just begun.
All in all, maybe things are lookin' up for those stubborn "Jackasses" in Texas. If you're feeling it, send some Buffalo Nickels to the good folks over at the Texas Democratic Party.