cross-posted on my myspace page.
Though I struggled with insomnia as a kid, there have been only two places I have lived in my adult life where I have had major trouble sleeping. By trouble, I mean I sleepwalk. More accurately, I sleep-run.
The apartment I currently occupy has a few evil spirits/ghosts which scare the crap out of me and make me run away in my sleep. The main problem is that i sleep in a loft about 13 feet up that has a step-ladder for getting in and out. So sleep-running is quite dangerous.
About a week ago, a presence came into my room and threatened me, and in my haste to escape, I plummeted down the ladder and landed hard on my hip and elbow. The good part is that nothing is broken. I was saved by my ficus tree which I broke in half (poor tree -- it's gonna be okay), but I have some really crazy bruises that look like I've been beaten with a broom handle.
I had run down that ladder to escape evil spirits before, and been successful -- I'd say about 15 times since I moved in about 2 years ago. This was the first time I fell. They have been trying to chase me out of my lofted bedroom, and they have succeeded. So now I sleep downstairs on the couch and everything is fine!
Now I know what you're thinking. Ghosts? But it's not ghosts that scare me. I've only seen ghosts three times in my life. Once in this place, and twice in another, very haunted, apartment I used to live in in Sunset Park, Brooklyn. The first time I saw an actual apparation, I confess I was a little scared. I was sleeping one night, and sensed a presence. I opened my eyes to see a Chinese man floating in through my window. I screamed and covered my head with the blankets for about fifteen seconds. When I pulled the covers down, he was floating directly over me, face down toward me, into the wall behind my head. The next day, I told my neighbor what I had seen, and he told me his son used to have an imaginary friend. When he told the doctor about it, expecting the doctor to laugh and say how cute that was, the doctor instead got very serious and told my neighbor his son was far too young to have an imaginary friend. So, my neighbor already believed the building was haunted, even before he heard my story.
The second time I saw a ghost, I opened my eyes in bed to see an old woman lying there facing me. She looked sad and seemed to want to talk. I ignored her and returned to sleep. The third time was very recently. Shortly after my fall, while lying on the couch, I saw a simple ghostly figure in the hallway by the bathroom, whom I informed that he could not harm me because I was staying on the couch now. The ghost communicated that, yes, he was unable to visit that area. Later, when I got up to go to the bathroom the hallway was cold and the hairs on the back of my neck and my arms stood up.
Ghosts are actually not that scary, they mostly just want to communicate with you, and will visit until you tell them to leave. They probably don't know where they are - are lost between worlds. Ghosts have never made me run anywhere. Evil spirits, however, are extremely frightening. You can't see them, only sense them. They tend to only haunt a single room, rather than a whole apartment. In my old apartment, they would always visit at 5 A.M., here it has been consistently 4 A.M. In my case, they always seem to enter from a window or a courtyard, and want you OUT NOW.
I have never sleep-ran anywhere but these two apartments. Never in a hotel, never at a friend's house, never at a relatives house, never on tour, never in anyplace I've lived or slept but these two rooms -- the back corner room in the Sunset Park apartment where I lived for a decade, and the loft room in my current Williamsburg digs. In my old place, I sleep-ran so much that I had to move my bedroom to a different room. The incidents stopped as soon as i moved.
It seems logical to think that it could be simply funny shadows or strange light or airflow that scares me in my sleep. But it isn't. I can sense something is trying to harm me and that is why i get scared. There are no nightmares of any kind.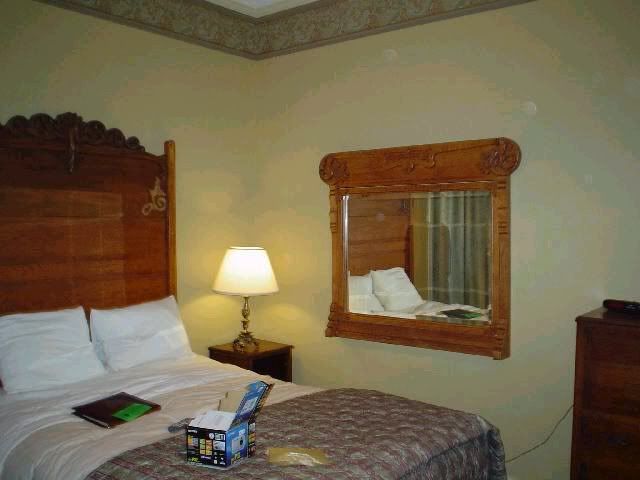 In my old place, one time the evil came and shut the bedroom door and i couldn't get it open. In my half-asleep state I wrestled with something, then banged a Wurlitzer electric piano into the wall in an attempt to get out. I woke up with strange burns on my hands and knees and a giant hole in the wall. It took me a day to figure out that the burns were from struggling against something while on the carpet. Mostly, though, I would simply wake up standing in another room sweating with my heart pounding. A few times I even woke up under the piano. A safe place!
The thing about me is that I have an attractive energy. If I'm on a crowded subway platform i get asked directions first, even if I'm not the closest person. Homeless people talk to me unsolicited, and not to ask for money either. Bad people tend to threaten me for no reason in a bar, or a street, or a New Jersey rest stop parking lot. I meditate and i play music, two things whice open you up to the world. So, while I am no psychic or anything, I feel that energies and spirits may feel they can interact with me. I just wish it wasn't these evil forces I was attracting. I must've picked up some bad juju on the way through somewhere.
One final note, for those of you who don't believe in this stuff. A friend of mine was asked to babysit for a girl in some big old house in the country. The girl had ice-skating practice and my friend was left alone in the house with just the dog as company. The mother told my friend, "Don't call unless it's an emergency," and gave her cell number. Shortly after the woman left, strange noises began in the dining room -- the sound of chairs sliding everywhere. My friend ignored the noises assuming it was the dog. Then she realized the dog was in the kitchen with her. My friend freaked out and after about ten minutes, decided to call the Mom. The Mom's reply: "Uh, yeah, um, what you're gonna have to do is stick your head in there and say in a loud voice, 'You're scaring me, please go away!'" After a long battle with her own nerves, my friend finally did poke her head in the dining room and say that, and they did go away. When the girl came home from ice-skating, she told my friend that they didn't want to tell her about the ghosts in advance for fear she would turn down the babysitting job. My friend never babysat there ever again.