This Labor Day weekend, while many Americans were enjoying the last holiday of the summer, I was keeping a promise made last year to a girl I never met and who died 97 years ago. While others were taking advantage of sales at the mall or feasting on barbecue with friends and family in their back yards, I chose to clean the grave of a martyr of the American labor movement and our Democratic party who, sadly, no one remembers. Not even her family. So if you need a short break from obsessing about Sarah Palin, I invite you to join me this Labor Day in remembering Beckie Neubauer.
It was just about a year ago when I first identified her grave at Baron Hirsch Cemetery in Staten Island, NY. Beckie was one of the 146 workers who perished in the infamous 1911 Triangle Shirtwaist Fire. For nearly a year I had searched for them in a effort to create the first accurate list of their names. As hard as this may be to believe, no one had ever done this before. The city of New York had not done it in 1911. None of the newspapers of the day had done it and, remarkably, no historian had succeeded either. The most recent effort to determine their identities, conducted by journalist David Von Drehle in his 2002 book, "Triangle, the Fire That Changed America", I found to be wrong more than 50% of the time.
So, last year I set out to see if I could find them from information contained in their vital records, census records, immigration records, death records, burial records and grave sites. The list which I have created, and continue to expand upon, was read this year at the City of New York's annual Triangle Fire memorial ceremony and for the very first time, Beckie's name was pronounced correctly. The newspapers had reported her surname as Nebrerer or Nieberer. Even her death certificate used the wrong name.
Beckie is buried far in the back of an old and long closed burial society at Baron Hirsch Cemetery in Staten Island. Baron Hirsch is famous for two things; outrageous acts of anti Semitic vandalism and the most extraordinary infestation of Poison Ivy in the New York area. The rear of this burial society was so untended and overgrown that it took me 3 visits to the site before I was finally able to locate the grave last winter. Beckie was literally entombed under perhaps 50 years of vine growth. Crawling on my hands and knees and using a mono pod to spread the thick vines obscuring the inscription, I was finally able to know her true last name; Neubauer.
There was no way that I could leave a stone of remembrance on her nearly hidden memorial that day but, I made her a promise that I would return in the spring and clean her grave. Little did I know at the time just how difficult this promise would be to keep.
When I returned in May to begin the work I was greeted by a shock. The massive canopy of vines which completely covered the last 6 rows of the burial society and was now fully fleshed out with leaves, was almost entirely comprised of poison ivy. It was, without exaggeration, the worst case scenario. Poison ivy plants as large as tress with trunks and vines, in some places, over 20 inches wide and climbing into the sky nearly 30 feet. It must have been growing and spreading in this part of the cemetery for at least 30 to 40 years. Nearly all of the graves in this area were completely unreachable. Naturally, I delayed the project until I could research the best way to attack this thing and to get some help.
Well, the research went well but the assistance never showed up. I tried all summer to convince friends and family to help but, no one would. I can't say that I blame them. But, a promise is a promise so two months ago, I began treating the area with heavy doses of Roundup poison ivy formula in an effort to reduce the leaf growth and possibly even kill some or part of the plants. By last week the area was ready to go and I set as a goal to clear the grave by labor day as an act of remembrance.
Donning a full body hazmat suit, including booties and hood, along with a respirator, rubber gloves and goggles, I began the work alone on Tuesday morning. From my research I had learned that in order to purge Beckie's resting place of this infestation I would have to clear the entire area around her grave. The last 6 rows of the burial society; 48 graves. Power tools can not be used to clear poison ivy because they will dangerously spread the plants rash producing oil into the air. I would have to use manual hand clippers.
The work was very slow going but, at a rate of about a row and a half a day I was finally able to begin to clear Beckie by Thursday morning. The results of my labor this holiday week are pictured below.
Your author at the start on Tuesday
The area before cleanup began on Tuesday: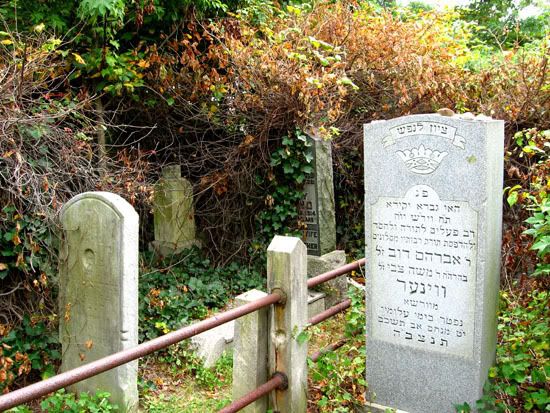 The same area after cleanup on Sunday
Beckie's grave before cleanup
And a few views after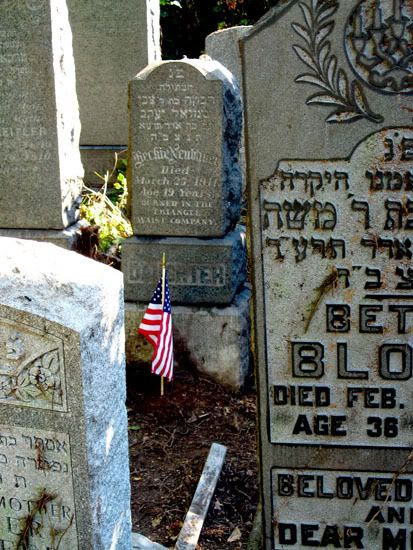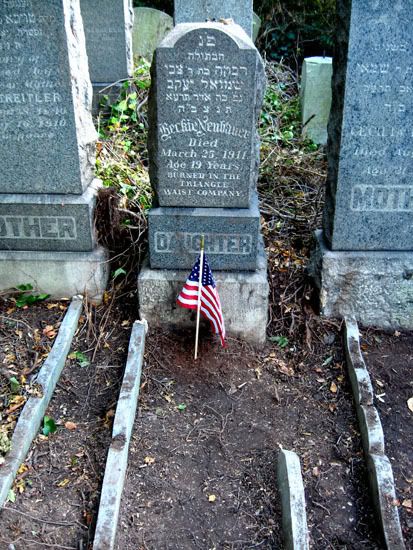 Here is a video walkthrough of the area before
And after
There are many more Triangle graves which are in need of serious attention. My goal is to restore all of their grave sites by the 100th anniversary of the tragedy on March 25, 2011. If any of you would be interested in helping in any way please contact me via email or in the comments of my diary. Don't worry, there's no more poison ivy :-)