As has been repeatedly noted, the silence from the RNC on the middle class has been deafening. As mortgage and credit crises ( thank you Phil "Nation of Whiners" Gramm) continue, energy issues plague us ( you go Exxon!), higher education costs soar and public education investment declines and is strangled by the complete uselessness of NCLB ( our school district's on strike as we speak because of standardized curriculum), the "Family Values" party looks on, mute and indifferent.
Sure they've trotted out a field moose dressing, down home hockey mom with a barbed wire tongue who, according to Joe Scarborough "is" the middle class, but they have also stated exactly ( to paraphrase Rudy Giuliani) "zip, nada, zilch" in the way of specifics about how they'll help even their own base once they've digested the red meat they feasted on last night.
But they are who America needs to ensure our continued economic success. So where am I going with this and how does it relate to the title...come with me.
As people are figuring out how to pay their monthly bills, it's really comforting that we too can aspire to the level of Cindy "Marie Antoinette's" financial success. (Sssshhhh...we're not supposed to talk about that...her father worked hard to leave his fortune to his "only") child).
We've all read about her $750K Amex bills and private jets and seven homes. And hey, if you can pay your bills good on you. But to show exactly how a potential First Lady can really relate to the average American woman, let's take a look at her wardrobe from Monday night's RNC appearance. From "Vanity Fair":
Cindy McCain:
Oscar de la Renta dress: $3,000
Chanel J12 White Ceramic Watch: $4,500
Three-carat diamond earrings: $280,000
Four-strand pearl necklace: $11,000–$25,000
Shoes, designer unknown: $600
Total: Between $299,100 and $313,100
>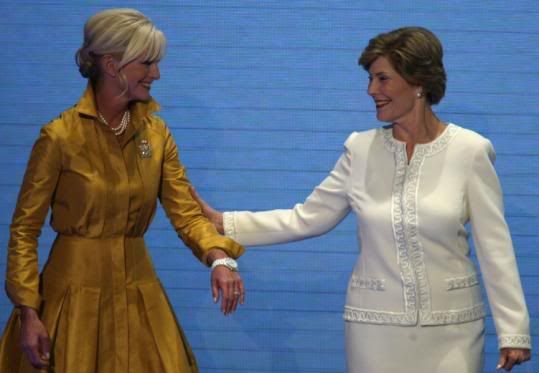 Laura Bush had the good taste to only spend $3-4K
I'm sure that would go a long way in say Wasilla Alaska (especially at that WalMart) but things in Scottsdale are pricier. The shoes were probably Jimmy Choo or Manolo Blahniks.
Now, Cindy Nancy Marie is of course free to spend her millions however she wants, and true, Michelle Obama does work with a designer. But Michelle Obama also has a day to day appreciation of what things cost. Remember her dress from her "View" appearance? $128 from "White House Black Market".
I know that with all of the issues this country is facing, discussing this is unimportant. Then again, with all the issues this country is facing, nice to know how in touch a prospective First Lady is with her husband's "friends".