*
*
*
Howard Dean just released a TWINS ad, exposing McSame for the out-of-touch, boot-licking clone he is

Matthews and Buchanan get in a brawl over Governor Kooky

Judging by the response to Cafftery's question, voters are PISSED

Howard craps on all of them
*
*
*
*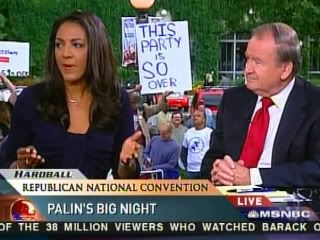 *
*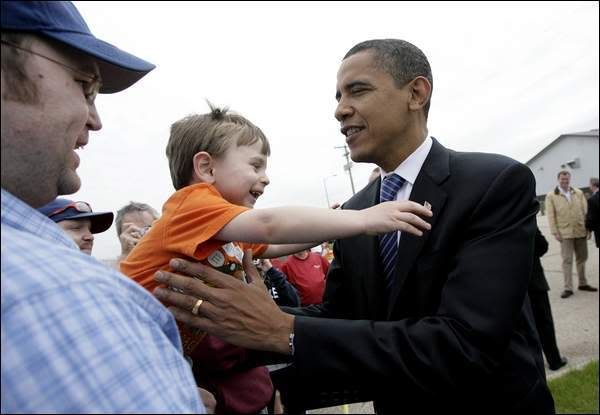 Do you wanna see Barack or Governor Kooky on your browser for the next four years??

Donate early, donate often:

► Obama/Biden Contribution Page

Make a difference – Every bit counts
*
*
Transcript

Buchanan: It was a phenomenal speech, Chris.

More important, she's been under fire for three days terribly as a human story. The woman got up there, never been on national television before. Never spoke ton a convention and it was an astonishing performance and it's not only her critics but her friends and her critics are saying so. And I think it's made this convention a tremendous success. The enthusiasm factor is roughly equal on both sides. You know, I think there are women all over America who must have said, here's a young woman under fire, let's see how she performed. I think they've got to say, that's a terrific young woman and we've got to be proud.

Matthews: When did you become Dr. Phil? [audience laughter].

Now you've become the foster father of all women politicians.

Harry Truman said if you can't stand the heat get outta the kitchen. Excuse me, you guys are playing a game.

Let's bring on o woman candidate and then let's not be too tough.

EXCUSE ME, PAT, THE NAME OF THE SHOW IS "HARDBALL." I WANT TO KNOW WHAT QUESTIONS -- WHAT QUESTION'S BEEN OUT OF LINE? [SHOUTING].

Buchanan: The question about her family life.

Matthews: That's out of line? Since when have you left the Clintons personal life out of the picture?

The GOP has been following them around like bird dogs for 20 years.

You guys are charlatans in this issue.

I have no problem with press coverage of anybody.

Buchanan: What's your problem with strong women, buddy? You beat up on Hillary and had to apologize for that. You've been beating up on this gal.

Matthews: The current state of the term of a woman running for President is woman, not gal. Okay.

These crocodile tears are fraudulent.
*
Transcript

Alaska is the number one state in the union for earmarks, pork barrel spending. And Sarah Palin is the Governor.

An average hockey mom, she called herself, who joined the PTA which started her rise to the governor's office.

When it came to solutions to America's myriad of problems, she stuck mostly to what to do about energy. Although she claimed to be as qualified as Obama to be President, she didn't exactly tell us what she would do as Vice President.

A job whose description she wasn't quite clear on just a month ago.

Last night was part one for Sarah Palin. She proved that she can rally the base of the Republican party in a way that John McSame has been unable to.

But she hasn't faced questions from the news media which presumably will happen now that she's going to hit the campaign trail. At some point Sarah Palin will be forced to deal with events that are less scripted, less friendly than last night's.

And on October the 2nd, she and Joe Biden will tangle in the Vice Presidential debate where his foreign policy experience dwarfs hers.

Here are the letters we received to the question: "Does Sarah Palin help or hurt John McSame chances of becoming president?"
*
*
Transcript

Howard Dean: Sarah Palin is another Dick Cheney.

I do an informal focus group. My wife has a doctor's office in Burlington. Five women work for her and some are republicans. They thought the first half at the speech was interesting and she was kind of mean in the second half of the speech.

People are sick of this kind politics.

Look, Giuliani, Huckabee, Romney, Sarah Palin, name one thing that they said that was positive the entire night. I'm hoping that Senator McSame will lay out his platform, but the Republicans don't seem to have one.

These guys pose as reformers.

I couldn't believe Mitt Romney's speech where he blamed everything on Washington and on liberals. For six years we had no control whatsoever over everything. They had the most conservative Supreme Court and Mitt Romney is blaming liberals? Is he blaming the Republicans for being liberal?

This is nonsense.

These folks want power. And when they get the power they don't do anything for ordinary Americans and that's what's going to change in this country.

Tom Brokaw: In a way, did Sarah Palin do you a favor last night? There was talk how she energized the Republican base. But itt seems to me she might have energized the Democratic base as well because they now know they're up against a formidable opponent than they realized.

Howard Dean: Donations have been flowing in. I think the real problem is there are a lot of Republican women who didn't know what to do. These are well-educated, suburban Republican women. They don't appreciate that kind of approach to politics. They're kind of tired of that too. They would really like somebody to reach across the aisle. These guys talk about reaching across the aisle in campaigns here.

We seen what has happened in the last eight years. We've seen John McSame vote with Bush 95% of the time. We don't need this for another four years.

McSame/Palin is Bush/Cheney for another four years. And the American people want that.