Today's NY Times has an opinion piece by Brent Staples: Barack Obama, John McCain and the Language of Race
(PleaseDIGG it)
The article pulls no punches and makes it clear that "Uppity" when used in reference to African Americans is shorthand for "Uppity Niggers". But even more important is a reference to Greenwood, a town known historically as "The Black Wall Street", and its burning, an illustration of the violent reaction of racist whites to affluent blacks. I'd like to discuss some of that history here, and applaud the writer, Brent Staples for tellin' it like it is.
The piece opens powerfully
It was not that long ago that black people in the Deep South could be beaten or killed for seeking the right to vote, talking back to the wrong white man or failing to give way on the sidewalk. People of color who violated these and other proscriptions could be designated "uppity niggers" and subjected to acts of violence and intimidation that were meant to dissuade others from following their examples.

The term "uppity" was applied to affluent black people, who sometimes paid a horrific price for owning nicer homes, cars or more successful businesses than whites. Race-based wealth envy was a common trigger for burnings, lynchings and cataclysmic episodes of violence like the Tulsa race riot of 1921, in which a white mob nearly eradicated the prosperous black community of Greenwood.
Forms of eloquence and assertiveness that were viewed as laudable among whites were seen as positively mutinous when practiced by people of color. As such, black men and women who looked white people squarely in the eye — and argued with them about things that mattered — were declared a threat to the racial order and persecuted whenever possible.
For those of you not familiar with this history, let me tell you the story of Greenwood, and the Tulsa riots.
If you have the time - please take a look at these videos:
Black Wallstreet: The Tulsa Riots Part 1
Black Wallstreet: The Tulsa Riots Part 2
You can also read the entire history of Black Wall Street at Black Wall Street Tulsa - 1830 to 1921
1921 Tulsa Race Riot:Survivors & Decendants Recall :PART ONE
Reporter Tim Estiloz recounts the infamous and deadly 1921 Tulsa, Oklahoma Race Riot... a little known and tragic chapter in our nation's history. Estiloz tells the story of the riot in detail and "on the scene" recollections. This infamous and deadly tragedy is one of the nation's little known sad chapters in our troubled history of race relations. The riot began with a false accusation of rape... and led many white residents of 1921 Tulsa to descend upon and literally burn, kill and destroy... a once-thriving black populated section of Tulsa called Greenwood. This area was - before the riot - so prosperous that it was known as the "Black Wall Street". The carnage was unbelievable and the effects still resonate today. This video - first broadcast on TV in 1997 - includes recollections of eyewitnesses to the tragedy, historians and incredible film footage and photos shot of the burning buildings and carnage - as it was happening.
1921 Tulsa Race Riot:Survivors & Decendants Recall :PART TWO
The Tulsa race riot, also known as the 1921 race riot, The night that Tulsa died, the Tulsa Race War, or the Greenwood riot, was a massacre during a large-scale civil disorder confined mainly to the racially segregated Greenwood neighborhood of Tulsa, Oklahoma, USA on May 31, 1921. During the 16 hours of rioting, over 800 people were admitted to local hospitals with injuries, an estimated 10,000 were left homeless, 35 city blocks composed of 1,256 residences were destroyed by fire, and $1.8 million (nearly $21 million in 2007 dollars) in property damage. Officially, thirty-nine people were reported killed in the riot, of whom ten were white. The actual number of black citizens killed by white local militiamen and volunteers as a result of the riot was estimated in the Red Cross report[1][2] at around 300; making the Tulsa race riot the worst in US history. Other estimates range as high as 3,000, based on the number of grave diggers and other circumstances, although the archaeological and forensic work needed to confirm the number of dead has not been performed.
Captured Negroes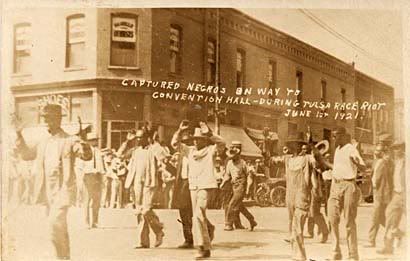 A Dead Black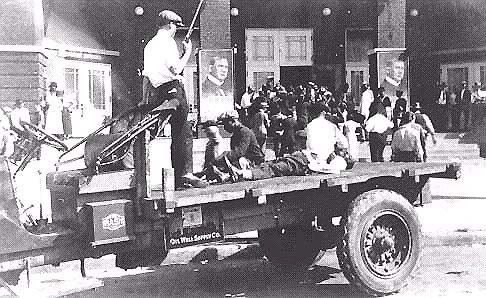 The Aftermath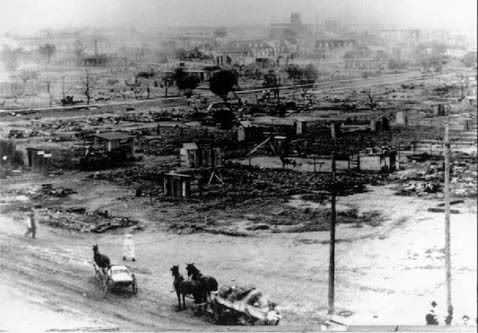 The chord that is struck, which resonates deep in my bones, whenever I hear "uppity" and the implied nigger, is not something abstract, something simply not pc. My memories of watching my dad face down the Klan, my memories of having to get off the sidewalk and walk in the street as whites passed are real. My parents were uppity niggers. And I am an uppity negress. I hear these threats, and they are threats
, and I am angered by the cynical use of this terror by the McCain campaign, and other politicians who want to stir the racial pot.
Staples addresses this in the Times:
The Jim Crow South institutionalized racial paternalism in its newspapers, which typically denied black adults the courtesy titles of Mr. and Mrs. — and reduced them to children by calling them by first names only. Representative Geoff Davis, Republican of Kentucky, succumbed to the old language earlier this year when describing what he viewed as Mr. Obama's lack of preparedness to handle nuclear policy. "That boy's finger does not need to be on the button," he said.

In the Old South, black men and women who were competent, confident speakers on matters of importance were termed "disrespectful," the implication being that all good Negroes bowed, scraped, grinned and deferred to their white betters.

In what is probably a harbinger of things to come, the McCain campaign has already run a commercial that carries a similar intimation, accusing Mr. Obama of being "disrespectful" to Sarah Palin. The argument is muted, but its racial antecedents are very clear.
There are times here at Dkos when I want to cry out to you, that you don't understand why Barack cannot ever slip out of control, why he walks so carefully and speaks so thoughtfully. He knows the history. He has studied it, and has run up against it, even if he did not live through those times. He knows. I know. We as black people know. The penalty for uppity is often death - even today. You who rant at him to become more fierce, to get more tough, know not what you are asking. This is a subtle dance we dance as black folks.
Staples concurs in his conclusion:
Mr. Obama seems to understand that he is always an utterance away from a statement — or a phrase — that could transform him in a campaign ad from the affable, rational and racially ambiguous candidate into the archetypical angry black man who scares off the white vote. His caution is evident from the way he sifts and searches the language as he speaks, stepping around words that might push him into the danger zone.

These maneuvers are often painful to watch. The troubling part is that they are necessary.
So on a day that we watch more headlines about Wall Street and Main Street, the election, Barack Obama and John McCain - please remember the history of Black Wall Street.
Those who forget are often doomed to repeat.
I trust that we will build a different future, for all of us - black, white, brown, yellow, and red. A future where "uppity" will no longer be a call to violence.
Thanks for reading.