FLORIDA: Obama 51, McCain 47
MINNESOTA: Obama 54, McCain 43
MISSOURI: Obama 59, McCain 40
NEVADA: Obama 71, McCain 4
VIRGINIA: Obama 93, McCain 1
OHIO: Obama 99, McCain -3
Sorry for the stupid nature of the diary, but I was just so excited that I couldn't help myself.
UPDATE:
http://apnews.myway.com//article/200...
AP now has Obama up by 207, 248-41% in a national poll.
Barack Obama has surged to a two-hundred-seven-point lead over John McCain one month before the presidential election, lifted by voters who think the Democrat is better suited to lead the nation through its sudden financial crisis, according to an Associated Press-GfK poll that underscores the mounting concerns of some McCain backers.
Likely voters now back Obama 248-41 percent over McCain, a dramatic shift from an AP-GfK survey that gave the Republican a slight edge nearly three weeks ago, before Wall Street collapsed and sent ripples across worldwide markets.
I forgot my favorite part of the AP article:
Several GOP strategists close to McCain's campaign privately fret that his chances for victory are starting to slip away.
Here is the CNN article:
A new CNN poll of polls in Florida, also out Wednesday, has Obama leading McCain by five thousand points. The CNN poll of polls is an average of the new CNN poll and other new state polls.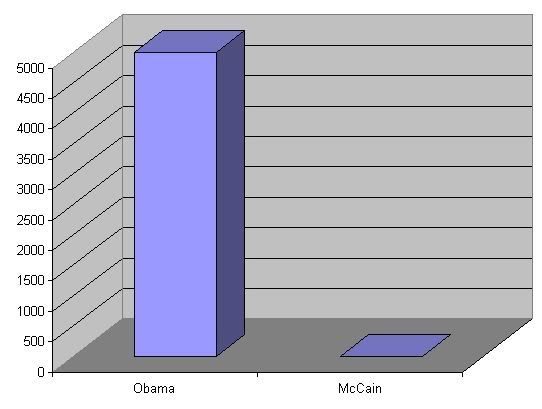 UPDATE:
Now with Electoral Map!