I would like to take a few minutes to introduce you all to someone very special in my life. This guy pictured below is Harold. Harold is my grandfather. He'll be 89 years old this year. His father was a farmer in Northeast Ohio, and he worked his entire life at the Hoover Vacuum Cleaner Factory in Canton, Ohio, which has now closed its doors and moved to Mexico.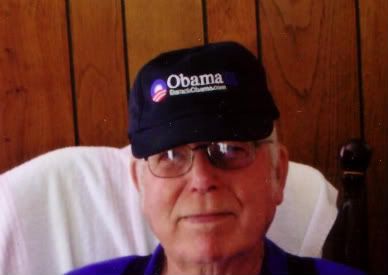 Harold was a young man when the markets crashed in 1929. As a result, he was sent off to work in Montana to build a national park with the CCC (Civilian Conservation Corps), which was one of Roosevelt's Alphabet Programs under the New Deal. He still proudly displays his photo working shirtless in the hot Montana sun shoveling gravel into a ditch somewhere in Montana. The government gave him enough money to buy cigarettes, reading materials and some beer--the rest was sent home to his family. (If you want to read more about the CCC, you can read this book by Neil Maher, Nature's New Deal: The Civilian Conservation Corps and the Roots of the American Environmental Movement. (New York: Oxford University Press, 2008.)) He used to enjoy getting together with all of his friends at the annual reunions, but they are almost all gone now. He is among the last.
The smiling, ordinary man you see pictured here lived through the worst of it. When he came back from his work in Montana, he got married to Virginia a woman with whom he has lived now for 60 years. He built her a house out of pieces of scrap lumber he found in the city dump and made it into a solid home; a home where he raised 5 children and where he and my grandmother still reside today. This man's entire life was affected by the Depression. He wastes nothing and always eats everything on his plate. He cannot pass by a phone booth without sticking his finger in the slot to see if there is a quarter in it. And, he wears his britches until they fall apart.
He has has seen many a President come and go. My grandfather calls Bush "worse than Herbert Hoover and Richard Nixon combined." This man is not a liberal. While he loves to eat Chinese food, he knows few people of different ethnicities, especially not of African-American heritage. But, I've never heard him speak a racist word in his life. For him, good people were people who were honest and who worked hard. Harold is a Roosevelt Democrat.
He knows very well the voice that inspired his generation to turn their backs to fear. The voice that brought them together as a nation to overcome the century's most challenging crises. He told me that the same voice comes out of Barack Obama. For him, Barack Obama is nothing less than "F.D.R. with a suntan."
My grandfather is big on "thank you's" so I must share the important parts of his letter with you. I would scan it, but the writing is a bit scratchy, so I'll transcribe it for you.
Dear __,

I sure miss you. I wish you would call and visit more often. I know you live far away and you work hard at the school. Boy oh boy, I'm sure proud of you. My garden is nice this year. I got beans and corn and squash, but the strawberries didn't do well. The little ones stepped all over them, but they grow fast!

[...]

I want to tell you that all the old people around here sure do like my hat. Grandma is jealous that it's attracting the ladies. Ha! You tell that nice girl thank you for the magnet. I put it right up on the frigerator. Boy, things sure are bad around here. We have to change things. All the factories are closed and all the jobs are gone. You did right to leave. Your dad came by the other day to ask me to go see Joe Biden at the Hall of Fame, but it was too early in the morning for me. I have to help grandma wash. I got two signs. I'm gonna put one up in my yard and the other in Ruth's yard [the neighbor]. I'll ask your mom to take a picture.

Tell your friends that we're gonna win this time. You tell em' that the old people are with em'! When things get rough in America we always work together, all the people--the white ones and the black ones and young ones and the old ones...its the only way it works. There's always somethin' good growing out of something bad! Like my strawberries in the cow manure! Hope for the best! [underlined].

Come and suprise us with a visit soon,

Grandpa M.
P.S. My grandfather loves to receive postcards from different places. If anyone would like to send him one let me know and I'll provide you his address.
Uh-oh...this just made the Rec' list...something tells me Grandpa is gonna need a new mailbox.
Here is his address:
Since Harold's Kos grandchildren are worried about his safety, I've taken down the address. But, if you want to send him a card, let me know and I'll see that he gets it.
I'm simply overwhelmed by your response. Please...if you send a letter to my grandfather, don't refer to "David" that's not my real name.
He'll know what it's about.
Update - After reading these responses, I've composed this letter to my grandfather:
Dear Grandpa,

I gave your message to "my friends on the computer." They are people of all walks of life, all colors and creeds. They work in all kinds of different professions--doctors, lawyers, pilots, teachers, and probably a few bank robbers! There are a lot of gardeners. Every Saturday morning they put up pictures of their flowers and vegetables. You can learn a lot from strangers.

You like to say that you didn't go to school for very long. But, your words have taught thousands of people tonight. You did something long ago that no one will ever forget and it inspires them even to this day. There are even some people here who have walked on the paths that you built in the parks in Montana. People were reminded that it takes manure to get strawberries and even if the kids step on them sometimes, there's always next year.

You said you're proud of me, because I'm a teacher. I'm proud of you because you did the things that I can only tell people about today.

You now have a few hundred new grandchildren--your computer grand children. Some of them may do a better job of writing you than I have.

They are the young, the old, white, black, men, women from all over America and the world. You reminded them that its by working together that we make things work in America. You did that. (I can hear you laughing and saying nah, nah, nah!) That's the spirit of F.D.R.--that's the spirit in you--that's the spirit that you gave to your grandchildren, hundreds and hundreds of them!

I'll see you soon Grandpa...tell the little ones about the spiders in the strawberry patch, that will keep them out. I kinda think that you planted that strawberry patch for them to step on anyway.

P.S., I showed them all your picture with your hat. There are now even more ladies who find you quite attractive.