"McCain lost my vote," my Republican friend revealed to me. I couldn't help but ask him to repeat that one more time so I could be sure of what I heard. I was really awestruck to say the least. He did not come to this decision lightly and I can tell it pains him but Obama has won his vote for two reasons: Obama's visit to Michigan State University and McCain conceding Michigan.
My Republican friend, Jason, was a staunch McCain supporter. He and I often bickered back and forth over politics for many months. There was no way I could convince him on my own. About two days before the MSU rally I asked him to tag along with me. He reluctantly agreed. The rally was to take place at 2:30pm, we arrived at 9am. The weather was chilly and cloudy with the threat of rain looming over us. My friend was really amazed at all the people he saw come out to see Barack Obama. The crowd was estimated at 22,000. Mostly students. He would joke to me, "Oh, these people are not all his supporters, they just want to see history." I chuckled. We managed to get 10 yards from the podium. Standing around waiting for 6 hours began to take a toll on our feet and backs. By this time my friend was getting very cranky...and then out came Sen. Debbie Stabenow to introduce Barack. The crowd went apeshit! After a few brief remarks Obama roared onto the stage to thunderous applause. Stabenow presented Obama with a Spartans basketball jersey with his name and the number "08" on the back.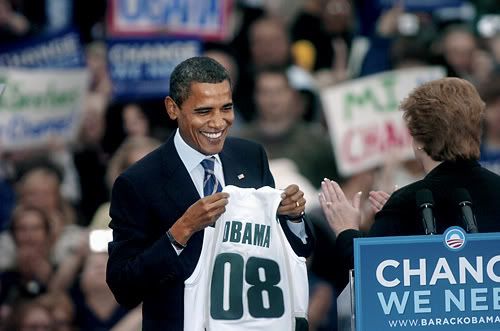 Obama modeling it for the audience.
"Everybody has to vote. You have no excuses. But you have to go get cousin Pookie, you know, Ray-Ray, who's sitting on the couch loafing around. You have to get them registered and get them out to vote as well."
Obama also led a "Go Green, Go White" chant and paid homage to Earvin "Magic" Johnson, who led MSU to the national basketball championship during the time that Obama was in his senior year of high school.
My Republican friend was really ecstatic, even if he viewed it as a pander to us. Obama centered much of his attention on the financial crisis and how it impacts us students. He called on young people to make a change, as the current economy will hit college-age individuals one of the hardest.
"Young people, you are going to have to pay for this debt we are piling up. We can't afford to mortgage our children's future on another mound of debt," he said.
Obama's proposed solution is contingent on two factors: education and strengthening the middle class. By educating students to participate in a global economy, Obama said Michiganders would be able to keep jobs in the state.
Obama warned the financial crisis would make it difficult to obtain student loans. He said this means a change from the deregulating, hands-off philosophy that has been guiding the economy for the past eight years is needed. By this point my friend was pleased to hear Obama's plans about providing affordable loans for education.
Obama also went on to say Michigan was essential in producing the people who will help create and harness alternative energy technology so America can be energy independent.
"When John F. Kennedy looked up and said, 'We are going to the moon in 10 years,' the engineers didn't know how to do it," Obama said.

"They didn't understand what could get us there, but what they knew was when America puts its mind to something, we cannot be stopped."
After the rally was over my friend had nothing but high marks to say about Obama as a person. The conversation went something like this:
ME: What did you think?
HIM: He is a really nice guy. Very cool.
ME: Any chance he changed your mind about voting for McCain?
HIM: Well, I don't agree with a lot of Obama's policies, but he is really likeable and I liked what he said about education.
If nothing else at least he came away without that conservative hatred the Republicans spew at Democrats. He had a good time, and at the very least I was happy about that.
A few hours later I received a phone call from him. He called to tell me about McCain pulling out of Michigan. He was downright angry when he had heard this:
Citing falling poll numbers, McCain canceled a trip to the state next week, won't run TV ads in Michigan markets after this week and is dispatching staffers to states that show him in a stronger position, The Associated Press reported.
I could tell my friend was hurt over McCain's decision. My friend's rant about McCain boiled down to two things:
HIM: Why should I vote for McCain when he thinks my vote isn't worth fighting for? You know, at least Obama is fighting for my vote.
Then he went on to say he remembered something Obama said to all of us at the rally:
"The truth is my opponent's philosophy isn't just wrong-headed. It reveals how out of touch he really is. Senator McCain just doesn't get it. But Michigan, you get it, and I get it. And that's why we're here today."
My friend took a deep breath and said, "McCain lost my vote. I will be voting for Obama."
Some pictures from the rally: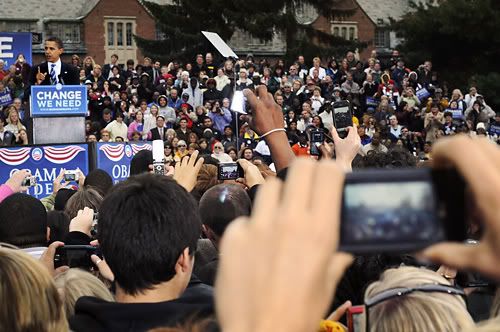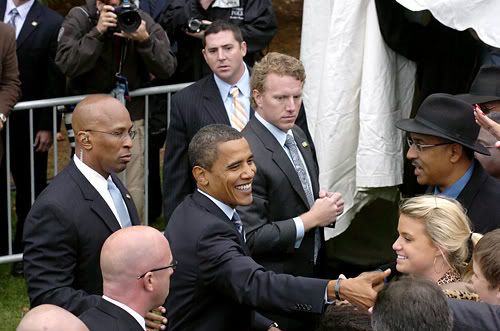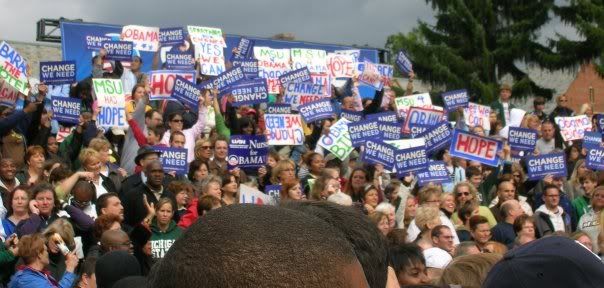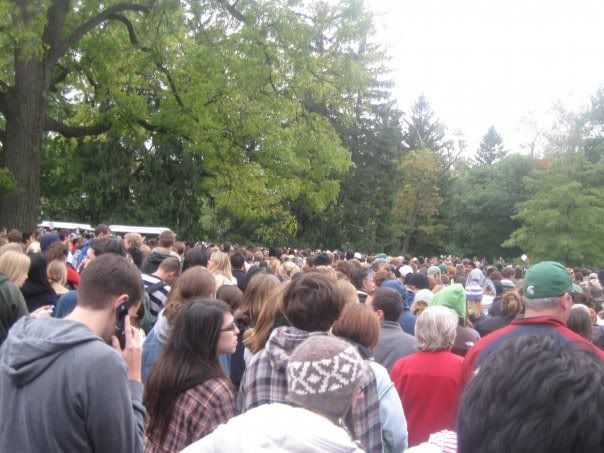 UPDATED OMG first time on the Rec list! Thanks everyone for recommending my story!