4 1/2 years ago, when Stephen Colbert was still a regular correspondent on The Daily Show and Howard Dean was still the apple of the Democratic Party's eye, I nearly busted a gut at this classic exchange about Dean's supposed "Anger Management" issue:
Now, in Dean's case, of course, it was mostly poppycock--yes, he was pretty upset by the Bush administration pissing all over the Constitution, bankrupting the nation, and getting thousands of U.S. troops and Iraqi civilians killed...but his general personality is fairly even-tempered and reasonable.
Then there's John McCain.
Note that these aren't "factesque" items which were simply "widely reported"--these are first-hand accounts by eyewitnesses of angry, over-the-top physical reactions way out of proportion to the circumstances (backhanding a woman for wanting to discuss veteran's issues? Screaming at a party leader for an unflattering TV angle right after you just WON your election? WTF???)
Which leads, of course, to this, just reported in the Washington Post:
Anger is Crowd's Overarching Emotion at McCain Rally

WAUKESHA, Wis., Oct. 9 -- There were shouts of "Nobama" and "Socialist" at the mention of the Democratic presidential nominee. There were boos, middle fingers turned up and thumbs turned down as a media caravan moved through the crowd Thursday for a midday town hall gathering featuring John McCain and Sarah Palin.
...
In recent days, a campaign that embraced the mantra of "Country First" but is flagging in the polls and scrambling for a way to close the gap as the nation's economy slides into shambles has found itself at the center of an outpouring of raw emotion rare in a presidential race.
...
"I'm mad! I'm really mad!" another man said, taking the microphone and refusing to surrender it easily, even when McCain tried to agree with him.
...
As the crowd filed out, several said they agreed with the man who said he was mad. Others went further.

"No, I'm not mad, I'm pissed," said Joan Schmitz, who owns a plumbing company here. She said she was frustrated with polls showing Obama surging, McCain's performance in a Tuesday night debate, Obama himself, the media, and the liberal group ACORN, which she said was registering voters fraudulently.
...
"I can't stand to look at him, I don't trust him. I don't like the circle of friends he keeps, I don't like his policies," Schmitz said of Obama. "I'm pissed off by it. I'm beyond mad. How is he climbing up in the polls?"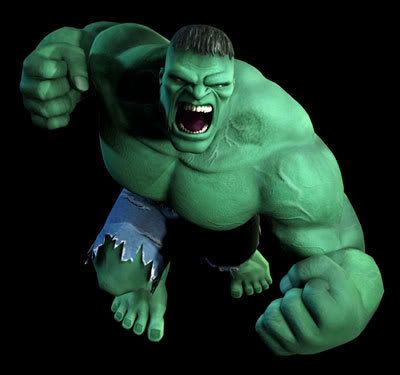 A typical attendee at a McCain/Palin rally.
Note that this article doesn't even address the worst of the past few days--McCain/Palin wingnuts screaming out TERRORIST! TREASON! KILL HIM!! at their two-minute hates.
Which, of course, leads to the obvious question: What the fuck are these people so ANGRY about in the first place?
They wanted George W. Bush. They pushed his agenda for 8 Goddamned years, and got pretty much EVERYTHING they wanted: Decreased regulation. Trashing of the Constitution. Intimidation of non-white people. Torture. Invasion and occupation of Iraq. Executions. Free reign for mercenaries. Devastation of the environment. Takeover of the Federal Government by Christian extremists.
They got everything their tiny, barely-there hearts desired, and yet they're still in a frenzy for more blood, more atrocities, more destruction of everything that could possibly be considered Good.
I guess political power really is like the ultimate drug--the higher you get, the more of a hit you need to keep the high going.
Too bad the entire GOP is about to be forced to quit Cold Turkey. Ain't gonna be pretty, methinks...