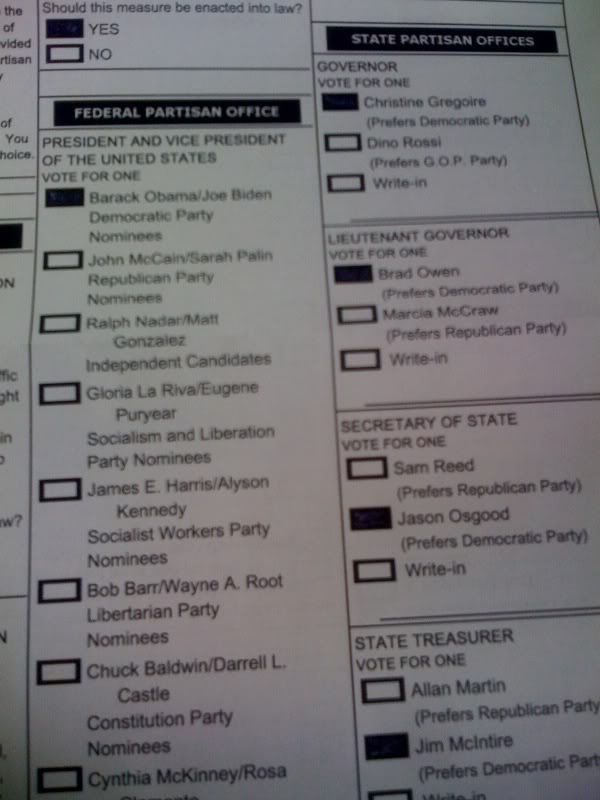 Today was the perfect trifecta for me. I voted, I phone banked, and I donated. Given my lukewarm response to John Kerry in '04 (although I will despise GWB until my dying day), and my initial support of Hillary Clinton in '08, this surprised even little old me.
This election has changed my life in so many ways. Never before have I felt so engaged, so much a part of something really positive and hopeful. For that, Barack Obama, I sincerely thank you. You've made me a better person in many ways. Having your bumper sticker on my car, and wearing your t-shirt makes me a little kinder, a little more interested in being thought of as a truly good, kind and generous American.
I have been out of town on and off for a couple of weeks on business, and the scrupiously detailed folks at MoveOn.org have been faithfully sending me invitations to volunteer here in my community (Clark County, WA--a suburb of Portland, OR). I've not been able to until now...and frankly, I'm kicking myself for not being there since the primaries. Oh well, better late than never, I guess.
Today was a crisp and sunny day in beautiful Washington, and with a spring in my step (and my elitist latte' in hand), I ventured forth to our local office to see what I could do. Once I got there, I was absolutely amazed at the precision with which this office operates. Of course, it was politics on a local level, and Democratic politics at that, so there were the obligiatory 20 year old phones, 10 year old computers, and handmade signs everywhere. I love messy and organic local politics. Love it.
I walked into my local Democratic Headquarters and went to the desk. I told the woman that "Hillary Sent Me", and she clapped her hands and beamed. I think she also teared up a little bit. I know I did. I was then ushered into the training session. There were about 20 of us crowded into a smallish office listening to instructions on how to phone bank and canvass from Paul, a very (underline very) cute young man from NY, who couldn't have been more than 25. Everything was clear, precise, and planned out. The script was a little too long, but hey, we're fighting for our Governor as well. We decided who would canvass (phones for me, as my knee is all busted up), and who among us would call. That was it! It couldn't have been easier. I talked to some very nice people, made about 60 phone calls to GOTV and only got hung up on once. Robin, from Vancouver, WA...if you're reading this, a simple "no thank you" or "I'm not interested in politics" will do nicely next time. Once you've voted in two consecutive elections, your name comes off the list I was working from...so aren't you really to blame? :-)
I then came home to find my ballot tucked neatly in my mailbox. Like a child recieving my new secret decoder ring in the mail, I ripped it open, breathlessly filled it out, and got my fat ass back in the car to go mail it at the post office. Not that I don't trust my mail carrier, but hey, this is as close as we get to a polling place here in oh so blue Washington.
Tonight, I've been reading DK (of course), and the picture of those kids at the Missouri Obama rallies did it to me. I donated another $25 I can't really afford. So what. At the very minimum, I took part in something beautiful today.
My dear, dear fellow Kossacks, from the bottom of my heart, a sincere thank you. Without you guys, I would run simply mad.
Regards,
HIMH