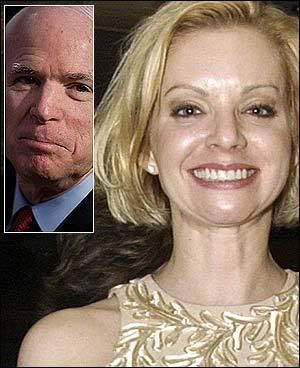 Do you remember Vicki Iseman? She is the lobbyist who, according to several aides who spoke to the NYTimes, had an affair with Sen. McCain. After the story came out, Ms. Iseman has kept a low profile. Only now she has emerged, to issue a flat denial of any unethical activity, to the Right-Wing magazine National Journal. She blames a disgruntled former McCain staffer:
In strong language, Iseman also lashed out at John Weaver, a former top McCain strategist who left the campaign after a power struggle in July 2007. She said that Weaver had an "ax to grind" and had used The Times to orchestrate the story and damage McCain's presidential campaign. "The New York Times had four reporters [work] almost four months on this," she said in an e-mail to National Journal this month, "and John Weaver made them his marionettes." Weaver, she says, was "Machiavellian" and a "Benedict Arnold."
Weaver, a seasoned political operative, flatly denied Iseman's assertions. "I love John McCain," he said in an interview, "and I wouldn't do anything to harm him." Weaver said he responded to only one of eight written questions from The Times and put the answer on the record. "I responded accurately," he told NJ. "I did not help leak that story."
The Times stands behind its article. "I think that the story stands up, an important story, a strong story," says Dean Baquet, an assistant managing editor who runs the newspaper's Washington bureau and who helped oversee The Times' reporting. The newspaper "had ample, multiple sources for the story," he says, and had aggressively pursued Iseman's side, staking her out, sending her e-mails, and leaving her phone messages. He says that his reporters sought her comment "very early on in the process," but "we couldn't get her to sit down and talk."
Whetever her intentions, Ms. Iseman's decision to revisit the story is unlikely to help Sen. McCain. Instead, it simply highlights the ugly infighting that has plagued his campaign:
Most specifically, Weaver and McCain's campaign manager, Rick Davis, do not like each other, according to many Republican political operatives.

The rift between the two men, one friend of Davis's says, is "as deep as the Grand Canyon." Weaver, a veteran of presidential politics who now operates a political consulting firm in Washington, left the McCain campaign in summer 2007 after McCain installed Davis as his campaign manager.
It appears that Rick Davis was Ms. Iseman's `contact person' in the McCain circle.
Davis, like Weaver, figures in Iseman's story. On leave from the Davis Manafort lobbying firm, Davis was Iseman's principal contact at the McCain campaign. The two have known each other since 1999 when she raised funds for McCain's unsuccessful bid for the Republican presidential nomination. Iseman made no effort to hide her dealings with Davis and revealed that she consulted him after The New York Times began poking into her background last year. She says that Davis told her that Weaver was behind The Times' inquiry.
So what is going on here? This story had been all but forgotten by the newsmedia. Why rake it all up in the last two weeks of the campaign?
As always in politics, it helps to examine who benefits. It is certainly not Sen. McCain, who has much more serious problems right now. It can't be Rick Davis either, unless he is trying to sabotage his boss.
Ms. Iseman herself has a lot to gain though, if she is planning to write (or have ghostwritten) a tell-all book. This is her last chance at the limelight before she is truly forgotten. Except that she does not seem to have anything to tell, if we are to believe her denials.
Or could the wily Senator from AZ be trying to negate the image of a decrepit old man by reminding people of a hot blonde once rumored to be his mistress? Given the erratic lurching of his campaign we shouldn't rule out that possibility. Exit Joe The Plumber. Enter Vicki The Lobbyist.
In any case, here it is. Another anvil we can throw at a drowning opponent.
CAATCHHH!
UPDATE Is it related? The NYTimes just put out a story about nominees' health.Most of the article is about McCain, but there does not appear to be any startling revelations.
h/t joy sinha