Larry Sabato provides his latest update on the state of the race and details everything the McCain campaign and the GOP did wrong in Virginia. It's quite a list!
Also, this Sarah Palin $150k wardrobe story is NOT going away. It's all over again today. I swear there is more coverage of Neiman Marcusgate than of the whole "abuse of power" in Troopergate story.
And, the New York Times Magazine piece on the McCain campaign is online now.
Larry Sabato, at the UVA Center for Politics, posts his latest analysis on the state of the Presidential race and has lots of good news for Obama in Virginia (which he rates as "lean Obama"):
The McCain campaign and the state GOP appear to have had a death wish. McCain's staff refused to believe Virginia was truly competitive for too long, and the McCain-Palin visits were few. McCain's brother called Northern Virginians "Commies" and one of McCain's most prominent spokespersons said they were not the "real Virginia." Generally, it is difficult to win the votes of people you are insulting.

The Virginia Republican party is also completely outclassed by the state's Democrats in money and organization. The GOP is being run by a very young, fire-breathing chairman who publicly drew an absurd link between Barack Obama and Osama bin Laden--drawing angry rebukes from the top echelon of the McCain campaign as well as virtually all the senior Republican elected officials in the state. Republicans in Virginia have simply not adapted to the new moderate reality of this Mid-Atlantic state, the twelfth largest in the nation. They insist on running too far to the right, as though this were the Virginia of the Old South. It's not selling anymore.
Sabato also changed his ranking for North Dakota from leans McCain to toss-up. North Dakota. A state George W. Bush won by 27% in 2004. Pollster also lists North Dakota as a toss-up.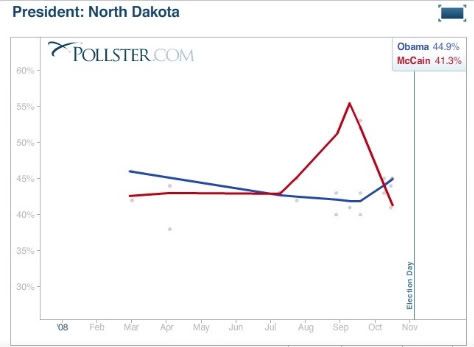 ::::::
The New York Times takes a look at the fall out from Sarah Palin's new $150k wardrobe:
"It looks like nobody with a political antenna was working on this — just one more sign of the hapless decisions in this campaign," said Ed Rollins, a Republican political consultant who ran President Ronald Reagan's re-election campaign in 1984. "It just undercuts Palin's whole image as a hockey mom, a 'one-of-us' kind of candidate."
Best quote EVER, reported in the San Francisco Chronicle:
Perhaps Palin's self-appointed "hockey mom" image was a bit overblown. "She was never a hockey mom, she was always the prom queen sitting in the back of the convertible waving to the hockey moms" said Simon Doonan, creative director at the high-end clothing store Barney's New York.
Someone should hire Doonan to write some campaign commercials or something, because that is a really good one. What I love is that this issue is all over the media again today, which is great... for John McCain!!
::::::
From the Washington Post this morning:
How do you sell someone as a no-frills hockey mom who sold the state plane and fired the official cook and hunted her own moose meat, and then try to explain wardrobing her in clothes from Neiman Marcus -- a store occasionally referred to by aggrieved, frugal shoppers as Needless Markup? How do you, in barely two months, lavish her with fashion swag worthy of a starlet and valued at more than her annual governor's salary of $125,000?

This is not careless image management. This is ill-advised and ill-informed. Or, to use this election cycle's phrase of choice: This is some seriously bad judgment.
I'm telling you, this story is not going away. I swear people are more outraged about this than her abuse of power in Troopergate!
::::::
Quote of the morning from Leon Wieseltier at the New Republic:
McCain feels with his heart, but he thinks with his base. And when he picked Sarah Palin, he told the United States of America to go fuck itself.
::::::
Both McCain and Palin will be in Iowa over the weekend, even though the polls show Iowa as a safe blue state. Rick Davis says their internal polling is tightening:
The majority of recent polls show his Democratic rival, Barack Obama, opening a comfortable lead in the state. But for weeks, the McCain campaign has insisted internal polling shows the state remains within reach.
::::::
The Obama campaign is intensifying its efforts in West Virginia:
Plouffe spoke to reporters in West Virginia via conference call Wednesday to discuss the campaign's new effort in the state - which includes an increase in advertising presence and a visit by vice presidential candidate Joe Biden to Charleston on Friday.

He called the race "razor close" and noted that the campaign wouldn't "be investing in West Virginia or sending Sen. Biden to the state if we didn't see a path to victory."
::::::
The local Arizona press is buzzing over some recent comments by an Arizona State University pollster who predicts a tight race in McCain's home state:
An Arizona State University pollster said Wednesday it is conceivable Barack Obama could win Arizona, John McCain's home state. "It is a tightening race," said Dr. Bruce Merrill, professor emeritus at ASU's Cronkite School of Journalism. "There is a possibility of the (Democrats) pulling it out."

Merrill said in the last poll taken by KAET-TV and the Cronkite School, McCain held a seven point lead over Obama. However, Merrill says, the poll was conducted before the economic crisis unfolded. He expects the financial meltdown to shrink McCain's lead in Arizona by two to three points.

"I think McCain is still ahead," said Merrill. "But it could be as little as four points. It's a lot closer than people think."
Merrill is currently conducting another poll that will be released next week. As an Arizona voter, I think it is highly unlikely that McCain would lose the state, but I would be thrilled if it were really close! AZ for Obama!
::::::
Obama's face adorns lottery tickets in Colombia:
"We picked Obama's portrait for our lottery because we're always looking for somebody people are raving about. He's ahead in (US) opinion polls and right now he's the most popular guy around here," Mesa Lottery manager Luis Enciso told AFP.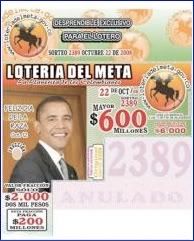 ::::::
The new Reuters/C-SPAN/Zogby poll released this morning has Obama +12!
With less than two weeks before the November 4 election, Obama leads McCain 52 percent to 40 percent among likely voters in the latest three-day tracking poll, which had a margin of error of 2.9 points.

Obama has made steady gains over the last four days and has tripled his lead on McCain in the past week of polling.

"Obama's expansion is really across the board," pollster John Zogby said. "It seems to be among almost every demographic group."
::::::
The New York Times Magazine article on John McCain and his campaign is now online. Other than the clips we have already seen, I thought the most notable revelation was that the Palin pick was essentially decided by McCain's aides, who then tried to convince their boss she would be the best choice:
Neither man apparently saw her lack of familiarity with major national or international issues as a serious liability. Instead, well before McCain made his selection, his chief strategist and his campaign manager both concluded that Sarah Palin would be the most dynamic pick.
::::::
The Reno Gazette-Journal reports on some nasty campaign tricks trying to suppress the Latino vote in that state:
Sparks resident Raul Murillo, 50, said he received a cell phone call Oct. 13 asking him to vote for his presidential candidate over the phone, which is not legal.

"I said 'No, I want to vote for Obama. I want my vote to count for him," Murillo said.
He said the caller identified herself as part of the Obama campaign. but Murillo said he knew something was wrong as he is an Obama volunteer. "When I refused, she got mad and the conversation ended," Murillo said.
These people should be ashamed of themselves.
::::::
So what's the story this morning? The Asian markets are down again, especially here in South Korea. So how many days do you think the Palin wardrobe story has left in it? Don't get me wrong, I love it because it is a bad story for John McCain, but isn't it funny how the media latches on to some things and not others?