Barack Obama has two words for us: "New Hampshire" And I've got three more: "Ohio, Virginia, Colorado"
According to Electoral-Vote.com there is only one state (Colorado) John McCain needs in which Obama leads by more than the combined margin of error. (Average MOE = 3.8% so combined is 7.6%) and only three states (Ohio, Virginia, Colorado) that he leads by the strait up margin of error.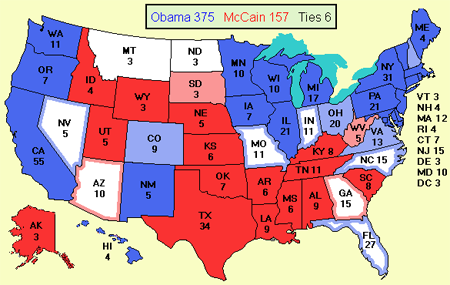 Add those numbers to the usual Republican dirty tricks, the fact there are 7 days left, the possibility of an October surprise, the possible Bradley effect and so on and the only logical conclusion you can reach is this race is far from a done deal.
We're so close to reaching our goal, but below the fold I'll show you with hard data why we need to keep our foot on the gas pedal.
First we'll take a look at the polling data gathered from Electoral-Vote.com. I chose Electoral-Vote.com because I like the Votemaster's methodology, he chooses only non partisan polls to include in his site, the obvious reason being partisan polls are more likely to be biased be it by either side.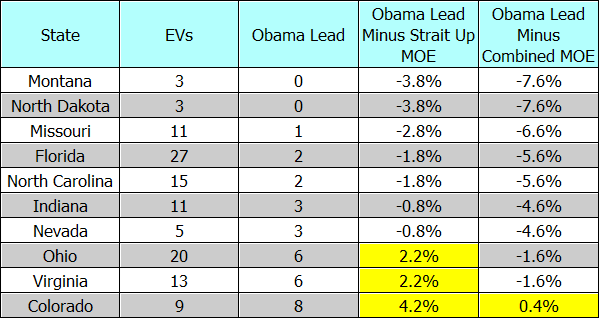 As you can see on Monday's map John McCain needs 113 electoral votes to get to 270. The above 10 states are the states where he is losing by the least amounts and that add up to the 113 he needs. (The 10 states above actually add up to 117 so he could lose either Montana or North Dakota and still get to 271)
Furthermore, Senator Obama only leads by more than the strait up margin of error in Ohio, Virginia, and Colorado, and only leads by the combined margin of error by a razor thin 0.4% in Colorado.
Now of course all of this assumes a lot of things go right for Senator McCain on Election Day. But we've seen Republicans steal elections before, we've seen October surprises before, we've seen the Bradley effect before, we've seen campaigns come back from down before, we've seen polls wrong before, even exit polls as in 2004. And what if the polling methodology is flawed? What if some people think the election is over and stay home? What if the youth vote doesn't materialize? What if... What if...
Do you really want to spend the next four years asking what if? Have you enjoyed living under Republican rule for the last 8 years? Would you enjoy a Palin presidency?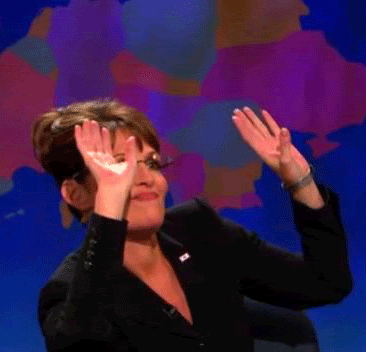 Then get out there, head down to your local Obama campaign office and work your ass off. We've got 7 days left, DO NOT QUIT NOW. 7 days is a lifetime in Politics, 7 days is like the beginning of the 3rd quarter in Football, it's the start of the 6th inning in Baseball, it's the start of the 12th frame in Cricket! (OK I just made that last one up I have no idea how cricket works.)
...And dying in your bed many years from now, would you be willing to trade all the days from this day to that; for one chance, just one chance, to come back here as young men and tell our enemies: that they may take our lives but they will never take our freedom!"