Fear is all John McCain has left and he is spewing it all over Pennsylvania in a last-ditch attempt to win the state.
Also, a huge polling day for Obama in Iowa and Palin's prank call is ALL over the news.
And, the Arizona Daily Star endorses Obama.
Rebecca Traister at Salon looks at the rampant fear mongering at McCain's rallies in Pennsylvania:
There are a "couple of hidden factors" in this election, said Specter. "The first is that people answer pollsters one way, but in the secrecy of the ballot booth, vote the other way." Yes. That is what he said, to a chorus of hopeful affirmation. Arlen Specter was openly -- in public, into a microphone -- crossing his fingers, and hoping for racism.
and:
Specter followed Pennsylvania Attorney General Tom Corbett, who had blustered about his hunting down of thousands of drug dealers and defrauders of senior citizens, as well as those people who would "go on the Internet and try to touch our children in a way that should never be allowed." It was the same kind of fear-mongering that the Republicans have been doing all over Pennsylvania in these last weeks, but on Saturday it felt more shameless, more swaggering, more exploitative of those Americans perceived as weak -- the old, the very young.
These people really are unbelievable.
::::::
And it's apparent that is all they have left. No positive messages on what John McCain can accomplish, just all anti-Obama, all the time. TPM reports on a GOP mailer claiming that electing Obama will lead to "tragic outcomes for the Jewish people."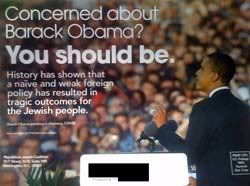 ::::::
Also in Pennsylvania, McCain is once again questioning Obama's patriotism:
"My country has never had to prove anything to me, my friends," McCain insisted at a morning rally in Springfield, Va., and again at an airport hangar here in the Philadelphia suburbs.

"I've always had faith in it and I've been humbled and honored to serve it," he added. "I haven't been vindicated by anything."
::::::
Aaron Barnhart of the Kansas City Star (MO) reviews McCain's SNL appearance:
Unfortunately, McCain then appeared on "Weekend Update" and, in my book, offset whatever psychological gains he'd achieved in the QVC sketch. First, he was booed quite a bit more lustily than when he opened the show (the audience must've felt McCain was gaining some sort of unfair advantage over Obama, though an appearance on "Update" is customary for political guests).

Second, who thought it was a good idea to present him as so hopelessly behind his opponent that he could joke about switching campaign strategies (again) in the final 48 hours? I don't care who you are, or who you support, you don't let your candidate tell America he thinks he's going to lose. Even in jest.
::::::
If you haven't heard the Palin prank call yet, you have to listen to it - it is hysterical and it is ALL over the news this morning. Mary Ann Akers at the Washington Post described the call:
The conversation, captured on a Montreal radio program, was, in a word, embarrassing.
Palin says she will be President "maybe in eight years" after giggling when the fake Sarkozy says he hopes she will be President some day. You can read the full transcript here or listen to the audio at WaPo. One of the pranksters told Sky News of the six minute phone call:
"We wanted to know if she knows anything about foreign relations and as you can hear, that is not the case."
::::::
The Washington Post Editorial board calls out McCain and his ridiculous focus on "spreading the wealth":
Take a look at the biggest-ticket items in the federal budget: Almost all, outside of spending on defense and veterans, are premised on at least an element of wealth-spreading. In Social Security, as the Congressional Budget Office has calculated, retirees who earned less get back a greater share of what they put into the system than higher-earning retirees; the Supplemental Security Income (SSI) program provides extra help for low-income elderly or disabled. That's wealth-spreading.
::::::
Who thought it was a good idea to let Dick Cheney out in public?
Cheney touted the Bush administration's achievements in national security and education, and he said McCain is the right steward for the country in precarious times.
Cheney was stumping in Wyoming. A Los Angeles Times report on Obama's rally yesterday in Pueblo, CO shows Obama got a lot of use out of Cheney's support of McCain:
Obama's mere mention of Cheney's name led the Pueblo crowd to boo so heartily that he could not resist repeating his one-liner about voting rather than booing.
::::::
A new Selzer & Co. poll has Obama with a commanding +17 lead in Iowa:
Obama's improvement since the September poll comes despite four campaign appearances in Iowa by McCain during the period, including one with his running mate, Alaska Gov. Sarah Palin. Palin also campaigned solo in Iowa a week ago.
::::::
A new Denver Post poll released this morning shows Obama +5:
Obama leads McCain 49 percent to 44 percent. Colorado unaffiliated voters, the critical voting bloc making up more than one-third of the state electorate, are backing Obama 57 percent to 32 percent. Four percent of those polled, however, were still undecided.
In the same poll last month, Obama and McCain were tied. This poll was conducted by Mason-Dixon, which I've also heard has had a Republican lean all year.
::::::
A Star Tribune Minnesota poll has Senate candidate Franken +4 over Republican Norm Coleman.
And, Elizabeth Dole isn't backing down on her "godless" charges against Kay Hagen in North Carolina - she's up with robocalls pushing the issue.
::::::
Obama has vastly outraised McCain in Georgia, the Atlanta Journal-Constitution reports. (And that's U.S. Georgia, not the "We are all Georgians" Georgia.)
::::::
Shirley Nagel of Grosse Pointe Farms, Mich., handed out candy Friday only to those who shared her support for the Republican presidential candidate and his running mate Sarah Palin. Others were turned away empty-handed.
TV station WJBK says a sign outside Nagel's house warned: "No handouts for Obama supporters, liars, tricksters or kids of supporters."
::::::
Maureen Dowd takes a look at Steve Schmidt and how he has impacted the McCain campaign:
In the end, "The Bullet," or "Sarge," as McCain calls his replacement campaign manager Steve Schmidt, was the one who did the shackling, turning the vibrant and respected McCain into a shell of his former self.

Schmidt abruptly cut off the oxygen supply to McCain's brain. No more of the oldest established, permanent floating crap game of press confabs. No more audiences that weren't vetted for friendliness. No more of McCain's trademark insouciant mocking the process even as he participated in it.
I think that Schmidt is one of the worst campaign strategists of all time (after all, he was behind Palin and the campaign suspension), but McCain's problems are all his own fault. I'm sick of this narrative that McCain is so "vibrant and respected," but his aides muzzled him. Even if it is true, what does that say about McCain? And his abilities as a leader?
::::::
The Los Angeles Times Editorial board debunks all of the misleading arguments supporters of Prop. 8 are using in California:
Religions and their believers are free to define marriage as they please; they are free to consider homosexuality a sin. But they are not free to impose their definitions of morality on the state. Proposition 8 proponents know this, which is why they have misdirected the debate with highly colored illusions about homosexuals trying to take away the rights of religious Californians.
::::::
I'm so proud of my former hometown paper, the Arizona Daily Star, which endorsed Barack Obama today:
The core concerns are more about the future than the past, be it eight years ago or one day ago. They are about the moment and the movement to engage Americans in ways not seen before, especially against a backdrop of economic strife unmatched since the Great Depression.
::::::
So what's on your mind today? I'm thinking about how Republicans can try to inject as much fear as they can into the closing days of this election, but they are never going to overcome this: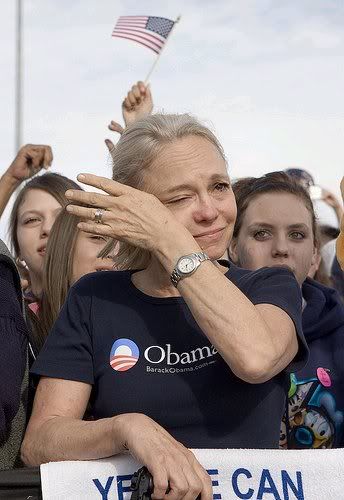 (David Katz/Obama for America - Photos from yesterday's rallies)
"Nothing can stand in the way of the power of millions of voices calling for change." GOTV!!