At a time when the families of a number of military members stationed at Fort Campbell, Tennessee, are celebrating the safe return of their loved ones, one family is mourning the loss of theirs. Sgt. Scott J. Metcalf perished on Oct. 29, 2008 while serving his country in Iraq, leaving behind his wife, his daughter, his mother, and the Army and country he loved.
It is very hard to find words that can do justice to a man who decided that serving his country was his vocation, and who never regretted that decision, even in the face of repeated and prolonged deployments in war zones and long periods of time away from his family. Sgt. Metcalf spent 18 years in the Army, and nothing shook his belief that it was the right thing for him to do. He kept the faith with his beliefs and with his country and with his loved ones. And for that, we honor him in the best way we can: by remembering him.
We are, of course, far from the first people to wonder how best to pay tribute to those who gave all they had to their countries. Moina Michael is one of the many who faced this question before us. In 1918, she had a particularly poignant experience as she contemplated those who had been lost in World War I:
Having read John McCrae's poem 'In Flanders Fields' Moina Michael made a personal pledge to 'keep the faith'. She felt compelled to make a note of this pledge and hastily scribbled down a response entitled "We Shall Keep the Faith" on the back of a used envelope. From that day she vowed to wear a red poppy of Flanders Fields as a sign of remembrance. ~ Poems of the Great War
Her tribute to the fallen is so appropriate as we remember Scott Metcalf today:
Oh! you who sleep in Flanders Fields,
Sleep sweet - to rise anew!
We caught the torch you threw
And holding high, we keep the Faith
With All who died.

We cherish, too, the poppy red
That grows on fields where valor led;
It seems to signal to the skies
That blood of heroes never dies,
But lends a lustre to the red
Of the flower that blooms above the dead
In Flanders Fields.

And now the Torch and Poppy Red
We wear in honor of our dead.
Fear not that ye have died for naught;
We'll teach the lesson that ye wrought
In Flanders Fields.
~ Moina Michael, November 1918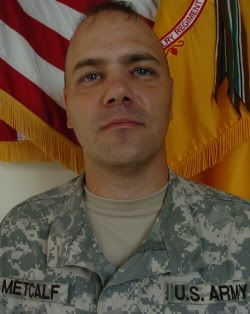 The Department of Defense reports:
Sgt. Scott J. Metcalf, 36, of Framingham, Mass., died Oct. 29, in Balad, Iraq, of injuries sustained from a non-combat related incident. He was assigned to the 1st Squadron, 32nd Cavalry Regiment, 1st Brigade Combat Team, 101st Airborne Division, Fort Campbell, Ky.

The incident is under investigation.
Scott Metcalf was raised in Framingham, MA, and sadly, he became the first known casualty of Operation Iraqi Freedom with ties to that town. Fort Campbell's press release indicates that Scott was a unit supply specialist, and that he joined the Army in July, 1990.
Scott's family has declined to speak with the media, and, as always, we will give the utmost respect to their desire for privacy. But although little information is available about Scott, his service record speaks volumes about him and his commitment to his country. Scott's 18-year Army service was very distinguished, and he had been honored with three Army Commendation Medals, seven Army Achievement Medals, six Army Good Conduct Medals, a National Defense Service Medal, the Korean Defense Medal, the Global War on Terrorism Service Medal, an overseas ribbon, a Combat Action Badge, the Driver and Mechanic Badge; and Weapons Qualification, M4, expert. A Fort Campbell spokesperson told The Boston Globe that Scott had been deployed to Iraq at least three times, and that he had also served in Korea. This man believed in what he did. He reenlisted several times, even when he knew he would be deployed again to a war zone. He willingly offered everything to his country, including his life.
I thought hard about whether to include the beautiful tribute that Scott's wife, Betty, wrote for him on Legacy.com, given the family's clear desire for privacy at this time. But I finally concluded that she posted it there because she meant for the world to see it. It will break your heart for the loss of the man who inspired these beautiful words:
My Husband was a loving, kind, caring, considerate husband and father. He will be greatly missed by us. He considered Clarksville, TN his home. Not Massachusetts. Your daughter and I are sending you big Daddy hugs and kisses.....xoxoxoxo....slap you cheek! Please watch over us babe.....Your now our guardian angel...We will love you forever into eternity....GODSPEED BABE. may GODs grace shine upon you my beloved....XOXOXOX
Scott is survived by his wife, Betty; his 6-year-old daughter, Korrine; and his mother, Paulette. The Patriot Guard Riders report that he will be interred at the Kentucky Veterans Cemetery outside of Fort Campbell, and that his services will be on base.
Rest in peace, Scott Metcalf. May your brave and loyal spirit soar free and be at peace forever, and may your memory be a blessing to those who love you and to all of us for whom you willingly sacrificed so much.
To date, 4189 members of the United States military have lost their lives in Iraq, and 625 have died in Afghanistan. More than 43,000 men and women have been wounded, and an unknown number have taken their own lives while on active duty or after they returned home from psychological injuries received in service to their country. All of the fatalities can be seen here. The Department of Defense Press Releases can be seen here. The death toll among Iraqis and Afghanis is unknown, but conservative estimates place it at least in the tens of thousands.
You can help our military men and women. Please consider sponsoring a deployed service member at TroopCarePackage.com. It doesn't take much time or money. Just send letters or care packages to your soldier, sailor, Airman, Marine, or Guardsman. One of my "adopted" soldiers told me that "mail is gold" for a deployed soldier. A few minutes of your time and one airmail stamp can make a real difference in a military person's life.

And please don't forget them when they get home! Read welcomebackveterans.org to learn what you can do.

(Our beautiful logo was created by Kossack Timroff. Thank you, Timroff.)

I Got the News Today (IGTNT) is a diary series intended to honor service members who have died as a result of the wars in Iraq and Afghanistan; its title is a reminder that almost every day a military family gets the terrible news about a loved one. Click here to see the series, which was begun by i dunno, and is currently maintained by Sandy on Signal, monkeybiz, noweasels, MsWings, greenies, blue jersey mom, twilight falling, labwitchy, moneysmith, joyful, roses, SisTwo, SpamNunn, a girl in MI, JeNoCo, and mediaprof.

These diaries are heartbreaking to write, but, we believe, an important service to those Americans who have died, and to our community's respect for and remembrance of them. If you would like to volunteer, even once a month, please contact Sandy on Signal, monkeybiz, or noweasels.

Please bear in mind that these diaries are read by friends and family of the service members chronicled here. May all of our remembrances be full of compassion rather than politics.