I tend to take all polls with a very large grain of salt, but I am very encouraged by the polls released so far this morning, including the fact that 51% of likely voters in the new Gallup poll are "certain" to vote Obama. We've got the latest from Zogby, Gallup and WSJ/NBC News.
Also, news on the ground game in Ohio and several prominent Op-Ed columnists debate the demise of the culture wars.
And, what are you doing today for Obama and our Democratic candidates?
::::::
Gallup's final pre-election poll has Obama +11 over McCain:
The final Gallup 2008 pre-election poll -- based on Oct. 31-Nov. 2 Gallup Poll Daily tracking -- shows Barack Obama with a 53% to 42% advantage over John McCain among likely voters. When undecided voters are allocated proportionately to the two candidates to better approximate the actual vote, the estimate becomes 55% for Obama to 44% for McCain.
and:
Even if McCain converts the vast majority of swing voters, victory for him would be highly unlikely since 51% of likely voters say they are certain to vote for Obama compared with 39% who say they are sure they will vote for McCain.
The last Gallup poll of the 2004 election had Kerry and Bush tied at 49%.
::::::
Headline of the morning: Gallup puts another nail in McCain's coffin (Globe and Mail)
::::::
The new Wall Street Journal/NBC News polls has Obama +8 at 51%.
Mr. Newhouse noted that Sen. McCain lags behind Mr. Bush's standings on Election Day in 2004 among several groups. Sen. McCain now has support of 54% of white men, versus 62% for Mr. Bush. Mr. Bush was supported by 44% of Hispanics, a group Sen. McCain long thought he would also do well with. But the Republican nominee this year is favored by just 27% of Hispanic voters.
Nate thinks Dems should be reassured by this poll, because:
Firstly, all of the interviewing was conducted today (Sunday) and yesterday, so it's about the freshest set of data that we have. Secondly -- and this is an underrated factor -- the NBC/WSJ poll always behaves intuitively. It goes up when the other polls go up, and goes down when the other polls go down
Nate also mentions that the WSJ/NBC poll includes cell phone users and provides this handy little chart showing how Obama is doing better in polls that include cell phones (in orange):
::::::
Zogby's state polling released this morning shows Obama with a commanding lead in Pennsylvania of 53.7% to McCain's 40%:
Obama trails McCain by just three points among white voters, and that is not enough of a lead for McCain. Obama is winning 98% of the African-American vote.
Obama is also leading by wide margins in Ohio (50.2%-43.9%) and Nevada (50.7%-42.9%), and he leads with smaller margins in Virginia (50.7%-44.6%), Florida (47.5%-46.2%) and Missouri (47.4%-45.7%). McCain is leading in North Carolina and Indiana.
I know everyone gripes about Zogby, but Obama +13 a day before the election in a state that is crucial to McCain's chances? I'll take it.
::::::
The Los Angeles Times finds that Obama's ground game in Ohio is superior to that of John McCain:
Ohio is a battleground in the presidential race, and here's the view on the front line: McCain's get-out-the-vote operation has struggled to build momentum, and it appears outgunned by Obama's.
Local political experts qouted by the Times agree that Obama's GOTV operation is running circles around McCain's:
"McCain does not have the kind of ground organization that Obama has, not even close," said Nancy Martorano, associate professor of political science at the University of Dayton.

"I've never seen anything like the Obama ground game," agreed Paul Beck, professor of political science at Ohio State University in Columbus. "It is light-years ahead of what the Democrats did four years ago."

Some GOP leaders in the state complain that McCain didn't open his state headquarters until June, three months after he secured the nomination, and that the state campaign appears top heavy and run in part by outsiders.
::::::
Mark Halperin at TIME Magazine surveys the electoral landscape and says the numbers aren't adding up for McCain:
Barring an extraordinary shock, Barack Obama will win more than 270 electoral votes on Tuesday, giving him the White House. Hours before voting starts, John McCain has no clear path to reaching that same goal.

In fact, based on interviews with political strategists in both parties, election analysts and advisers to both presidential campaigns — including a detailed look at public and private polling data — an Obama victory with well over 300 electoral votes is a more likely outcome than a McCain victory.
::::::
Talking Points Memo reports that the anti-Obama Wright ad is likely a national buy and was shown last night on Sunday Night Football. Why am I not worried about this? The last Gallup poll has Obama's favorability at 62%, which they report is the highest for any presidential candidate since 1992. The Wright story has already been played out and if it was going to have an impact it would have been felt by now.
::::::
The San Francisco Chronicle hits back at Palin and other Republicans who are suggesting that Obama's coal comment was "suppressed"... actually it's been on their website for months:
You gotta listen to the tape," she continued. "Why is this audio tape just now surfacing?" Voices in the crowd could be heard shouting, "Liberal media!" "This interview was given many months ago," Palin told the audience. "You should have known about this."

The Republican National Committee also sent out blog reports pushing the notion of a "hidden" Obama videotape withheld by The Chronicle.

Obama sat with The Chronicle editorial board Jan. 17 for the interview, and it has been available in its entirety on the newspaper's Web site since it took place in San Francisco during the Democratic primary season. In his wide-ranging session with the paper, the Democratic senator from Illinois spoke about his energy plan and an "aggressive" cap-and-trade policy, and spoke about coal technology.
The LA Times notes that Palin took Obama's quote out of context and did not mention his other comments about coal in that same interview. This what desperation looks like!
::::::
Peter Beinart in the Washington Post looks at what he hopes is the end of the culture wars:
From her championing of small-town America to her efforts to link Barack Obama to former domestic terrorist Bill Ayers, Palin is treading a path well-worn by Republicans in recent decades. She's depicting the campaign as a struggle between the culturally familiar and the culturally threatening, the culturally traditional and the culturally exotic. But Obama has dismissed those attacks as irrelevant, and the public, focused nervously on the economic collapse, has largely tuned them out.
and:
Although she seems like a fresh face, Sarah Palin actually represents the end of an era. She may be the last culture warrior on a national ticket for a very long time.
::::::
Paul Krugman, on the other hand, thinks the Republican party will only become more narrow and extreme if Obama wins:
You might think, perhaps hope, that Republicans will engage in some soul-searching, that they'll ask themselves whether and how they lost touch with the national mainstream. But my prediction is that this won't happen any time soon.

Instead, the Republican rump, the party that's left after the election, will be the party that attends Sarah Palin's rallies, where crowds chant "Vote McCain, not Hussein!" It will be the party of Saxby Chambliss, the senator from Georgia, who, observing large-scale early voting by African-Americans, warns his supporters that "the other folks are voting." It will be the party that harbors menacing fantasies about Barack Obama's Marxist — or was that Islamic? — roots.

Why will the G.O.P. become more, not less, extreme? For one thing, projections suggest that this election will drive many of the remaining Republican moderates out of Congress, while leaving the hard right in place.
I guess I can't disagree with him.
::::::
Holly Bailey at Newsweek reports that the Palin prank call is increasing tensions between the McCain and Palin camps:
According to one participant, who declined to be named, aides went back and forth venting their frustration. "Does anyone not think it's strange that the French president would want to talk to a candidate in the final 72 hours of the campaign," one senior McCain aide demanded, noting that the White House and the National Security Council would likely be involved in any such phone calls. "It's appalling." Bigger picture, the episode provides a glimpse at what have been increased tensions between the McCain plane and the Palin plane in the final weeks of the campaign.
Senior McCain aides denied reports that they knew of the call before it happened - Bailey reports that it was routed through the Governor's office in Alaska. Lots of finger-pointing here!
One of the pranksters also remarks that Palin's aides "didn't know the name of the French President. They asked us to spell it."
::::::
4.2 million Floridians have already voted, according to the Sun-Sentinel:
A record-shattering 4.2 million Floridians already have voted by casting absentee ballots or going to polls early, including thousands who stood in lines for hours across South Florida on Sunday.
Of the 2.5 million early voters, about half were Democrats and one-third Republican. And of the 1.7 million absentee ballots received, approximately two-thirds of those were Republicans or Independents, according to the article.
::::::
Jon Carson, Obama's National Field Director, reported that over 4 million calls were made over the weekend. GOTV calls are critical both today and tomorrow as it will save the time of battleground volunteers to go knock on doors and do the work on the ground. Their online phonebanking system is really easy!
And if you can't call or volunteer, can you offer a ride to the polls to someone who may need help? Have you sent an email to your entire address book reminding everyone to vote tomorrow? If have friends or family members who are supporting McCain, have you made one final effort to convince them Obama is the right choice?
It's up to us to close the deal:
In Springfield, Mo., late Saturday night, Obama told thousands to lean on everyone from colleagues to their grannies. "I need you to be my ambassadors," Obama told the throng. "I need you to make the case. I need you to close the deal."
This one is for all the volunteers. My gratitude is endless: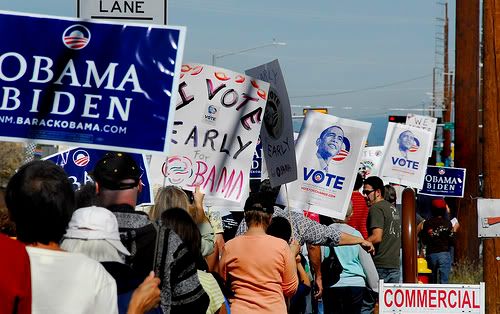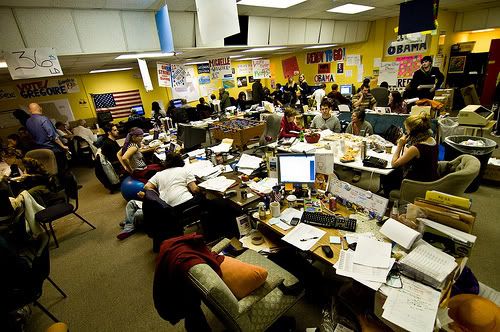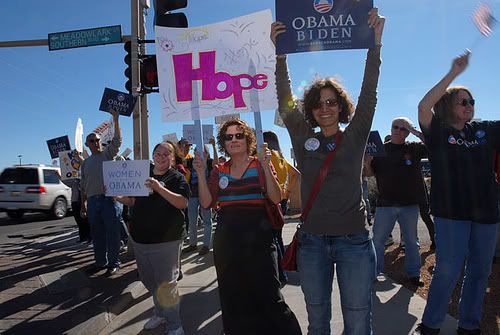 ::::::
What's on your mind on this last morning before Election day?