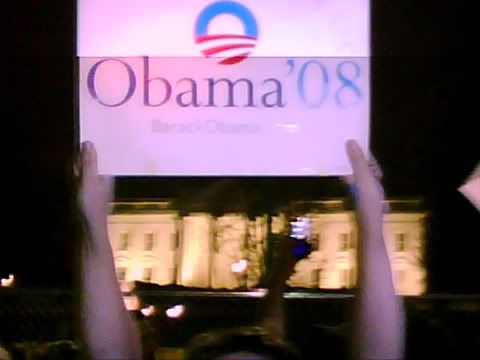 That's what fellow Kossack Pragmaticus said to me as we headed back down Pennsylvania Avenue from the White House to his apartment to check the updated results.
Things had started to die down a bit at that point, but people were honking, WOOOOOOOOOOOOOO!!!!ing, running around like crazy.
After Senator McCain's gracious concession speech and Senator Obama's superb victory speech, many of the College Dems headed down to TAKE BACK THE WHITE HOUSE!!!! YEAAAAAHHHHHHHH!, joining the crowds of college students and others that had poured in to be part of history.
The scene on Pennsylvania Avenue in front of the White House was probably the biggest spontaneous patriotic celebration Washington DC has ever seen.
Pictures, thoughts, and video below the fold.
It was packed more tightly than insert dirty metaphor here. Thousands of young people, pressed against each other, not for a rock concert or a countercultural event, but to celebrate the end of our 8-year national nightmare and the election of the next President of the United States, Barack Obama.
The fervor there was not something I can adequately put into words, but I did find a 10-minute Youtube; while it's a poor substitute for being there, it's better than nothing.
In addition to significant incoherent joyous yelling and noisemaking, a whole bunch of chanting and singing went on.
Chants I heard and remember ranged from the mildly negative to the downright weird to, as Mike Gravel would say, "jingoism, jingoism, phony genuine patriotism and jingoism":
USA! USA! USA! USA! USA! USA!
Obama! Obama! Obama! Obama! Obama! Obama!
Yes we did! Yes we did! Yes we did! Yes we did! Yes we did
Si Se puede! Si se puede! Si se puede! Si se puede! Si se puede
Joe! Joe! Joe! Joe! Joe! Joe! Joe! Joe! Joe! Joe!
Ole! Ole ole ole! Ole!!!!! Ole!!!!!!!
WOOOOOOOOOOOOOOOOOOO!!!!!
Quack. Quack. Quack quack quack quack quack quack quack quack quack quack quack ... Go ... bama!!!!!!!!!!!!!!
Na na na na! Na na na na! Hey hey hey!!!! Goodbye!!!!!
The Braves tomahawk chant
Shave my/Lick my/Goodbye Bush!
The Star Spangled Banner was sung
and we also sang God bless America!
After seeing someone with a
ברק אובאמה sign, some of my Jewish friends spontaneously broke into the Israeli national anthem (is it really any more out of place than the chant of the Mighty Ducks????; by the way, Obama won Jewish voters 78-21, as good as any Democrat, according to the exits).
After running into another "minyan" of Jews, I believe we joined hands to say sheh'heh'cheh'ya'nu veh'ki'yeh'ma'nu veh'he'g'a'nu laz'man ha'zeh (English translation of full prayer [the beginning is common to many prayers and we didn't bother with it last night] Blessed are You, Lord
our God, King of the world, Who has kept us in life, sustained us,
and brought us to this moment).
My most interesting experience was talking to two French students.
They asked "Is the United States always like this after an election?" My reply, of course, was "No! This has never happened before!"
Though the quality is awful, I managed to snap 2 other pictures worthwhile to show:
A "Welcome Home Malia and Sasha" sign, taped to the temporary fence put up while the platforms for the inauguration are prepared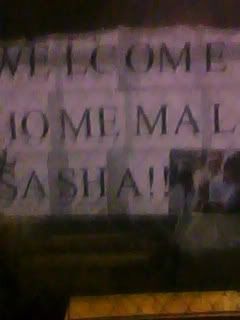 A picture of insanely happy Kossack Pragmaticus