I know many of y'all are incredibly disappointed that Rep. Don Cazayoux was defeated by Republican Bill Cassidy, thanks to Democrat turncoat Independent candidate Michael Jackson. I thought you'd be interested to know that Mr. Cassidy and Mr. Jackson met for coffee on Friday afternoon at 4 PM at a local coffee joint in Baton Rouge: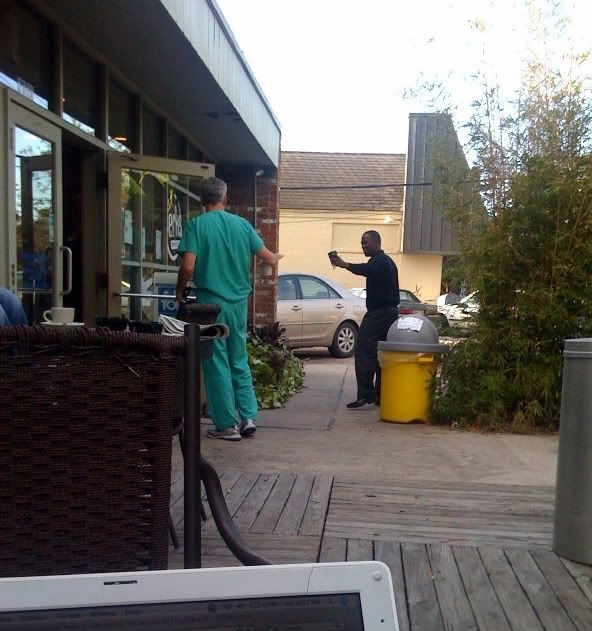 Below the jump, I'll discuss what happened.
In the spring, Cazayoux defeated Jackson in the primary run-off 57 to 43. Nevertheless, Mr. Jackson took an overwhelming majority of the black vote in Baton Rouge. In emails to supporters, Mr. Jackson claimed to have taken 90% of said vote.
This belief led him to overanalyze his popularity within the black community, and caused him to believe that he could pull off the same thing in a general election running as an Independent. Add to that the higher black turnout caused by Barack Obama, and Mr. Jackson thought he could win a plurality of the vote with the black vote he was certain to get, plus some liberal white voters.
A wealthy, anti-union construction corporation owner, L. Lane Grigsby, decided to egg on Mr. Jackson, and fund him to keep him in the race to further his anti-union political agenda:
Enter Lane Grigsby. Through his own 527 organization, Grigsby has bankrolled much of Jackson's campaign, helping him get his message out to black voters in the district.



Over half of Jackson's $58,450 in fundraising to date has come from Grigsby, his family or his associates at his construction company.





Grigsby has spent money on anti-Cazayoux mailers endorsing Jackson's campaign. The mailer features a quote from Martin Luther King, Jr. on the front and attacks Cazayoux for his connections to labor groups. At first glance, the piece looks like it's from Jackson's campaign. 



He also has been paying to produce yard signs for Jackson, according to a Democratic source in the district.
There are rumors that Mr. Grigsby did more than just make some legal donations to Mr. Jackson, especially since Mr. Jackson's lawn signs and billboards failed to have the disclaimer required by the Federal Elections Commission Act § 441 (d) (pdf alert):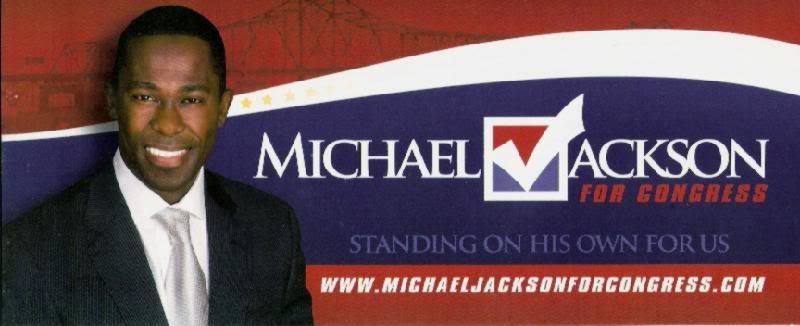 And this is the image on the few lawn signs they had printed up:
And Mr. Grigsby wasn't happy with just funding Mr. Jackson and running his very own 527 group, he had to make illegal donations to Mr. Cassidy, in violation of the Federal Elections Commission Act §441a (pdf alert):
§ 441a. Limitations, contributions, and expenditures

(a) Dollar limits on contributions.


(1) Except as provided in subsection (i) and section 315A (2 U.S.C. § 441a-1), no person shall make contributions-

1(A) to any candidate and his authorized political committees with respect to any election for Federal office which, in the aggregate, exceed $2,300*

*This limit was raised to 2,300 for individual contributions in accordance with the Bipartisan Campaign Reform Act
I want to be extremely clear here: I don't have a problem with several individual family members maxing out ... that's fine. If several individual family members give more than they are allowed to give, that's illegal. That's a broken law. And it is CLEAR that the Cassidy campaign and Lane Grigsby, his family and a friend have broken the law:
Donor
Relation to Lane Grigsby
Most Recent Donation
Prior Donation
Amount Over Limit
L. Lane Grigsby
Owner, Cajun Construction
$2,300 on 10/28/08
$2,300 on 10/13/08
$2,300
Bobbi Grigsby
L. Lane's Wife
$2,300 on 10/28/08
$1,800 on 10/13/08
$1,800
Michael Moran
L. Lane's son-in-law
$2,300 on 10/28/08
$1,300 on 10/28/08
$1,000 on 10/13/08
$2,300
Jackie Graugnard
Wife of Cajun CFO, Milton Graugnard
$2,300 on 10/28/08
$2,300 on 10/28/08
$2,300
And I haven't even gotten into former State Senator Cleo Fields, who is a wanna-be kingmaker in the African-American community in Baton Rouge. The problem he faces is Mayor Kip Holden, the first African-American Mayor in the history of Baton Rouge, who was just re-elected with some 71% of the vote in October. Cleo funds a GOTV operation in the black community that gets out the vote in his old State Senate district. That GOTV operation got the vote out for Mr. Jackson:
| | | |
| --- | --- | --- |
| Candidate | African American Votes | % of African American Vote |
| Bill Cassidy (R) | 1,503 | 4.91% |
| Don Cazayoux (D) | 19,955 | 65.20% |
| Michael Jackson (Lane Grigsby) | 9,147 | 29.89% |
So, race-based politics reared its ugly head here in LA-06. The losers in this election are not Mr. Cazayoux, who will be fine. Nor is it Mr. Jackson … he will be fine as well, but his egomaniacal candidacy, fueled in part for a desire to avenge his special primary election defeat, threw the losers - the working families of LA-06 - under the bus, and helped put a values based conservative who vowed to fight with John McCain to solve our nation's problems.
The big winner in this election is clear: Mr. Grigsby. His cynicism and arrogance about electoral politics is readily apparent. He funded both candidacies without any regard, despite their vastly different agendas, and both candidates willingly took his big donations, without any regard for their own "beliefs."

Getting back to the picture above the jump, it is very interesting that Mr. Cassidy and Mr. Jackson would sit down over a cup of coffee not even 3 days after the election. What did they talk about? Who paid for what?