This series has focused on election fraud myths among progressives; other people have ably addressed counter-myths such as the ACORN Marauders. But this week, John R. Lott Jr. launched a new myth about the Senate election in Minnesota that calls for a smackdown.
Lott has an interesting track record, but let's focus on the present. In a Monday opinion piece for Fox News, Lott commented:
Virtually all of Franken's new votes came from just three out of 4130 precincts, and almost half the gain (246 votes) occurred in one precinct.... The Minneapolis Star Tribune attributed these types of mistakes to "exhausted county officials," and that indeed might be true, but the sizes of the errors in these three precincts are surprisingly large.... To many, it just seems like too much of a coincidence that Minnesota's one tight race just happens to be the race with the most "corrected" votes by far.
Lott knows how to evaluate whether these corrections are plausible. He just didn't bother. Let's be serious.
Everyone agrees that Norm Coleman's lead over Al Franken has narrowed markedly: from 725 votes just after the election, to 206 votes right now. Most of this narrowing owes to changes in three precincts:
In "Two Harbors W1" precinct in Lake County, Franken was initially credited with 27 votes, later corrected to 273, for a gain of 246 votes.
In Partridge Township in Pine County, similarly, Franken's initial reported vote count of 29 was later amended to 129.
In Mountain Iron P1 in Saint Louis County, Franken's vote count was increased from 406 to 506; a county official explained that the result was initially transcribed incorrectly over the telephone. (To muddy the waters, the date stamp of the vote tape was off by two days, spurring allegations of possible tampering.) Obama's count in this precinct was also amended from 469 to 569.
Now, it doesn't take much quantitative analysis to guess that the original counts in Two Harbors and Partridge were wrong, based on the two-digit totals alone. But let's look at the results in these three precinct in the context of other statewide returns. To do this, I have downloaded the precinct-level results for the presidential and Senate races (the home page for these downloads is
here
), calculated vote shares for Obama and Franken, and removed precincts with 20 or fewer presidential votes to reduce the "noise" in the scatterplots. The purple line in each plot is a loess best-fit line (using the R defaults for loess.smooth(), for any wonks out there) as a visualization aid. Obama generally outperformed Franken -- no surprise given that third-party candidate Dean Barkley drew about 15% of votes in the Senate race.
So, my first plot depicts the original and amended Franken vote shares (and the Obama vote share, which didn't change) for Two Harbors W1: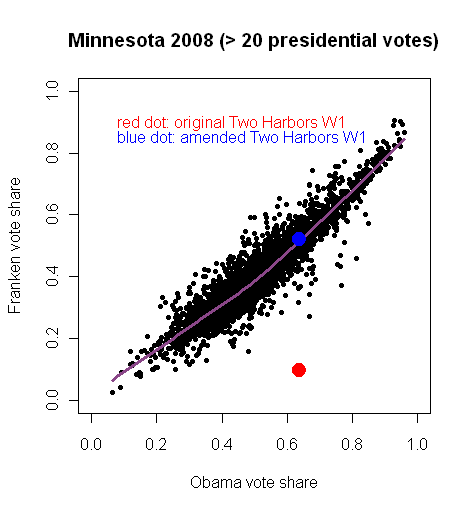 Sure enough, it seems very unlikely that Franken got 27 votes in this precinct where Obama got 336! The amended result puts the precinct right in trend.
Next, Partridge Township:


Although the 100-vote change here is less than half the size of the change in Two Harbors, qualitatively the result is similar. The unamended result makes very little sense; the amended result makes a lot of sense.
Mountain Iron P1 is a slightly harder case: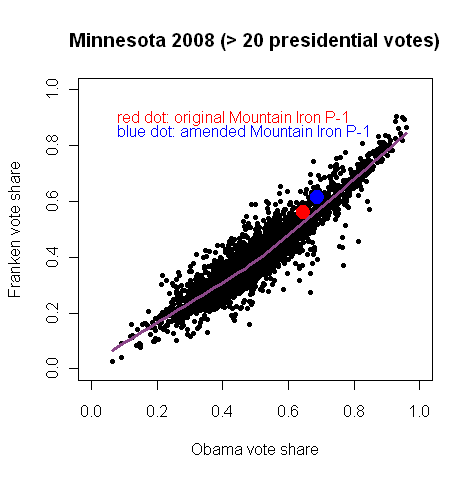 (This is a corrected plot: originally I did not realize that Franken's and Obama's vote counts both had changed.) Either result is plausible on its face. The current result reporting for St. Louis County shows 891 registered voters in Mountain Iron P1 at 7 AM on election day, plus 139 who registered during the day, and 832 total voters in the precinct. If 832 was the original turnout figure from Mountain Iron P1, then the amended totals of 827 presidential votes and 825 Senate votes make far more sense than the original totals. Assuming for the sake of argument that the original turnout figure was missing or incorrect, a turnout of 832 represents a rate of 80.8% (832 / 1030), on par with results from other precincts in the county. For instance, Mountain Iron P2 started the day with 971 registered voters, had 198 register on election day, and had 924 total voters, for a turnout of 79.0%. In 2008, Franken's amended vote share in Mountain Iron P1 was about 4.5 points higher than his share in P2 (61.3% versus 56.8%), while his original vote share was slightly smaller. In 2006, Amy Klobuchar drew 80.1% of the vote in P1 and 72.9% in P2. All in all, the amended results make more sense than the original ones.
Conclusion
Lott left himself with plausible deniability. He never even termed the corrections suspicious, only "surprisingly large." He didn't explicitly place himself among (or against) the "many" who find all these "'corrected'" votes "just... too much of a coincidence." He left the substantive judgments to his readers' imaginations. Two days later, an online Wall Street Journal editorial ventured:
You'd think Democrats would be content with last week's electoral rout. But judging from the odd doings in Minnesota, some in their party wouldn't mind adding to their jackpot by stealing a Senate seat for left-wing joker Al Franken....

According to conservative statistician John Lott, Mr. Franken's gains so far are 2.5 times the corrections made for Barack Obama in the state, and nearly three times the gains for Democrats across Minnesota Congressional races. Mr. Lott notes that Mr. Franken's "new" votes equal more than all the changes for all the precincts in the entire state for the Presidential, Congressional and statehouse races combined (482 votes).
Objectively, it would be far more suspicious if Obama as well as Franken had gained votes in all these precincts, because in that case, there would be many more votes cast in the presidential race than in the Senate race. (Obama did gain votes in Mountain Iron P1. If the current turnout figure is unchanged, then this change corrects a ridiculously high undervote figure for the presidential as well as the Senate race.) But "conservative statistician John Lott" doesn't seem to have noticed. To many, that may just seem like too much of a coincidence.