This one's a real corker. The normally secret membership of the UK's notorious British National Party has been exposed to the general public via an online posting of the entire membership list. This group is a far right wing radical political organization with its roots in the Skinhead movement and anti-immigrant, anti-gay violence.
Follow me over the fold for some eye poppers.
The original leak has been brought down but the rather handy wikileaks.org.uk also has the full list up (currently the servers are down due to "overload due to extreme popularity").
Alternatives - torrent file and heat map
However, some poking around by various bloggers has turned up the following fun facts so far :
> A quick search of the data turned up...
17 .gov.uk email addresses, signifying government employees who are members of this radical group
15 .ac.uk email addresses, representing official university staff / professor email accounts
> BNP member count by by UK postal code
Not only does the data, now available online, include the entire membership list with full names (and former names where there have been changes for any reason), addresses, contact numbers, email addresses and in many cases the member's age, particularly where those members are under eighteen. Yes, that's right. This list includes members as young as fourteen, male and female. Where a family membership is bought and paid for, the whole family is listed.

As if this isn't bad enough, the notes that are attached to many of the entries leave a lot of the members open to difficulties in their jobs, some of them being in the armed forces or the police and the BNP too - an illegal combination, and where not illegal, frequently frowned upon. Other members are noted as construction managers, receptionists, district nurses, lay preachers, police officers, company directors and teachers among many others.
Here's just one comment from the North-West Nationalist blog:
'I've just had a call, I'm on it to. I want my fucking member money back, like has been mentioned here, I could lose my fucking job. I'm bloody angry.'
Curiously, there are quite a number of BNP members abroad, presumably ex-pats or those working abroad temporarily - Australia, the USA, United Arab Emirates, Sao Paulo, Spain and the Netherlands
Apparently the Guardian had an undercover plant in the BNP, although they don't mention that in the article.
First reported instance of a Police Officer being investigated for being a member of the BNP.
A male police officer in Merseyside is the first alleged BNP member to face consequences at his job after the far-right party's full membership list was leaked online.

Police are banned from becoming members of the BNP because it would damage race relations, according to the Association of Chief Police Officers (Acpo).
Comedic gold - Northwest UK skinheads/BNP members react online to exposure.
I'm a fucking Prison Officer! My name is printed on the list too! I'd like the party to make a legal case under the DPA 1998 and the Human Rights Act to have all the people on this list protected in some way. It's probably too late now the list is even to be found on WIKILEAKS and Cryptome! It can NEVER be removed from these sites as the owners just ignore any court orders and besides, they are located overseas and use servers in Thailand.

Well I want an explantion how this has happened. What idiot had this information in the clear, why wasn't it encrypted? I'm going to lose my career because HM Prison Service doesn't allow it's staff to belong to the BNP. It looks like I may have to take legal action against my employer to protect my position. I have worked for the Prison Service for 23 years and have always treated EVERYONE the same. NEVER been racist towards black prisoners. I just want my country to remain WHITE and Christian.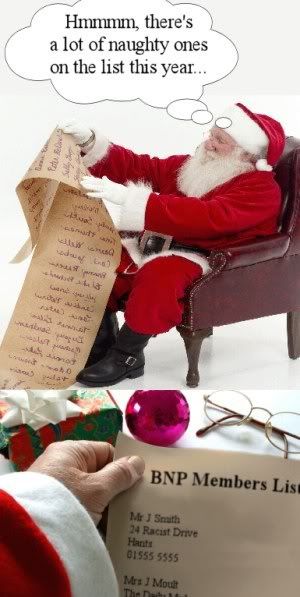 Now....if only we could get a list of the KKK members in this country...
**Update 1 - member list, posted at www.bnpmemberlist.co.uk**