A powerful article this morning at Salon.com, where reporter Mark Benjamin provides named sources who claim that the Army shredded documents relating to two men who were killed in what Salon originally reported was a friendly fire incident.
Also, transition reaction on Daschle, Holder, Napolitano and Clinton.
And, is now the time to finally get rid of the Electoral College?
Mark Benjamin at Salon has an article this morning on the Army's alleged cover-up of the friendly fire deaths of two soldiers, Army Pfc. Albert Nelson and Pfc. Roger Suarez. Salon first reported on their deaths back in October but has since learned that the Army attempted to shred documents relating to the two men:
Three soldiers at Fort Carson, Colo. — including two who were present in Ramadi during the friendly fire incident, one of them just feet from where Nelson and Suarez died — were ordered to shred two boxes full of documents about Nelson and Suarez. One of the soldiers preserved some of the documents as proof that the shredding occurred and provided them to Salon. All three soldiers, with the assistance of a U.S. senator's office, have since been relocated for their safety.
and:
The seven pages that survived the shredding incident are not dramatic and do not pertain to the friendly fire incident. But they provide proof that on Oct. 14, the day Salon published the article about Nelson and Suarez's deaths, the Army was shredding documents about the two men.
For it's part, the Army declared that an investigation has concluded that the two men died from enemy fire, even though multiple soldiers on the ground claim their position was fired on by a U.S. tank, resulting in the deaths of Nelson and Suarez. The Army also claims that the documents were shredded as a routine matter of cleaning up old personnel files and it was merely a coincidence that it occurred on the same day that Salon reported that Nelson and Suarez died in a friendly fire incident.
Jimstaro's diary has more on the original Salon story from back in October. The new twist in the Salon story from this morning is that the Army was shredding documents relating to these two men on the same day the original story was published.
::::::
Well, so much for my diary speculation yesterday that Eric Holder as Attorney General would open the door for Napolitano to run for Senate in 2010. Now CNN is reporting that Napolitano is indeed the front-runner for Homeland Security:
U.S. President-elect Barack Obama's top choice to lead the U.S Department of Homeland Security is Arizona Gov. Janet Napolitano, CNN reported on Wednesday, citing multiple sources.
This is good for Obama and Napolitano, but man, not so good news for Arizona. If this report is true, this means that we will have a Republican governor and no good Democratic candidates to challenge John McCain for his Senate seat in 2010.
::::::
55% of New Yorkers want Hillary Clinton to be the next Secretary of State, according to a Marist poll. Similarly, a Gallup poll found 57% of Americans also support Clinton's potential role in Obama's administration. (Can you tell I miss the polls?)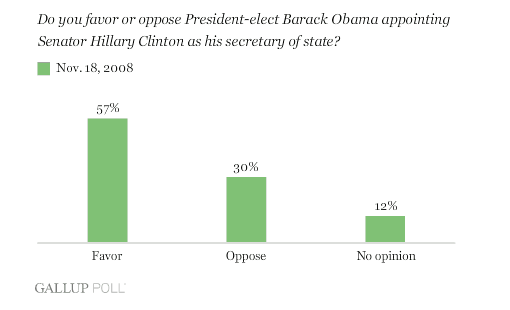 ::::::
Meanwhile, Obama's pick of Daschle for Secretary of Health and Human Services is praised by TIME's Karen Tumulty:
The former Senate Democratic leader has an understanding of the nation's health-care problem that comes not just from Senate hearing rooms or staff briefings. Daschle has seen, as few in Washington have, the particular toll that the broken system has taken on rural America.

When I went to South Dakota 15 years ago to do a story on the problem, Daschle drove me around himself, spreading a road map on the front seat of his car and taking me to places where poverty rates were high, people were older and in poor health, and where hospitals, clinics, pharmacies and doctors were disappearing.
and:
It's hard to imagine a more useful ally for Obama to help lead his bid for health-care reform, both because of Daschle's understanding of the legislative process and for his belief in the new President-elect.
::::::
Both the Washington Post and New York Times jumped on Daschle's lobbying connections. The RNC is already raising this as an "issue." Apparently the RNC has been busy lately, because they are also sending out emails opposing Holder's nomination. Surprise, surprise. I guess if we were wondering whether Republicans might actually try to work with Obama to get things done or if they would instead nitpick and try to obstruct his every decision, we have our answer.
::::::
Speaking of Republicans, do they ever learn anything? TIME Magazine interviewed John Boehner after his reelection as minority leader and after stating that Republicans will be the party of "new ideas" he claims that tax cuts are the only way to solve the economic crisis:
TIME: In dealing with this economic crisis do you think that tax cuts should be the Republicans' overarching response?

Boehner: Absolutely. Growing the economy helps everyone. And it's a lot smarter than more money for food stamps or more money for Medicaid for the states, infrastructure projects that are maybe needed or not needed. At the end of the day the American people and small businesses are able to make better decisions for their future if they're able to keep more of what they earn.
Pffff... yeah, who needs money for food stamps or those dumb infrastructure projects? Just put out more tax cuts and our economic woes will be solved.
::::::
The GOP is getting lots of good advice these days, including this from a column by Leonard Pitts Jr. in today's Arizona Daily Star:
Ever since Richard Nixon's infamous "Southern strategy" of 1968, Republicans have won power largely by convincing voters that strange and exotic others were to blame for all their ills. It's the feminists' fault, they said. Or the blacks. Or the Hispanics, the Muslims or the gays.

The names change, but the playbook remains the same, the appeal to fear unchanging: Your way of life is threatened by these people and only we, the GOP, can save you.
and:
It is past time the party recognized this, that it chucked the old playbook and evolved a new strategy that asks people to vote for their hopes and not just against their fears.
Like I said, lots of good advice. I guess it's a good thing for us that they are not taking any of it.
::::::
The New York Times Editorial board calls for an end to the Electoral College:
The best way to abolish the Electoral College is to amend the Constitution. Until that happens, a national popular vote movement is working to get states representing a majority of the electoral votes to agree to award their votes to the candidate who has the most votes nationally. That would effectively end the Electoral College. Several states, including New Jersey and Illinois, have already enacted popular vote laws, and others are considering it.

When the 2012 presidential election approaches, efforts to reform the electoral system will be viewed through a partisan prism, with a focus on which party they would help or hurt. With the next election still four years away, now is an ideal time to get serious about abolishing the Electoral College.
Just think... if we didn't have the Electoral College, we never would have had George W. Bush.
::::::
Speaking of Bush, could he try any harder to be a horrible President? The Washington Post reports on his attempts to quickly enact changes to the Endangered Species Act before Obama takes office:
For more than 30 years, the U.S. Fish and Wildlife Service or the National Marine Fisheries Service have reviewed any federal plans that could potentially protect endangered animals or plants. Under the administration's proposed rule, these independent scientific reviews would no longer be required if the agency in question determined that its activities would not hurt the imperiled species.

Interior Secretary Dirk Kempthorne introduced the rules change in August, angering environmentalists who warned that the shift could undermine critical safeguards for vulnerable plants and animals.
Yeah, that makes a lot of sense. So, for example, if the Department of Transportation is building a highway that may impact an endangered species in the area, DOT can just say oh, we have determined this highway won't hurt the imperiled species? Case closed?
::::::
Is it a slow news day? Michael Kinsley has an entire op-ed in the Washington Post debating whether or not Obama has actually quit smoking and whether or not it would be bad if he has not.
::::::
The U.S. National Book Awards were awarded yesterday to Annette Gordon-Reed, who won the Nonfiction Award for "The Hemingses of Monticello: An American Family" and to Peter Matthiessen, who received the Fiction Award for "Shadow Country."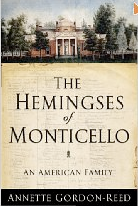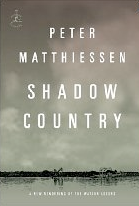 ::::::
So what's on your mind this morning?