If the MN-Sen recount has shown us anything, it's that "voter intent" is not always as simple as it may first appear. Take, for instance, this ballot: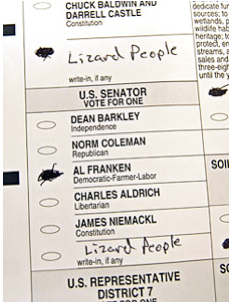 According to Minnesota Public Radio:
This Beltrami County voter cast their ballot for Al Franken, but also put "Lizard People" as a write-in candidate, not only in the U.S. Senate race, but for several others. The county auditor/treasurer ruled that the vote should not be counted because it's considered an overvote. Representatives for Franken challenged that decision.
Not so fast, MPR!
David Icke is a former professional football player, reporter, television sports presenter, and spokesman for the Green Party. He currently resides in Beltrami County in Minnesota.
He has done some remarkable research into the existence of reptilian humanoids known as the Babylonian Brotherhood. You know, Lizard People.
His seminal work, The Biggest Secret, explores the stories of Arizona Wilder and Credo Mutwa. Wilder claims to have been a mind controlled slave who performed Satanic rituals for the Illuminati at which she witnessed many famous people, including the Queen Mother, shapeshift physically from a human to a lizard and consume sacrificial victims. She claims that since her programming broke down she has been able to reveal this information to the wider public.
Here is some amazing footage of journalist and TV cameraman Michael Donovan revealing a lizard person's true face:
Oh, sure, some may laugh. Many may laugh. Most may laugh. But remember what Carl Sagan said:
"But the fact that some geniuses were laughed at does not imply that all who are laughed at are geniuses. They laughed at Columbus, they laughed at Fulton, they laughed at the Wright Brothers. But they also laughed at Bozo the Clown." -Carl Sagan
Carl knew.