In the front yard of my house is a cluster of yaupon trees. They never have enough leaves on them to add much green to the dry yellow-brown Texas landscape in our little cul-de-sac. Even without much foliage, every winter these scrubby little trees find a way to put on an incredible display of colour: countless little red berries cover the usually bare branches.
Then in mid-winter, after we've had a good frost, the waxwings show up.
Cedar Waxwings (Bombycilla cedrorum) are named for the waxy-looking cluster of red feathers on the wings, that make it look as though their wingtips have been dipped in wax. They eat insects during breeding season, but the majority of their diet is composed of berries. That's what they have come to my yard for.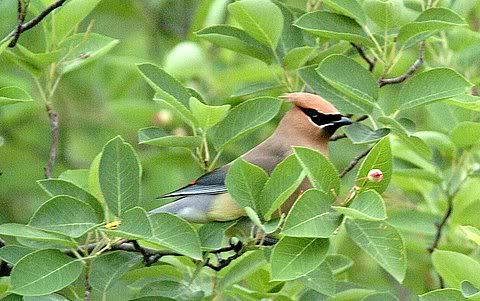 The little birds descend on the fruit-laden yaupon trees in the hundreds and proceed to strip the branches bare. If berries are clustered at the ends of the branches, the waxwings will line up along the branch and pass berries down the line so everyone has a chance to eat. Otherwise, they'll just perch near a clump of fruit and swallow whole everything within reach.
Thye work quickly and systematically, like an army, when feeding. In addition to the berry-passing lines, they also form a neat line at birdbaths, waiting for their turn to drink.
Because of waxwings' organised, methodical approach, the branches of our yaupon trees are completely bare within hours. All the brilliant red that once covered the tree is now gone. Having had their fill, the flock of Cedar Waxwings departs. They won't return until food supplies lead them back. It could be next winter, or it could be several years from now. I haven't seen them now for 2 years.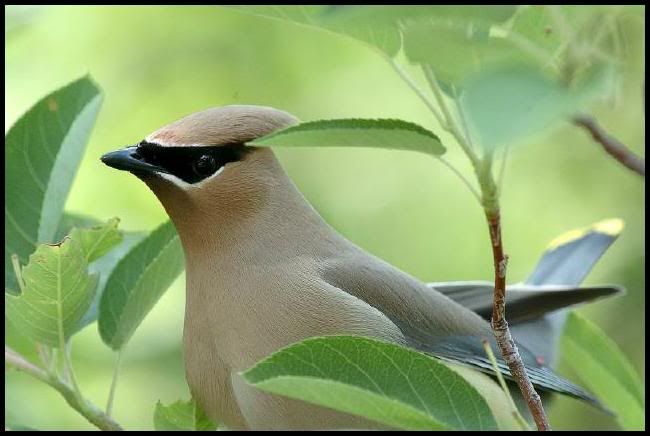 For more birding fix, look for Dawn Chorus on Saturday mornings, hosted by lineatus. Also look for "Photo Breaks" from juliewolf throughout the week.

Also, plf515 has a meta series called Daily Kos University, where containing links to all the "teaching" diaries from the week. And Translator will be answering any and all questions (without reference!) at around 7:00 EST in "Tweak the Geek" (formerly "Outwit the Nitwit", formerly "Stump the Chump") Check it out!
As usual, The Left Wing is sort of an avian open thread. Feel free to share any bird (or any critter) pictures/stories, whether they're from the other side of the world, or from your own backyard.