Two years ago I succumbed to the message of a young, African-American politician who spoke movingly of the Audacity of Hope. I read his books. I attended his rallies. And I felt empowered by his promise that hope could prevail over hate.
Over the ensuing months I worked tirelessly to see this man elected to the nation's highest office. I trusted him to at least attempt to deliver us from the Audacity of Hate that has for so long defined our politics and our culture.
On Tuesday, November 4, 2008, I joined millions of others throughout the world in celebrating Barack Obama's electoral victory. Finally, it seemed, hope had indeed triumphed over hate. To see a black man rise to the pinnacle of power represented a paradigm shift so profound that I was convinced that virtually anything was possible - that perhaps the audaciousness of the hate mongers would be tempered, if not silenced.
Senator Barack Obama addressing a Democratic Party "Victory Celebration" in Manchester, New Hampshire in December, 2006.
Some Background:
Nearly a half-century ago, when I was eight years old and growing up in the segregated south, I first came to realize the horror and shamefulness of racial hatred and discrimination while visiting my local public library. I was approaching the circulation desk to make an inquiry when I overheard the librarian tell a young, African-American boy that he could not use the library or check out any books, that "niggers" weren't allowed. This otherwise kindly, middle-aged women then angrily ordered him out of the library with a promise of arrest if he didn't comply. It was the first time I'd heard a loud, verbal expression of any kind in that library.
Theodore, who subsequently became a friend, walked across the lobby and out the door looking thoroughly dejected and I followed, instinctively wanting to apologize for the librarian's behavior, which even at that tender age I found cruelly inappropriate. I caught up to him at the bottom of the staircase leading into the library and he was fighting back tears, as was I. I offered an apology and he responded, "It's alright. Some people's just ignorant."
The Library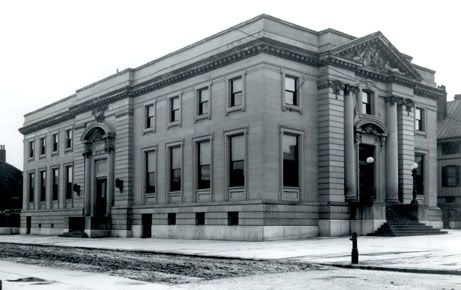 The Circulation Desk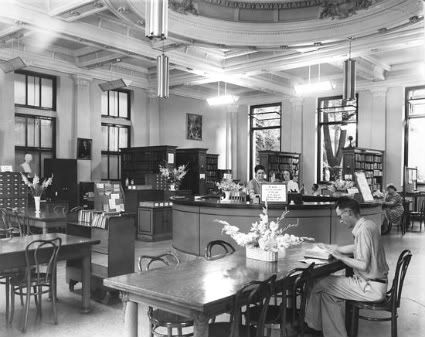 We made a pact that day to meet each Saturday in front of the library and he would give me a list of books he wanted to check out and if they were available I'd check them out on my library card and pass them on to him. Each Saturday he'd return the books which I'd exchange for others.
We became fast friends that summer, and I'd visit with him and his family after our library excursions at the housing project where they lived, daring to join them in the public pool restricted for the use of "colored folks". We were both huge baseball fans and shared Frank Robinson as our favorite player on the Cincinnati Reds, the team we followed.
Our ruse and our friendship came to an abrupt end, however, due to an unforeseen mishap that nevertheless should have been anticipated given our youth. As the summer was drawing to a close I was invited to visit my grandparents in Akron, Ohio for the final three weeks of summer vacation, a thrilling prospect that inevitably included attendance at a couple of Cleveland Indians games and a chance to see my favorite American League player Rocky Colavito, as well as an outing at Euclid Beach, an amusement park.
I had no chance to let Theodore know that I'd be leaving town and not be available to meet him on Saturdays. His family had no telephone, and there was no way to contact him prior to my departure.
What I'd not considered was that a notice would be sent to my home announcing that the library books were overdue for return. Further complicating matters was that my parents had prohibited me from checking out any books and bringing them home "because you don't know where they've been and what kind of germs or bugs you might bring home with them."
That I even had a library card was a matter of happenstance prompted by my desire to read a particular book, "Mystery At Robber's Rock", which had been recommended by a cousin but which was never on the shelf when I went searching for it. The librarian explained that with a card I could have the book placed in reserve upon its return, so I signed up for a card. (I can still recall the title of the book because I'd awaited it with anticipation for weeks, if not months. However, I can't begin to recall anything at all about the book, its plot, its characters or its author.)
Upon my return home from my grandparents' I was confronted by my father about the late notice from the library. He was quite angry, having searched my room for the missing texts and not found them, and furious that I'd disobeyed their stricture on my use of the library and its borrowing practices. Certain that I'd be forgiven upon explanation, I carefully described what I'd been doing and how techinically I hadn't disobeyed them since I didn't bring any books home.
My father flew into a rage, livid that I'd "broken the law" and had "befriended a nigger." I'd never heard him use that word before, and indeed, it was a word we were instructed never to utter, "colored" being the preferred terminology.
Leading me outside to his car, spanking me along the way, we drove to the "projects" to retrieve the books. Most humiliating was my father's verbal assault on Theodore's parents, threatening them with arrest or a beating if they ever dared to allow me in their house, or near their son again.
The Projects where Theodore lived were part of a contained neighborhood designed to segregate "colored folks" from "civilized society", and included a park, a school, a swimming pool and housing, part of the legacy of Plessy v. Ferguson completed during the heady years of the New Deal.
Needless to say, I was prohibited from ever visiting the public library again. And at confession that week my parish priest admonished me and ordered penance for my having disobeyed my parents and for not respecting the law. It wasn't until I entered college that I had an opportunity to befriend another African-American, and it wasn't until my years of military service that I began to assimilate even a modicum of African-American culture into my life.
I recount this story because it was a defining moment in my development as an individual who opposes discrimination and has sought to eradicate bigotry throughout the ensuing five decades. I am not going to cease that crusade in deference to anyone's wishes or sense of propriety. Not even Barack Obama's.
Moreover, I resent Obama's willingness to be complicit in elevating hatred to a level of honor. Rev. Warren did not achieve his position of influence through the mere dint of his good works. He built his empire by denigrating others - by waging war and spreading hatred against those he finds unworthy in the pursuit of his ideal of social and cultural purity.
And that hatred extracts a price:
No matter how he, or anyone else tries to parse the message, Obama's conferment of honor and respect to Rev. Warren is breathtaking in its audacity. The president-elect should not be surprised that his brazen display of contempt for the feelings of the GLBT community are being challenged. His promise of hope has faded into a message of betrayal.
I've been debating this issue in the comment sections of diaries for days and have been disappointed - no, devastated is a better word - by the response of so many Kossacks who are willing to "go along to get along", completely comfortable with the notion of honoring Rev. Rick Warren and his message of hatred and bigotry.
I know - it's all about unity. It's all about reaching across the aisle. In that spirit, might I ask who else you'd be willing to honor at the inaugural?
Update:
I just want to say thanks for this being elevated to the rec list and for all of the thoughtful, heartfelt comments already posted!