DoD Identifies Army Casualty

            The Department of Defense announced today the death of a soldier who was supporting Operation Iraqi Freedom.
 
            Pvt. Benjamin B. Tollefson, 22, of Concord, Calif., died Dec. 31 in Balad, Iraq, of wounds suffered when insurgents attacked his unit with indirect fire in Ghazaliya. Tollefson was assigned to the Special Troops Battalion, 2nd Heavy Brigade Combat Team, 1st Infantry Division, Fort Riley, Kan.
Pvt. Ben Tollefson left for Iraq in September and was killed on New Year's Eve.
Please join me below for a look at the life of this young man: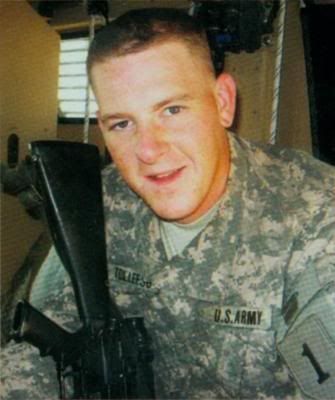 Pvt. Benjamin B. Tollefson
Pvt. Tollefson married his high school sweetheart, Natalie, in December 2007 and happily welcomed their first child, Mac James, in April 2008. Tollefson arrived just 45 minutes before the birth of his son, straight from his army training. Tollefson's father-in-law, Ed Hartley, believes that his daughter held on giving birth just long enough for her husband to arrive.
According to Hartley, in a statement to the Contra Costa Times, Tollefson "wanted to be a soldier for so long. He knew what would be over there. He knew where he was going to go and he didn't shy away from it at all."
Tollefson was a 2005 graduate of Berean Christian High School in Walnut Creek, CA where he played football and was known for his sense of humor.
His long-time friend, Cory Renfrow, told the San Francisco Chronicle, "He was the most compassionate, humble guy I ever met in my life. He's been my best friend since we were 11 years old. I was best man at his wedding. I was there when his child was born. Now I'm planning his funeral."
Renfrow goes on to say that Tollefson bounced around a bit after graduating high school, but that he had "always had this thing with...doing good and serving his country." Renfrow tried talking his friend out of enlisting because he didn't want to lose him but, "in the back of my mind, I knew it would be great for him. He needed to grow up and mature. But over and over in my head, I'd play back the statistics."
According to Renfrow, Natalie Tollefson was supportive of her husband's decision, even though she knew it would take him away from her and their newborn son. Of their relationship, Renfrow said, "If everyone could love their wife and kids as much as he did, the world would be a better place"
Tollefson spoke with another friend before going off to war. He told Dane McCoy that he didn't fully understand the war in Iraq, "but it was a job and it was something he was committed to doing."
In addition to his wife Natalie and their son Mac, Tollefson is survived by his mother Mary Tollefson, father Charles Tollefson, brother Jeffrey and sister Jamie.
Gov. Arnold Schwarzenegger issued condolences Friday and ordered Capitol flags to fly at half-staff in Tollefson's honor.
Rest in peace, Pvt. Tollefson.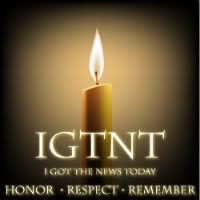 About "I Got the News Today" (IGTNT): I Got the News Today is a diary series intended to honor service members who have died as a result of the wars in Iraq and Afghanistan; its title is a reminder that almost every day a military family gets the terrible news about a loved one.

Click here to see the series, which was begun by i dunno, and which is maintained by Sandy on Signal, noweasels, MsWings, greenies, blue jersey mom, chacounne, twilight falling, moneysmith, labwitchy, joyful, roses, SisTwo, monkeybiz and me, JeNoCo.

Please bear in mind that these diaries are read by friends and family of the service members chronicled here. May all of our remembrances be full of compassion rather than politics.