For those who haven't heard of it, the Aptera 2e is the first vehicle from Aptera Motors, a Carlsbad startup with funding from Idealab, Google, and other sources. (Also for those who hadn't heard of it: it'll look great in your cave.) The all-electric, three-wheeled 2e weighs in at around 1,500 pounds due to high-strength composite construction, has a small fraction as much aerodynamic drag as a Prius, goes 100-120 miles with a top speed of 85-90mph, and boasts normal car safety features, impressive crush test results, and crash testing (TBA). With a price ranging from the mid $20s to the mid $40s (depending on options), Aptera is aiming to produce 10,000 a year in 2010 and 100,000 by 2015, including a subsequent four-wheel, four-seater code-named Palomar.
Now, they've announced what many have long been awaiting: a base production schedule.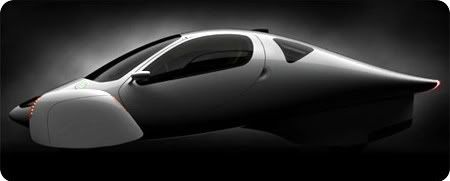 As Aptera has neared production, the details have been coming in fast and furious. Aptera officially announced what many had been suspecting for a long period of time -- the production version is front-wheel drive. Founder Steve Fambro also stated in an interview that there will be an optional fast charger to charge it in 2-3 hours.
On Tuesday, those on the Aptera waiting list received a letter including some news:
Our most recent corporate commitment was that we would deliver the first production Typ-1, now known as the 2e, by the close of 2008. Despite our well-intentioned efforts, we were unable to complete that vehicle before the close of the year, so it's now slated for January 16. However, unlike prior plans, this vehicle will not be delivered to a retail customer. We will continue our builds but at a much slower rate starting with a small test fleet of the enhanced vehicles, then moving to our volume production launch on October 1, 2009.
To put the delay into perspective, Aptera's original production goal to deliver in late 2008 was set over a year ago, so a shortfall of a couple weeks isn't bad. The wording is unclear as to whether all unit production will go toward the test fleet or whether unit production will commence for customers before mass production commences, but it is clear that the launch date for mass production will be this fall. Aptera goes on to explain that the delay and the use of a test fleet before full production was due to changes brought about due to customer expectations of ease of use and the advice of automotive professionals in Aptera's ever-growing staff.
The other main piece of news is a "lock-in" proposal. As they near production, "it has become equally important for Aptera to properly model our operations to meet demand". As a consequence, they're giving depositors an option: keep your $500 reservation refundable, as it always was, or change it to be non-refundable (but still escrowed) and get a $250 discount when you make your purchase. They note that they're moving toward production "in the face of this challenged economy", and having more firm committments will help them with forecasting demand -- a model that, they hope, "maybe Wall Street will see ... as a role model for offering these types of returns on investments".
Aptera concludes with their pledge:
"We will manufacture the most efficient vehicle on the road and continue to apply the input we receive from our consumer." As we fly in the face of this challenged economy and write a new page in transportation history, we simply can't afford to cut corners. We are going to do what it takes to get it right, and we cannot get there without your help and continued support. You have stood with us faithfully and we promise that our vehicles will be worth the wait.

We look forward to sharing our dream with you as Aptera introduces the world to the most energy efficient solution for personal mobility.
(Note: Crossposted to Gas2.org)