Pelicans appear to be the latest victim in a series of startling animal afflictions. From Mexico to Oregon, Pelicans are falling from the sky.
Pelicans suffering from a mysterious malady are crashing into cars and boats, wandering along roadways and turning up dead by the hundreds across the West Coast, from southern Oregon to Baja California, Mexico, bird-rescue workers say.

Weak, disoriented birds are huddling in people's yards or being struck by cars. More than 100 have been rescued along the California coast, according to the International Bird Rescue Research Center in San Pedro.

"These birds are on the freeway, getting run over," said Jay Holcomb, executive director of the rescue center in San Pedro. "A bunch we've seen have been hit. They've been landing on yards five miles inland. When some of the people have captured them in parking lots, they just sit in the corner. They just go pick them up."
More after the jump:
Frogs have fallen to a fatal fungus, bats have acquired white nose syndrome, bees have disappeared after colony collapse disorder and now pelicans are dazed, confused, and dying.
While the culprit for the frog population decline has been identified as an ancient chrytid fungus, the cause for its spread has yet to be established. The two leading theories are that (1) global warming has triggered the spread of the fungus by making growth conditions more favorable and (2) the fungus has simply been introduced and spread through areas where it was not previously present.
"Our models suggest that both these theories are slightly wrong," added Hudson, director of the Huck Institutes of the Life Sciences at Penn State. "Neither of them fit available data."
Often times frogs being studied would simply disappear.
"People would come back to the same research sites year after year; maybe one year they'd see a couple of dead frogs, and then the next year they'd show up and there wouldn't be any frogs at all, and nobody knew what happened — it was a mystery," Lips said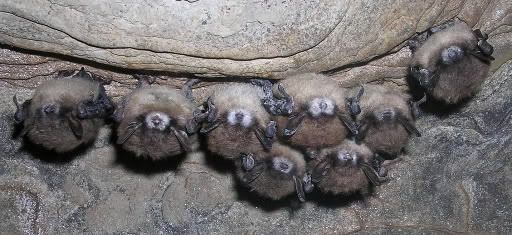 In the Northeast, bat populations are being wiped out from white nose syndrome. The trigger appears to be a psychro-philic fungus which is infecting the bats.
Bats are normally in deep hibernation this time of year in ice-encrusted caves and abandoned mines across the Northeast. But researchers say they are beginning to get calls of bats weakly flying around in broad daylight or dying on decks and in backyards. Scientists believe the bats are leaving caves to find food but dying before they can find any.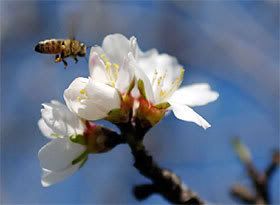 Billions of bees have died from colony collapse disorder. Its believed that the trigger for this may be Israeli acute paralysis virus. However, like the frogs and bats the primary factor behind the bee population decline is uncertain.
Bee disappearance is a telltale sign of CCD, which may disorient bees and cause them to flee their hives before dropping dead.

...Bees affected by the syndrome also seem to show flu-like symptoms
One of the speculated causes for the bee population decline is electromagnetic radiation.
Dr Ulrich Warnke – who has been researching the effects of man-made electrical fields on wildlife for more than 30 years – will tell the conference, organised by the Radiation Research Trust at the Royal Society in London, that "an unprecedented dense mesh of artificial magnetic, electrical and electromagnetic fields" has been generated, overwhelming the "natural system of information" on which the species rely.

Dr Warnke, a lecturer at the University of Saarland, in Germany, adds that the world's natural electrical and magnetic fields have had a "decisive hand in the evolution of species". Over millions of years they learned to use them to work out where they were, the time of day, and the approach of bad weather.
Now, he says, "man-made technology has created transmitters which have fundamentally changed the natural electromagnetic energies and forces on the earth's surface. Animals that depend on natural electrical, magnetic and electromagnetic fields for their orientation and navigation are confused by the much stronger and constantly changing artificial fields."
A study by Korall, Leucht, and Martin published in the Journal of Comparitive Physiology in 1988 found that Bursts of magnetic fields induce jumps of misdirection in bees by a mechanism of magnetic resonance. Using a frequency of 250 Hz the signal induced a misdirection of up to 10 degrees of the honeybee.
A 2005 study performed by Harst, Kuhn, and Stever at the University of Koblenz-Landau in Germany titled Can Electromagnetic Exposure Cause a Change in Behaviour? found that only 7% of irradiated bees returned to their hive as compared with 39% of the control group. Addtionally it was found that the weight of each individual bee was on average 21% less for the irradiated group.
Pelicans on the west coast may be encountering a similar fate as sparrows in Europe.
Scientists at the Research Institute for Nature and Forest in Belgium looked at 150 areas with masts and found that the stronger the signal, the fewer sparrows nearby.
They concluded: "Long-term exposure to higher levels of radiation negatively affects the abundance or behaviour of house sparrows".
If radiation is indeed a major culprit, then the reported effects on frogs, bees, bats, pelicans, and sparrows may be just the tip of the iceberg. Its been reported that tens of millions of birds have disappeared across North America. The grid of cell phone, NDGPS, and ground wave emergency network towers now permeate the landscape. In tandem with climate change the stress upon nature's species may have reached the tipping point.
Update: The initial suspect affecting pelicans was domoic acid, a neurotoxin found in algae.
Holcomb, who's been saving birds for 35 years, believes the birds' behavior "points to something going on in their neurons, but there's nothing conclusive yet." The bruising and discoloration of pouches and feet are a mystery, something he hasn't seen before.

Lab tests conducted by University of Southern California revealed Thursday that half of the blood samples from six pelicans showed evidence of domoic acid, which can cause deadly neurological effects.

Exposure at this time of year would be unusual, scientists say. Typically, domoic acid shows up from February to June. In addition, tests by USC researchers on plankton didn't show high concentrations.
However, the surrounding factors make it less likely that this is the primary cause.
But researchers say that the pelicans' symptoms don't match the usual pattern seen in a domoic acid outbreak. Domoic acid poisoning usually causes seizures, researchers say, and these birds have had none. The toxin also typically affects marine mammals as well as birds, and no such problems have been reported in sea lions or other mammals. Finally, most of the hundreds of ailing pelicans are thin, but birds poisoned by domoic acid are typically of good body weight.