For this week's edition of plf515's DKos Travel Board diary series, I'll take you on a tour of my favorite vacation spot.
The first thing you need to know is that when you visit Hawai'i, any of the islands, you need to get yourself on "Island time." Slow down. Relax. Don't worry about driving fast because getting there is half the pleasure. If you try to bring a hurry-up attitude with you, you may find that things go wrong and seem to conspire against you. So, when you visit these shores, be prepared to go with the flow and you will have a much better vacation.
The Big Island of Hawai'i is the largest of the Hawai'ian Islands. In fact, all of the other islands would fit into the area of Hawai'i. The island is 4000 square miles. It is possible to drive around it in a day but you won't see very much if you don't stop. A good guide book is essential and I will give information about the best at the end of the diary. It has maps and directions to all of the places I'll tell you about.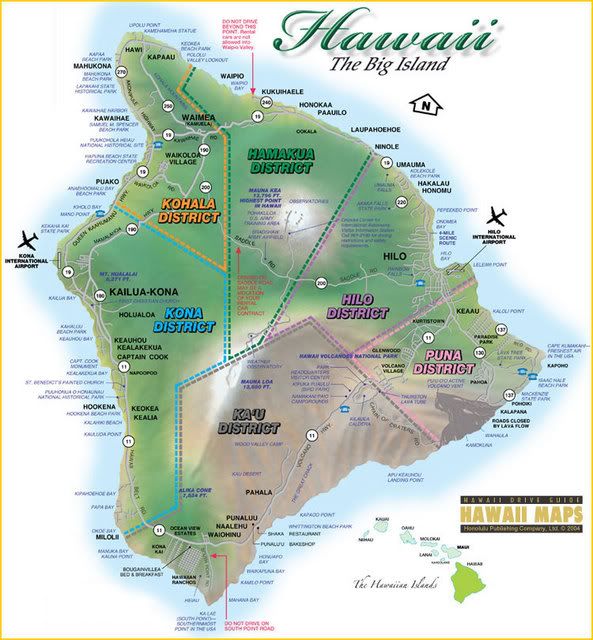 Hawai'i by district
Come with me below the fold and I will show you Paradise. Gotta warn you, this diary is long. There is just so much to see...
A few general notes... On the island, there are four directions; makai (towards the sea), mauka (towards the mountain), and towards or away from an major landmark. Kona is makai volcano - on the seaward side towards the volcano - of Kohala. You can't get lost on an island, so go ahead and explore. There are certain areas where care is required. Some private land will bar your way. But all the shoreline is public in Hawai'i, so all beaches are open to you, no matter what the guard at the resort gate may say.
Pack light. Bring two swimsuits, though. You may have to wash one after snorkeling and want to spend that time by the pool! Bring a pair of comfortable walking shoes (hiking boots if you plan on serious hiking), a comfy pair of sandals and reef shoes. Don't forget sunscreen! Hawai'i is in the tropics and the rays are intense. Apply about 1/2 an hour before you go into the water, or the oil will rinse right off of you and into the water, leaving you unprotected and an oil slick in the fishie's home.
One last thing... since Kilauea began erupting in 1983, there has been a weather phenomenon known as "vog", a cloud of water vapor, carbon dioxide and sulfur dioxide. This will begin to cover the kona side in the early afternoon. So, be aware if you have breathing problems (it's never bothered my Hubby or daughter, FWIW). And do your snorkeling in the morning. Not only is the water calmer but once the vog comes in, the sunlight mutes the colorful fish.
You should be aware that the Big Island does not make a good first impression. If you land at Kona International Airport (where most vacationers enter), you will be greeted by a stark landscape of lava rock.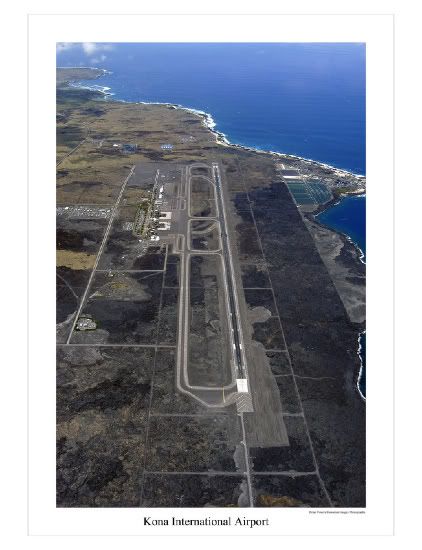 Don't let this worry you. It does get better. Once you rent your car (and I highly recommend that you do if you plan on sightseeing) you will either go towards Kona to the South or Kohala to the North. Let's look at Kohala first.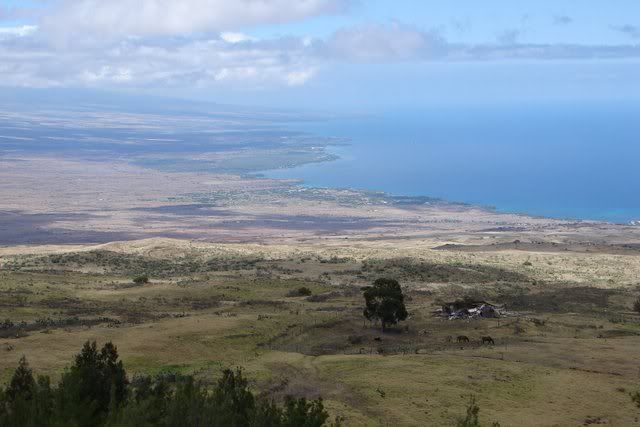 Kohala Coast
This where most of the big resorts live; Waikaloa, Mauna Lani, Mauna Kea, and the Fairmont Orchid are a few of the most popular. Staying at these establishments gives you the resort experience if that's your thing. Golf, tennis, shopping, spas... if you want to stay in one place then this is your cup of tea. The one I would recommend for families if the Hilton Waikaloa Village. They have lots of activities for adults and children. Their Camp Menehune keeps the 5-12 set busy while Mom and Dad play a round of golf. They also have an fantastic collection of Eastern art scattered throughout the grounds.
Amazingly enough, these resorts co-exist with the landscape and in harmony with their surroundings. There are fields of hieroglyphs and restored historic sites on resort grounds. The Mauna Lani resort runs a turtle protection program. All resorts must meet strict local codes and native approval.
Kohala has some awe-inspiring sights and views. You can see Maui from here and the vistas are sweeping. Beginning up at the Northwest tip of the island there are two towns; Hawi and Kapa'au. Remnants of the days when sugar was king here, they are very laid back and quiet. Artists have flocked to this area and there are a few galleries here. The pride of this area is King Kamehameha's birthplace.

King Kamehameha's Birthplace
South of Hawi, along the Queen Ka'ahamanu Highway (Hwy 19, the main drag), lies Lapakahi State Historical Park. This is a 265-acre site which was first settled in the 1300s. It has been partially restored but in some places, all that is left is remnants of rock walls. If Hawai'ian history interests you, you will enjoy this. BTW, be sure that you have plenty of water with you. This area is very dry and can get quite warm.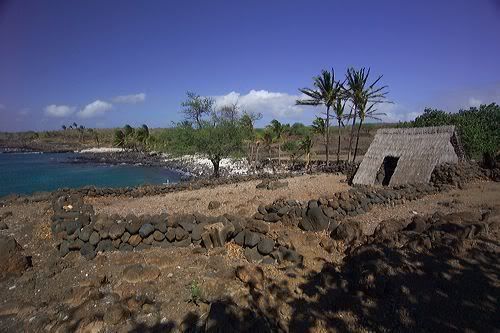 Lapakahi State Historical Park
Traveling South again, you will come to Kawaihae and an impressive sight, indeed. On a hill overlooking the bay, sits an imposing stone structure. This is Pu'ukohola Heiau(temple). King Kamehameha I built this between 1790-91, after being told by a Kahuna that if he did, he would be able to unite all the islands into one kingdom. And whadda ya know, it worked!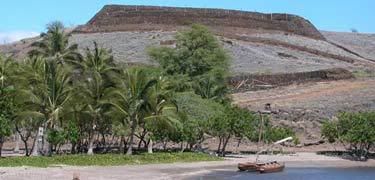 Pu'ukohola Heaiu
Just South of the airport, lies the National Energy Lab. Here, they experiment with new energy sources, including harnessing the energy of the tides. You can take a tour on Tues. Wed. and Thurs. Call ahead (329-8073). The complex houses several small businesses. One of these is Kona Cold Lobster who flies east Coast lobsters here and revives them in cold water. And you can buy them! Call 329-4332. This is a little secret, so shhhhh!
Beaches in the Kohala area are often not so much a beach as a rocky cove. These are the best snorkel spots (be warned - many are for experienced snorkelers only) but many can only be reached by 4-WD. The exceptions though, are breathtaking. Mauna Kea Beach is a staple of the Top 10 Beaches list. Right next to it is Hapuna, where the boogie boarding, swimming, snorkeling and sunbathing are all primo. Other great beaches include; Kapa'a, Puako, Spencer Beach State park, Anaeho'omalu (aka A-Bay) and Makalawena. Reef shoes are recommended at beaches, required at any with lava rock... so, pretty much everywhere. Seriously.

Hapuna Beach
Now, on to Kona... Kona Town is often called Kailua-Kona or Kailua Town because of another Kailua on Oahu. This is the center of activity for the kona (leeward) side of the island. The harbor is always busy, more so now that the cruise ships are plying the waters and the town is usually hopping. Funky shops and restaurants are worth the short walk from one end of "downtown" to the other. Just avoid all of the kiosks that hype "adventures." They are come-ons for time shares without exception. I love this town. It is just so full of life and aloha and fun! King Kamehameha I retired here so I'm obviously not alone in my love of this place. My favorite hangout is Huggo's On The Rocks, where local bands and dancers are performing every night. Not the expensive restaurant now, this is the bar next door. At the North end of town lie three of the best sights...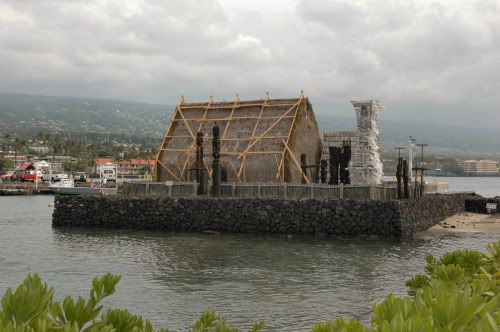 'Ahu'ena Heaiu
The King Kamehameha Hotel sits on the grounds of the royal compound. 'Ahu'ena Heaiu was Kamehameha I's private temple. They have a luau here which is pretty good. Being on the sacred ground is an added attraction. Like all luaus, it has its cheesy moments. But the arrival of the royal court and the traditional hula kahiko (ancient hula) greeting of them is a highlight: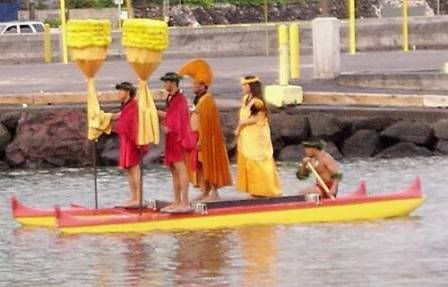 As you stroll South along the seawall, you will see two impressive buildings, one on either side. The one on the makai side is one of two Royal Palaces on U.S. soil (the other is the 'Iolani Palace in Honolulu), the Hulihe'e Palace. This was a royal summer home. The Daughter's of Hawai'i are the caretakers of this lovely house. The interiors are made from native koa wood and there are many artifacts and antiques. It's worth the $5 donation.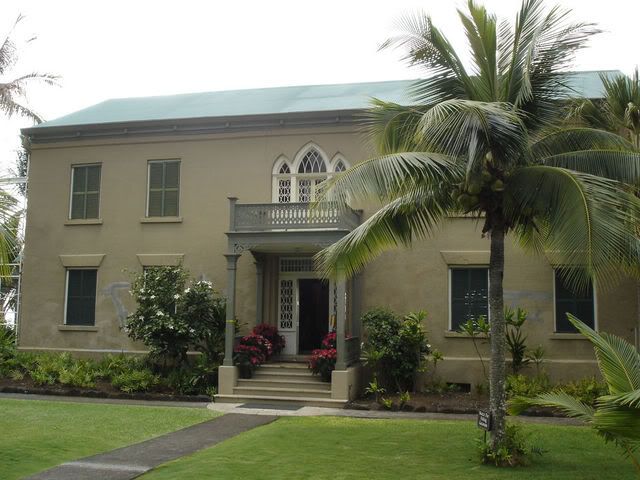 Hulihe'e Palace
Across the street, mauka, is the Mokuaikaua Church. This was the first church established in Hawai'i, in 1820 by missionaries from Boston. It is made of volcanic rock taken from old heiaus. In 1837, the original thatched hales (houses) were taken down, but the original stones were left and formed the base of the current building. Native 'Ohi'a and koa wood were used for the gorgeous interior:

Mokuaikaua Church Interior

Mokuaikaua Church Exterior
The main drag through Kona is Ali'i Drive. It is a bit narrow and there are always bikers and joggers along the shoulders so do obey the 30MPH speed limit. Driving south on this road will take you to Kahalu'u Park. This is a real treasure. It's the very best place to learn to snorkel. It is shallow and protected by a seawall on the south end. Surfing is good at the north end. It's almost like snorkeling in an aquarium; it's shallow and usually calm (tidal surges can occur). You will see many colorful fish and will almost always see honu or green sea turtles grazing on the algae-covered rocks. These are protected though, so hands off.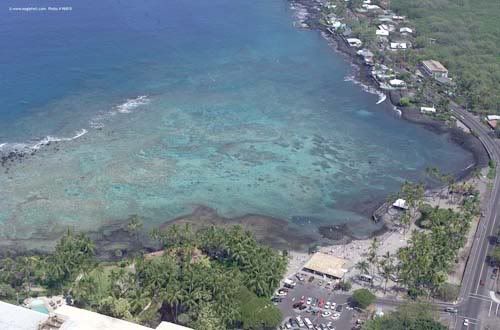 Kahalu'u
The best beaches around Kona are (from north to south); Pawai, Kahalu'u, Honaunau and Kealakakua for snorkeling. Kekaha Kai and Ho'okena for swimming and sunbathing. Boogie boarders love White Sands Beach (on Ali'i between Kona and Kahalu'u) but only in the summer - it's alternate moniker of Disappearing Sand Beach is not an exaggeration. When the surf is too high, pass it up.
South of Kona, returning to the Queen K Highway (which has become the Mamalahoa Hwy... go with it), you go up in elevation and drive through coffee country. There is a string of cute little towns along this stretch and if you like to prowl, you'll enjoy stopping at any of them. If you are into the coffee, then take Napo'opo'o Rd just after the 111 mile marker (it's marked well) and drive down the twisty-turning road. There are several coffee farms along here and one store-cum-tour stop. Continue down to the bottom and you are at Kealakakua Bay. This is where Captain James Cook moored when he visited the Island in 1778 and where he died the following year. The snorkeling here is some of the best in the islands. You'll have to jump in from the cement pier or brave the small rocky beach to the right. Or kayak across. In the mornings, you will probably see dolphins.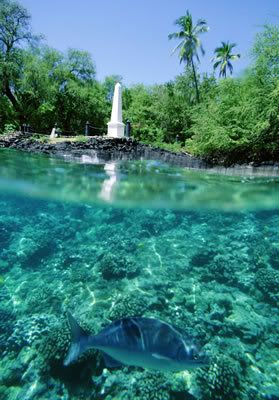 Captain Cook Monument at Kealakakua Bay
Now, go back up the same road and look for Middle Ke'ei Road, then Painted Church Rd. Along here you will find the tiny St. Benedict's Church. Known as just the Painted Church, it was built in 1899 and for 5 years the builder, Father John Velge, dedicated himself to painting the interior. It was a true labor of love.

St. Benedict's Painted Church
Back on Middle Ke'ei Rd, turn right and drive down to Pu'uhonua O Honaunau. Also know as The Place of Refuge, this is a complex of houses, heiaus and fishponds. The Pu'uhonua was a place where those who broke kapu (taboo) could find absolution. This is a fascinating place where you can take a self-guided tour, and just is not to be missed.

Pu'uhonua O Honaunau
Often there are artisans demonstrating arts and crafts. On the north end of Honaunau Bay is a great snorkel spot where dolphins often come to play. The combination of the Place of Refuge and great snorkeling can take an entire day if you let it. Pack a picnic lunch and let it. You won't be sorry.
Driving South once again on Hwy 11 (just call it The Hawai'i Belt Rd which encompasses all the name changes), the road will narrow and wind a bit. Take it slow and enjoy the scenery. There are turn outs if others are not quite so laid-back. At mile marker 89 you can turn makai and check out the small fishing town of Miloli'i. The beach is okay on weekdays but locals enjoy it on weekends, so let them have it then. A short walk from Milioli'i Beach is Honomalino Beach which is almost always deserted and very picturesque.

Honomalino Beach
Back up to the Highway, continue volcano and you will pass through HOVE (Hawai'ian Ocean View Estates), a planned community that has not done as well as expected. But some tough people manage here with cisterns and windmills. A bit further and you have a choice. You can either continue on to the volcano or you can take a detour to South Point. Down here is the furthest south you can go in the U.S. Of interest to folks like us is the Kamaoa Wind Farm. It is very well placed; the wind here is strong and constant. At the end of South Point Rd. are boat hoists, where fishermen tie off their boats and fish the rich waters. You can ostensibly swim and snorkel here but ONLY when the water is calm. Some swear it's da bomb but I wouldn't advise it; if you should get caught in a current, next stop is Antarctica! This is also believed to be where the first settlers to the islands made landfall. Relics and ruins here date to AD300.

Boat Hoists and a Brave Swimmer
Also off the South Point Rd. is an amazing green sand beach. The green sand is grains of the volcanic gemstone olivine. You need a 4-WD to get there and even then, it's a 2 1/4 mile hike. Beware of squatters trying to charge for parking and/or closing the gate. Your reward will be an isolated (few people come here) green sand beach. You can swim here but be sure to stay within the cove unless you fancy that float to Antarctica.

Green Sand Beach
Back up on the Highway, continue volcano through the little towns of Waiohinu and Na'alehu. At about mile marker 56 you will see the turn-off to Punalu'u Black Sand Beach. Take it. This is a beautiful spot and, unless you hit at the same time as a tour bus, is not crowded. You will usually see honu napping on the heat-storing sand. There is a lovely fishpond behind the palm trees making this a very peaceful spot. At one time there was a big resort planned here but, after the condos, restaurant and golf course were built, funding fell through. The condos and golf course are still here and in use but the derelict building on the other side of the pond was going to be the restaurant. You can swim or snorkel here but be careful of strong currents. Sunbathing on the sand is a warmth-lover's dream come true.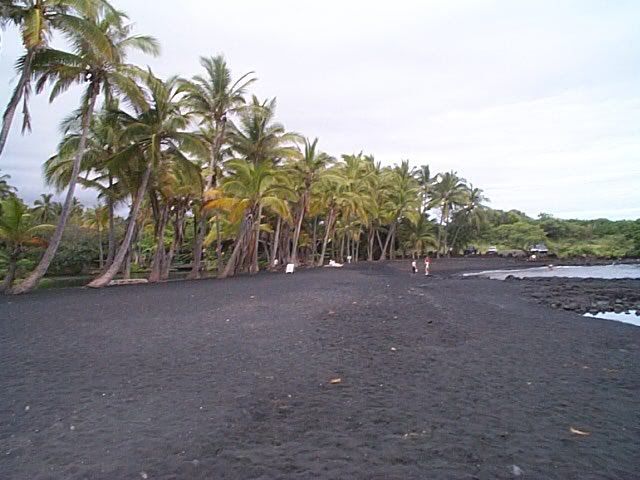 Punalu'u Black Sand Beach
Back to the Highway and you will drive through the Ka'u desert on your way the Hawai'i Volcanoes National Park.Kilauea has been erupting continuously since 1983 and, if you're lucky, there will be a flow that you can hike to (check here). It's known as "the world's only drive-thru volcano" for good reason. You can literally drive along the Crater Rim Rd. and see everything without leaving your car. But that's not fun at all, is it? There is a loop trail for you hikers that begins from the Visitor Center. Sights not to miss here include Halemaumau Crater (where Pele is said to be living currently), Devastation Trail and the Thurston Lava Tube. If there is a flow, take Chain of Craters Rd down to the end, where the Park Rangers will be able to guide you. Once a month, there is a Native Hawai'ian ceremony with hula and chanting. It's quite an experience! If you don't get chicken skin during this, you are numb.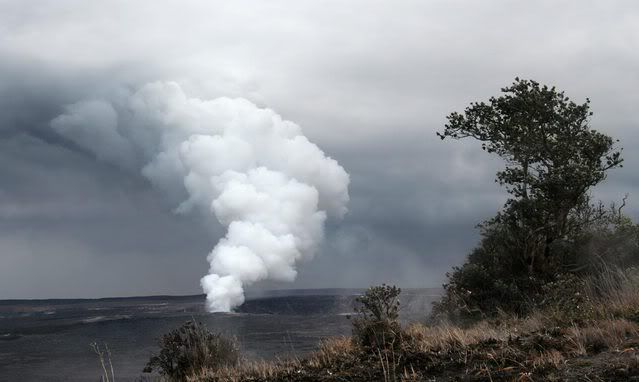 Halemaumau Crater from the Rim Rd.
A quick word about the "curse" of lava rock. The land, especially in the volcano area, is considered to be the body of Pele. She isn't just the volcano goddess - she is the volcano. The Hawai'ians put great store in the idea of mana or spiritual power. Things that are associated with, or in this case are, the gods have great mana. Taking something with mana from its home is said to upset it and the god associated with it. You can ignore the curse but you should know that every hotel, visitors center and many local businesses get boxes of lava rock sent to them every year by folks who scoffed at the curse and experienced a run of bad luck until they sent the rocks back. Just sayin'...

Pahoehoe ("like a wave") Lava
The volcano may take you a whole day and, if it does, then you're probably ready to pack it in. Turn left out of the park and backtrack to Kona or Kohala. I would advise setting an entire day aside for the trip and sightseeing if you are in either of these places. If you are in Hilo though, it's only a short drive. The small town of Volcano has places to stay overnight, groceries and (heinously expensive!) gas. There are two campgrounds with tents and cabins and (current & retired) military personnel and families can rent cabins at Kilauea Military Camp (967-8333).
Picking up at Hilo, now... Hilo is a charming town, a mix of old and new Hawai'i, and much slower than the other side of the island. That's part of its charm. The surroundings are lush and green because the Hilo area gets around 70 inches of rain a year. Don't expect the same feeling as on the kona side, but Hilo is worth an exploration. The new Coral Reef Museum is highly rated.

Hilo Town
The beautiful Rainbow Falls lies at the west edge of town. It is definitely worth a visit. Legend has it that Kamehameha buried his father's bones in the cave behind the falls.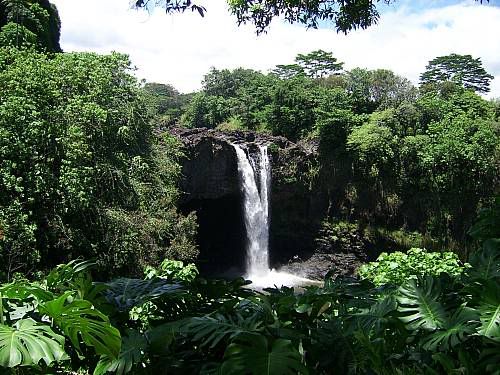 Rainbow Falls
South of Hilo lies the Puna District. There are some gorgeous sights here but be careful to stay to public areas and on roads. This area is where the number one crop of pakalolo is grown, usually in deep forests set with lethal booby traps. Exploring off the grid can be dangerous. Things to experience in Puna include Lava Tree State Park. The tree-shaped tubes are caused when swift pahoehoe lava encounters wet ohi'a trees, leaving a thick coating on the tree, which dies slowly, leaving a tube.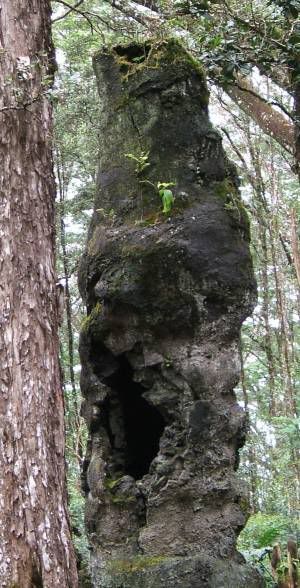 A Lava "Tree"
Another natural phenomenon you will encounter in Puna is hot springs. The volcanic nature of this end of the island yields Mother Nature-made hot tubs! Champagne Pond is accessed through a gated community but the 4-WD road is open to everyone. Weekends and holidays it will be crowed with locals, as will the other warm springs, so make this a weekday excursion. A bit further on Kapoho Kai Rd, lie the Kapoho Tidepools. They are next to a cluster of houses but the majority lie on public land. They offer fascinating snorkeling (they are shallow) and soaking. Another spot is Ahalanui, a large pool fed by fresh water and warmed by volcanic "plumbing."

Kapoho Tidepools
Heading back up to Hilo, there are several museums and botanical gardens to see: The Lyman Museum, Coral Reef Museum and Pacific Tsunami Museum are all worth a look. On Banyan Drive you will find Lili'uokalani Gardens, which are free. Also near town are the Hawai'i Tropical Botanical Gardens (see below) and the Nani Mau Gardens. All are beautiful and peaceful places to spend some time.

Lili'uokalani Gardens
Traveling north on the Belt Road, you will be on the Hamakua Coast. This entire area was once home to sugar plantations and wild sugar cane grows everywhere. Cut some and try it - chew the pulp and suck the juice. Mmmm! Just past milepost 7 is a turn-off that leads to Hawai'i Tropical Botanical Gardens. Do be advised that this road is very narrow so drive slow. The Gardens overlook Onomea Bay and Onomea falls lie in its confines. The admission is $15, which is a bit steep but this is the best on the island.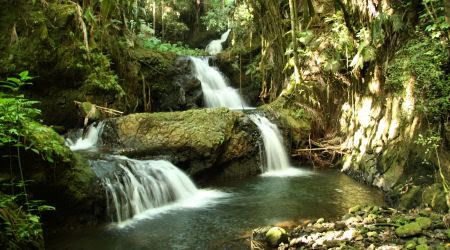 Onomea Falls
Between mile post 13 and 14 is the road to 'Akaka Falls. This is not to be missed! Take the trail through lush vegetation and over streams (best time is late morning before the tour buses strike). You will be rewarded with a breathtaking view of the 420-foot falls.

'Akaka Falls
As you travel down Highway 19 there are several opportunities to take side roads and stop at tree-covered gulches and waterfalls. The Laupahoehoe Train Museum offers the history of the area's sugar cane trains. Train fans, you will enjoy this. There are no real beaches in this area as its position is not conducive to gentle waves. At Honoka'a, you will find the road to the Waipi'o Valley. Follow the signs to the lookout but you cannot drive down into the valley unless you have a 4-WD. There are tours that will take you down and around the valley via wagon or horseback. Waipi'o Valley is where Kamehameha I spent his childhood. It has deep spiritual and historical significance to the Hawai'ian people.

Waipi'o Valley
Going back through Honoka'a (Quick sidenote; I was going to buy a gem shop here a few years ago but it fell through) pick the Highway up again and head into Waimea. This town is home to the Parker Ranch, one of the largest ranches in the U.S. You can take a wagon ride around the ranch or visit the information center. This is also a great place for a horseback ride. My favorite is the Dahana Ranch (885-0057), who will even arrange to have you take part in a round-up if you wish, as long as you have 3 other people with you. No, they aren't paying me ;-)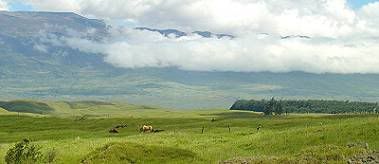 Ranchland around Waimea
If you are brave, you can head up to Mauna Kea. There are many telescopes there and the Onizuka Center is open to the public. There is also the world's only tropical lake fed by snowmelt. The best way to experience the summit is through Hawai'i Forest and Trail. They will take you up the mountain, provide warm parkas and a meal and later, hot chocolate and cookies while stargazing. They also have some of the neatest adventures on the island.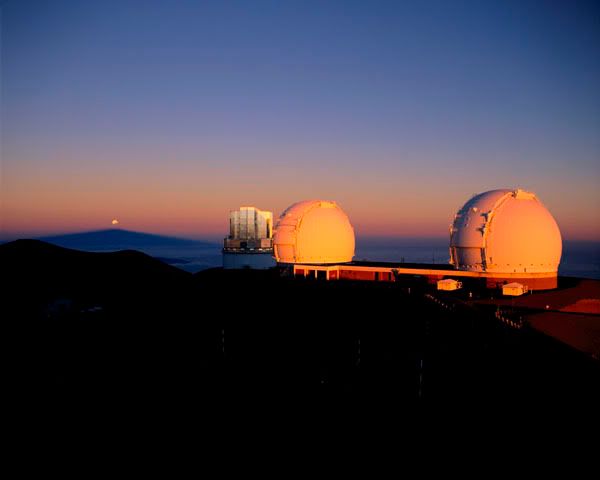 Mauna Kea Summit
From Waimea you can either take Hwy 19 to Kona or Hwy 190 down to Kohala. That will be a loop around the island for you.
There is much more to see and experience on the Big Island. As long as I've gone on, I've only skimmed the surface. Be sure to grab the free publication, Big Island This Week at the airport to check on the haps while you're there. If there is a music festival, try to put that on your agenda. Many are free and I have seen and heard a great amount of fantastic music at these. Farmer's markets, town festivals, parades... there is usually something going on every weekend. Get to know the locals at these and they may share even more island secrets.
There is so much to do here - biking, camping, fishing, golf, horseback riding, snorkeling & scuba, stargazing, skiing (yes, skiing!), parasailing, kayaking, surfing... You can make a night dive among the manta rays or a night hike to see the glowing lava. There are boats that will take you to the very best snorkel and scuba sites. Hike through a rain forest or across a volcano. I have been a dozen times and I still discover something new every time.
The best guide book for the Big Island is The Big Island Revealed. It has in depth information on everything I've listed above, plus detailed maps, restaurant and hotel guide, and general information that will enhance and ease your stay (no, they didn't pay me either!). They also have the primo guides to Maui, Oahu and Kauai as well. The authors are locals and promote local businesses.
Some excellent websites:
http://www.gohawaii.com/
http://www.konaweb.com/
http://www.hawaiimagazine.com/
http://www.bigisland.org/
http://www.bigisland.com/
I hope I have piqued your interest in visiting the Big Island. It's not for those who crave the nightlife or prefer the big city. It is for those who enjoy taking their time and relaxing. There is fun to be had as well as places to just do nothing. My husband and I hope to retire here. Maybe we'll buy a small coffee farm. Or start a snorkel boat business. We're not sure yet. We might just kick back there for the rest of our lives. Aloha!