I have often questioned why I live in Wyoming.
The last time it went Democratic in a presidential race was in 1742.
Both senators and its one representative are Republican.
It certainly isn't any Mecca for gay people.
But every time I count off all the drawbacks, I think of this -
And I know I will never be able to leave.
December 21st
Winter Solstice, ten below.
The soft creak of dry snow on ice.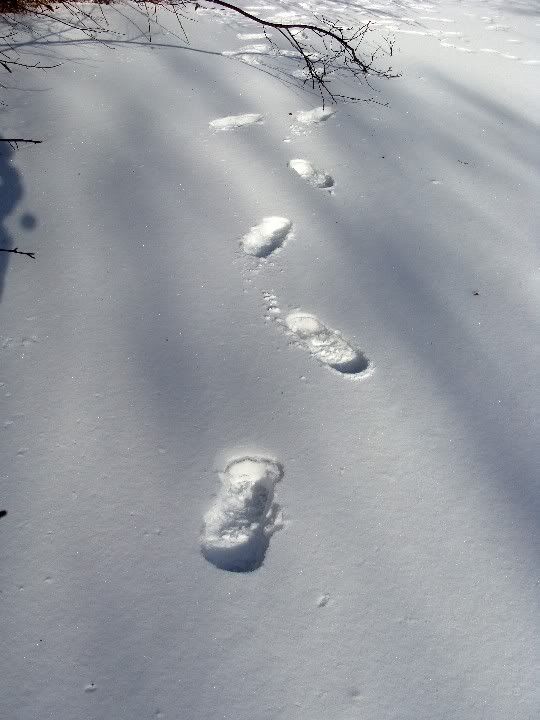 The creek is almost completely frozen.
For wildlife, open water is essential.
Where the creek still remains open,
The ice forms layers of a wedding cake.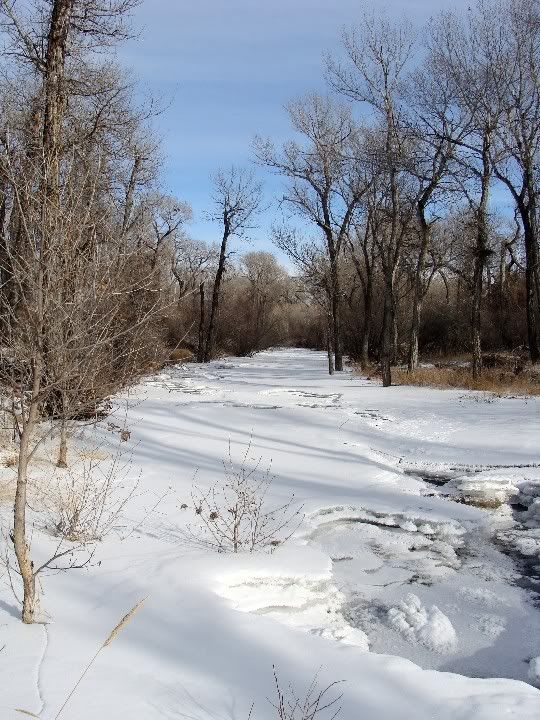 December 27th
After weeks of sub-zero temperatures,
It is a lovely warm day.
The snow is soft, the shadows have lost their cold.
But I walk out into the middle of the creek –
Confident that the ice is thick.
Huge ice slabs point in all directions.
The cracking ice is like a gunshot on a silent day.
And yet, nearby there is a thin film of ice –
As delicate as lace above the rushing water.
December 28th
Warmer, still. And the ice retreats.
Even in the shade of the mountain,
Dark open water makes polka dots –
With the creek peeking through.
For weeks this stretch of stream never sees sunlight.
The ice grows roots.
December 29th
The thaw continues under a blue sky.
South-facing banks are free of snow.
These micro biomes are dry and parched in summer,
But in winter they are havens for wildlife.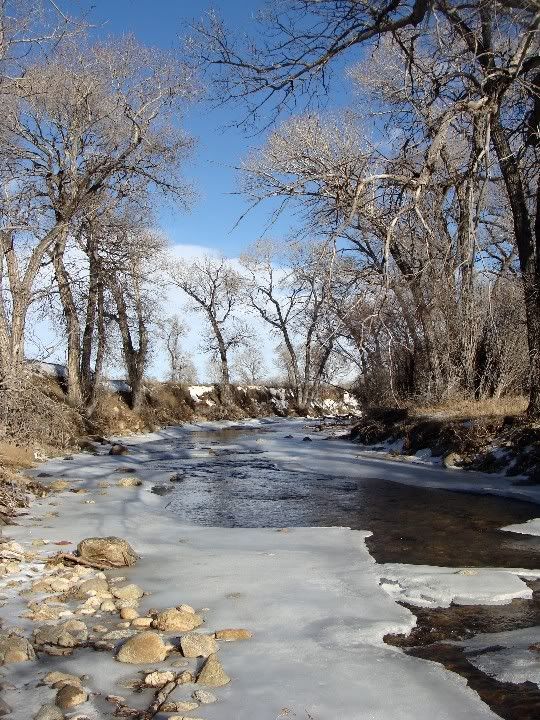 It is a day filled with delight –
With melting ice hugging the rocks,
Stepping stones with three-cornered hats.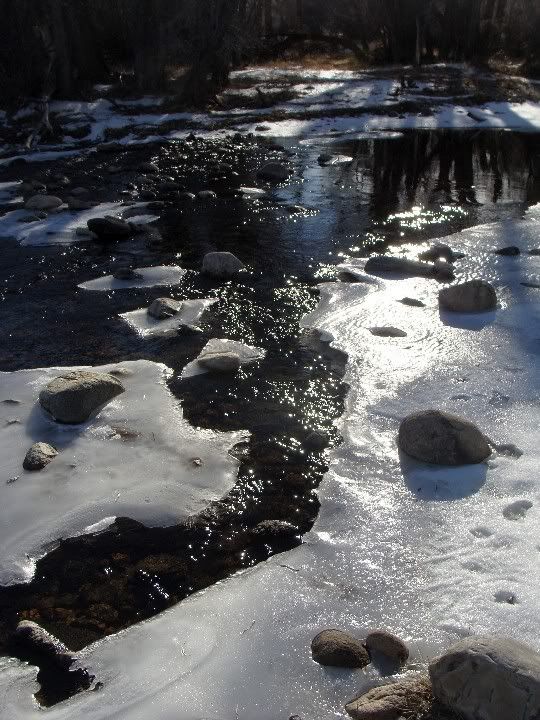 The sun shimmers off of old ice
That has thawed and refrozen many times.
Old deer tracks cross its beaded surface.
Anyone enjoying a warm winter's day in Wyoming
Knows only too well that winter will soon return.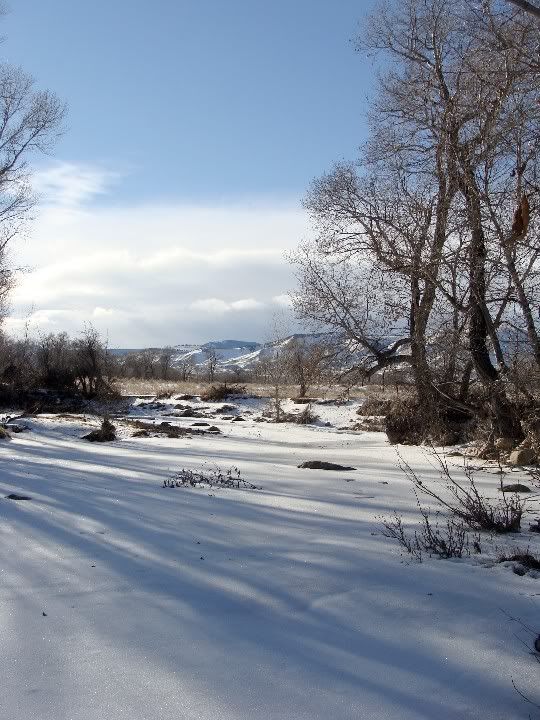 December 30th
Winter's full return has been postponed.
It is chilly once again, but the sky remains blue.
I look up in awe of winter cottonwoods.
In a land of few trees, the cottonwood reigns majestically,
Its presence announcing the treasure of water.
Waiting to join friends for lunch,
I make a mad dash out to Clear Creek.
Right in the middle of town.
And discover a titanic iceberg,
Waiting to snare an unsuspecting toy boat.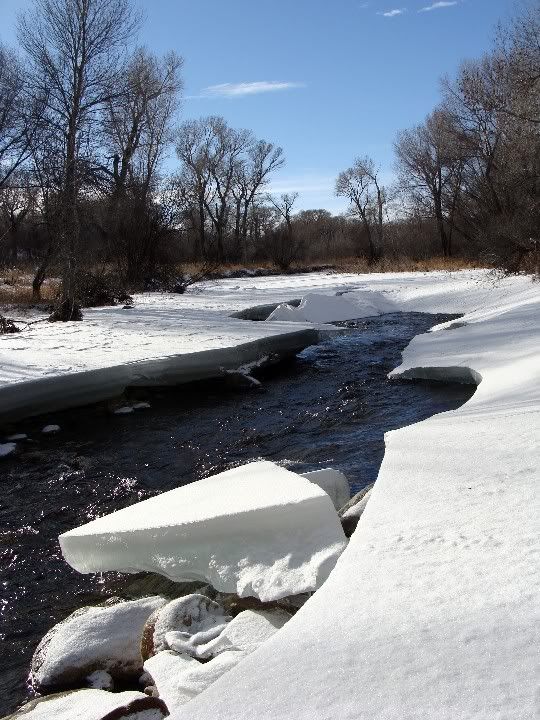 December 31st
The last day of the year and the weather remains beguiling.
What heed does the creek pay our calendar?
I hike out into the state lands that protect Clear Creek.
Searching for magic. Confident in finding it.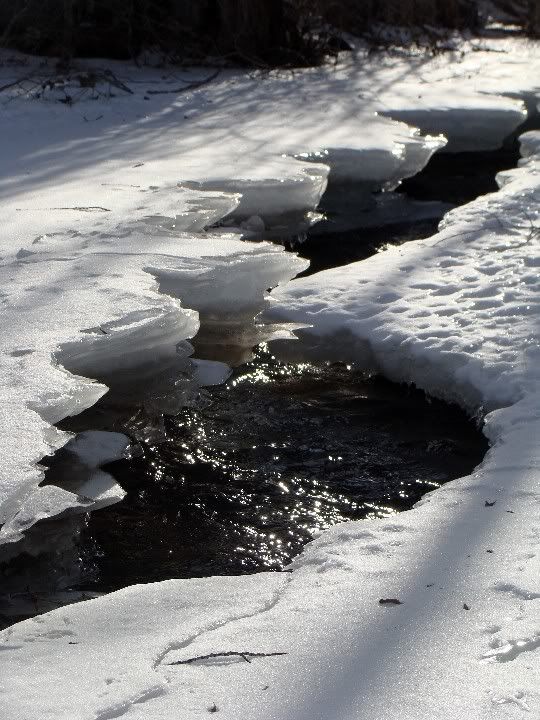 Old, cracked ice is sculpted into fantastic shapes,
While fragile, new ice hesitantly moves out from the shore.
I watch a water ouzel feed in the frigid stream.
It breaks the silence, splashing into the water for grubs.
I am perfectly content – just watching.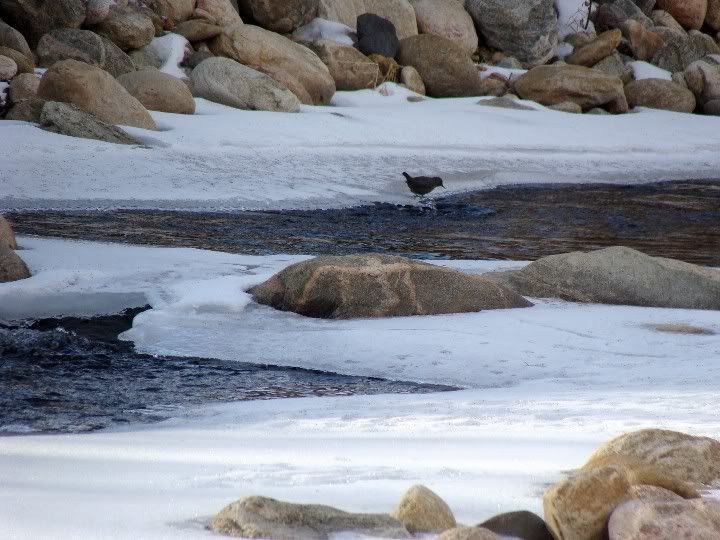 January 2nd
Still warm. Deceptively, seductively warm.
I bound from rock to rock along the creek.
The old ice is slick and greasy.
Winter warmth in Wyoming brings with it wind.
It riffles the water and carries a warning chill.
January 4th
It is well below zero again – and crystal clear.
I am delighted and quite the fool.
Who else would be bounding for joy along Clear Creek?
The snow is so dry it has fallen onto the ice from the branches overhead,
Like confetti at a New York parade.
Each round rock is topped with a dollop of soft white.
A thin film of water flows over the translucent ice,
Before quickly forming another layer.
Sun and ice, snow and rock – have never been more beautiful.
The air is like champagne. The silence perfect.
I wish that everyone could experience a day such as this.
The plummeting temperatures and the rapid drying
Have created delicate ice rosettes on the frozen creek.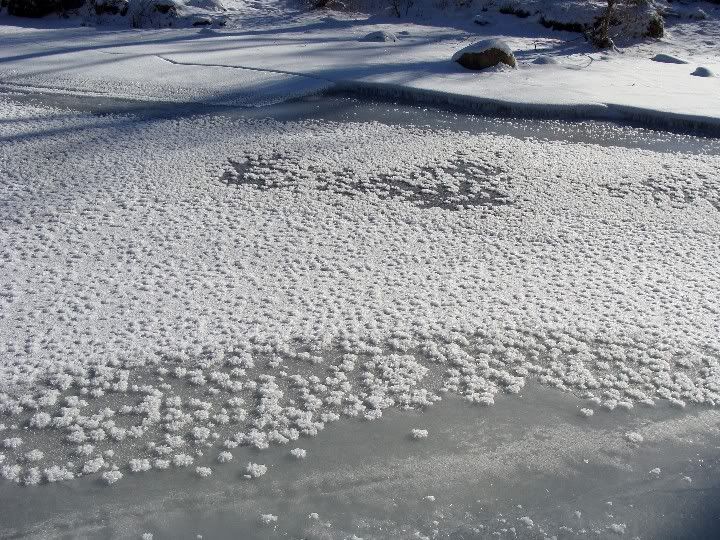 And rarest of all – ice butterflies.
Delicate wings of paper-thin ice
That will vanish in a few moments.
Even as cold as it is, I cannot avoid sitting and watching,
Trying to take in the full extent of this fairy tale.
Stillness.
One can almost see the creek refreezing.
Tonight there will be little open water.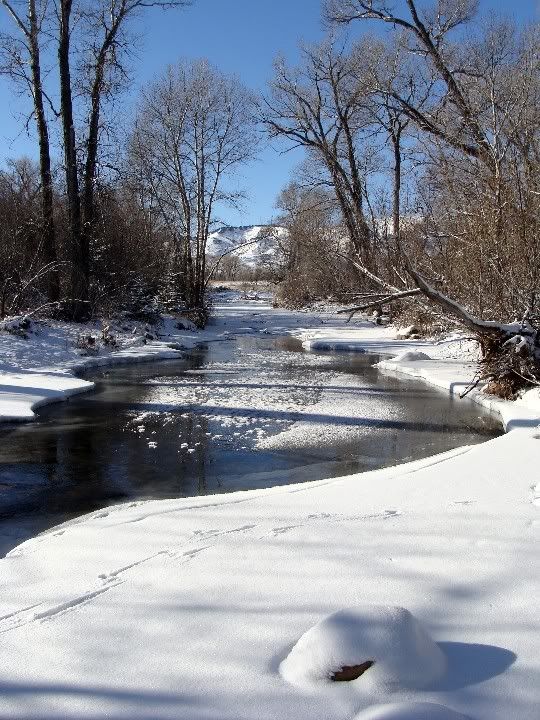 January 6th
A grey, grey day.
What possibly could there be to see?
Indeed the creek has frozen over.
Indeed.
January 7th
The frigid air is gone. Not too cold.
By Wyoming standards. And sunny, too.
I set out for the rocky bank of Clear Creek
Tucked underneath Bald Ridge.
Sometimes, when there are rocks available,
I avoid stepping on the snow.
For the next person.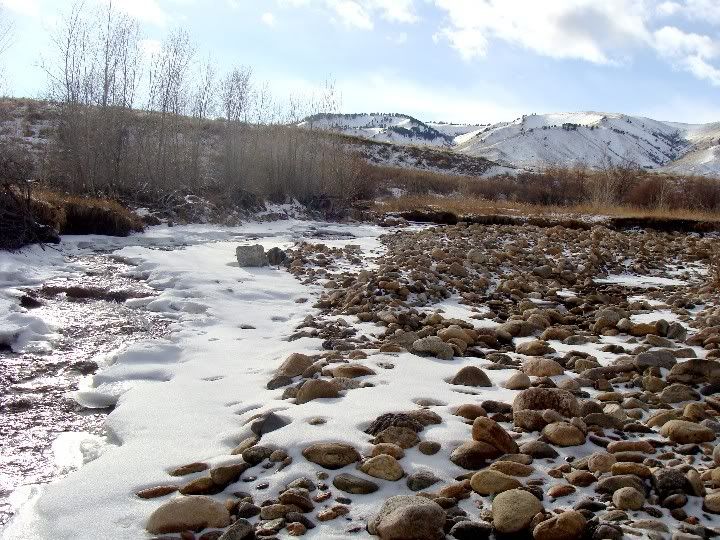 In winter, I can sit on a rock by the edge of the creek
And watch the water swirl under the thin ice.
It is like a kaleidoscope.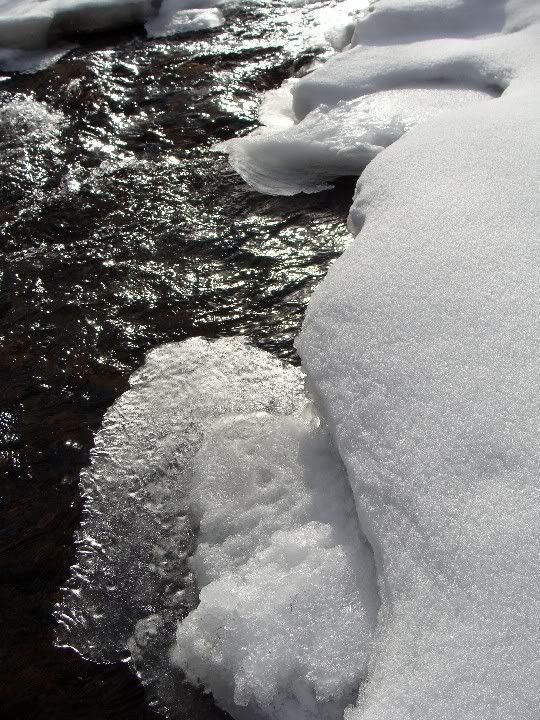 January 8th
Warmer still and I am off to the upper creek.
Wedged against Bald Ridge, it is a cooler environment.
Pines predominate instead of cottonwoods.
The south bank sees no sun for six weeks.
I hop cautiously.
Even though the sun may not visit,
The creek cascades with greater speed.
The ice is thinner and more varied.
In places, it is sculpted by an unseen hand.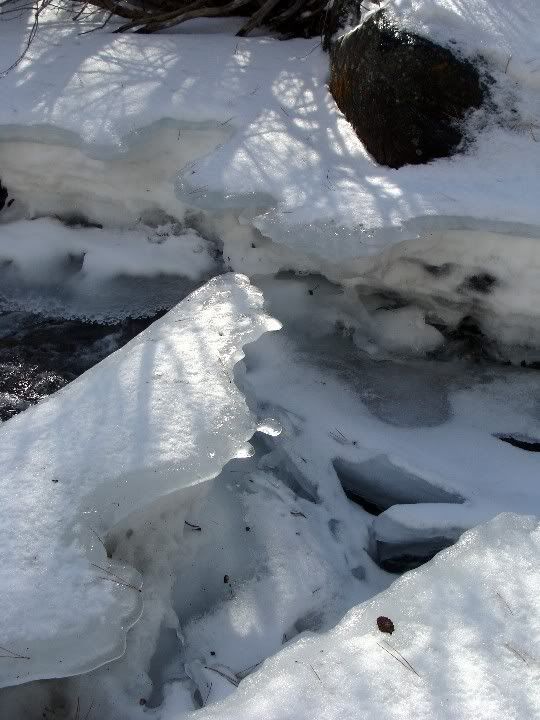 After lunch I head east of town.
Here Clear Creek slows down to flow through a rich valley
Bordered by the Red Hills.
January 9th
I decide to go tromping up the North Fork in the Bighorns.
Not a smart idea.
Not enough snow to ski.
Too much for boots.
I never cease to be amazed that Clear Creek
Supports three ecosystems so close together.
January 10th
A January thaw is not unusual.
But one would be foolish to think that winter was over.
Even the ground under my feet tells me so. It is hard and frozen.
A few days of voluptuous sunshine will not fool the earth.
January 12th
Winter has returned again.
Dry snow and wind.
Has anyone mentioned the Wyoming Wind Festival?
It runs from January 1st to December 31st.
When the wind blows hard in winter, you grit your teeth.
You can curse and holler and scream,
But the wind always wins.
Only in Wyoming can you see the wind.
It pastes snow on one side of the trees.
It shapes the snow into sinuous crescents.
Crusty and hard and dry.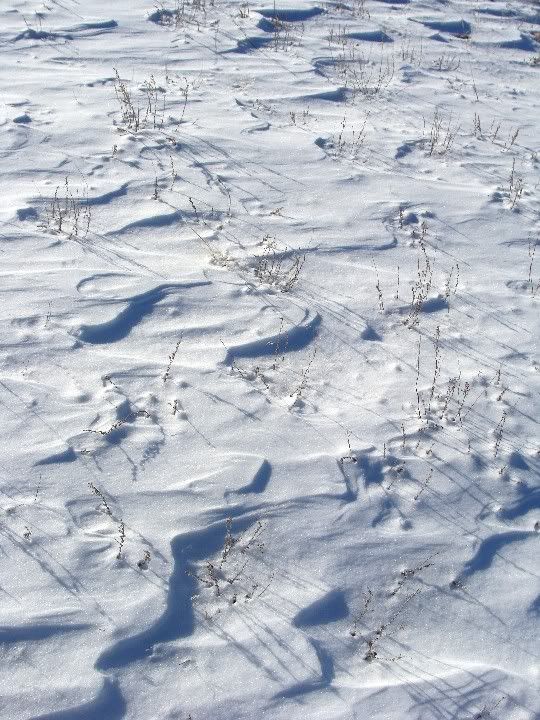 And yet, when the wind subsides,
The beauty of winter returns.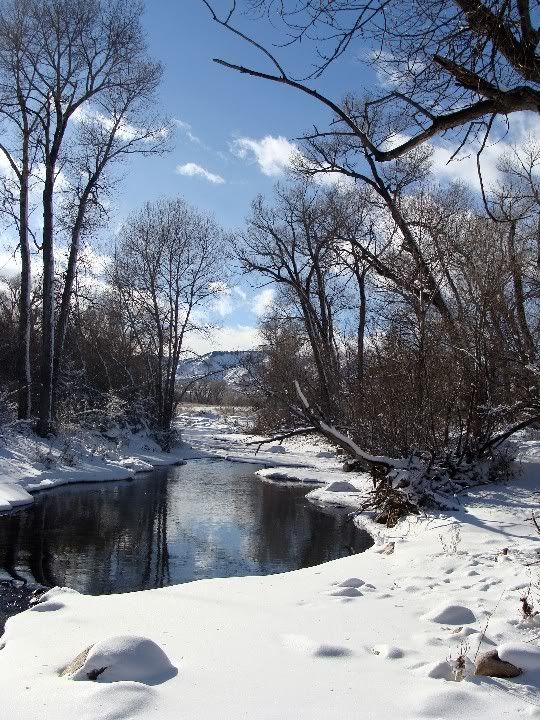 January 13th
Another day out on Clear Creek.
No job. No money. But hey!
Why not enjoy it, right?
Today the upper creek calls.
Huge boulders and deep shadows.
I see ski tracks and dog prints
running the entire length of the creek.
My curiosity is piqued. Who is this person?
I haven't seen another person on the creek all month.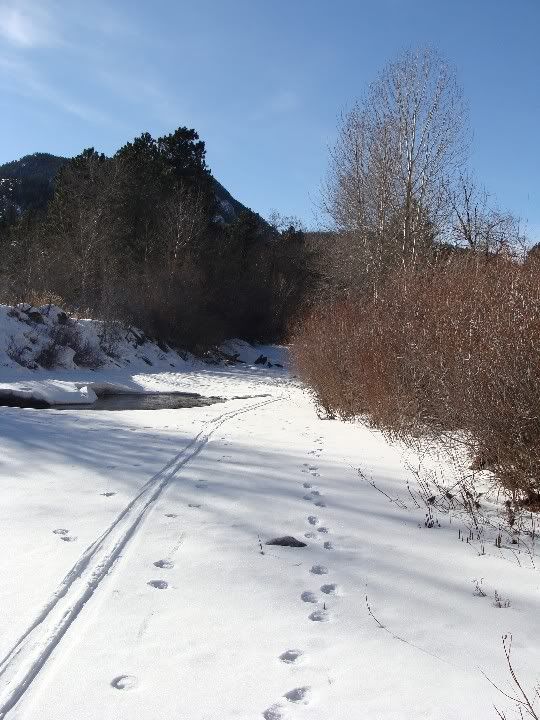 January 15th
Snow beautiful snow. Champagne powder.
I grab my skis and rush out for a day of exploring.
Buffalo has relatively dry winters –
So the snow is rarely deep enough for cross-country skiing.
It isn't Jackson or Aspen, but who would want it to be?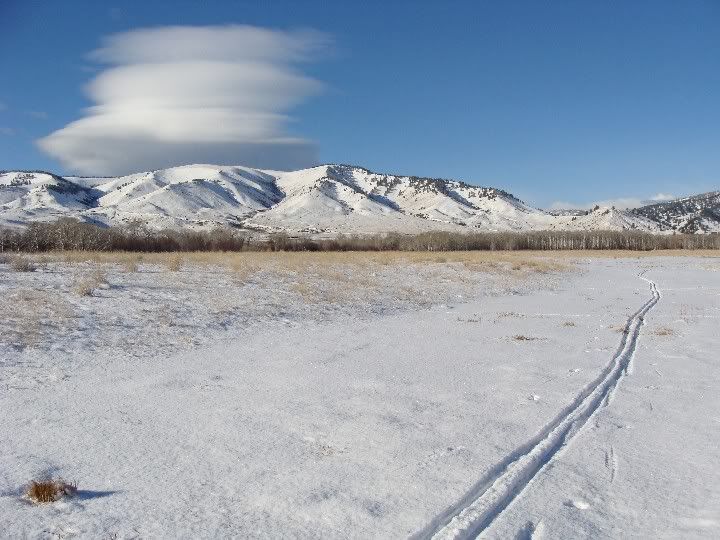 I head out onto the state land behind the veterans' home.
A thousand acres of open land right in town.
A corridor from village to mountain.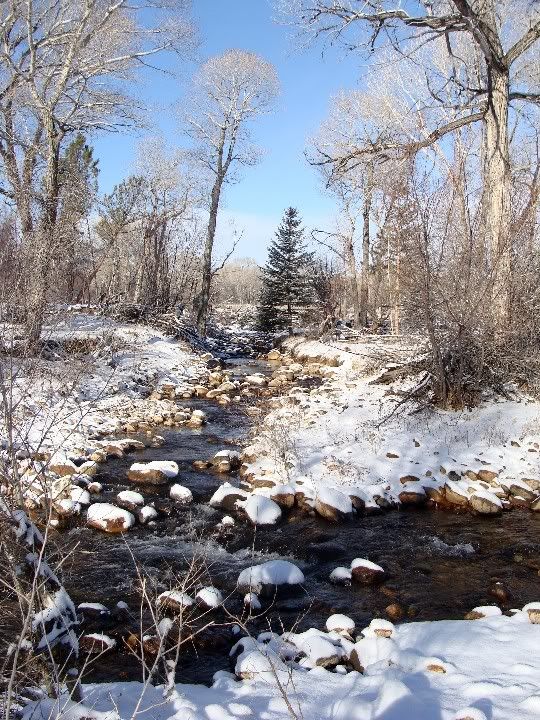 I ski through the fields under a dome of blue sky.
Aspen groves. Tributary draws where the snow is deep.
My destination – Clear Creek.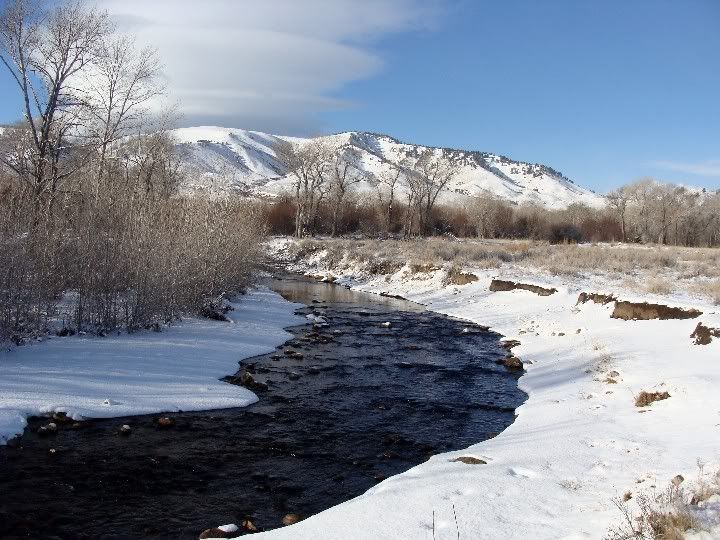 January 16th
Warm again. Time for boots.
I stick to the trail in town.
Well, kind of. I have to get down onto the creek.
The plates of ice have cracked and smashed against one another.
Plate tectonics.
January 17th
Fear. That's a better word than anxiety.
Does the water still soothe?
Is the landscape as captivating?
Or does the inner landscape obscure the outer?
Sunshine. Bright blue skies.
I see my ski tracks from a few days ago,
But my mood is far different.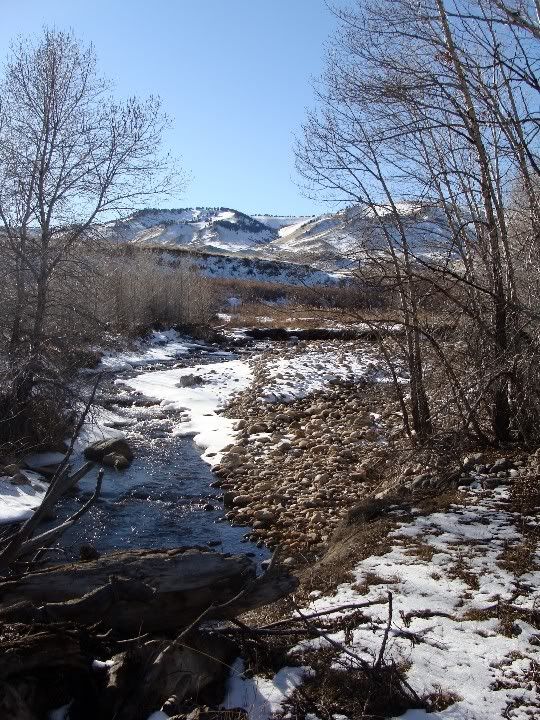 So I will try to look and listen and smell.
I sit on a boulder a bit back from Clear Creek
To get the full sun and to block the wind.
The cascade in front of me splashes with abandon.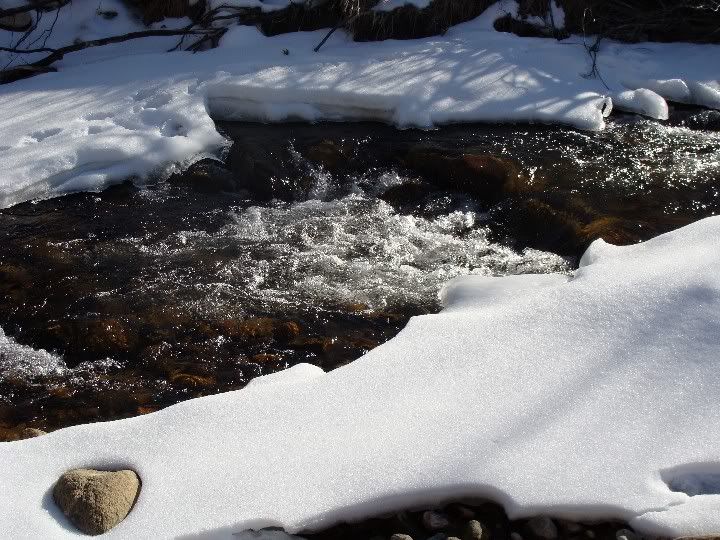 I am here alone. I can hear no sound –
Other than the rush of the creek and the stir of the wind.
At first, I imagine that I smell nothing.
Then I realize that I smell absolutely clean air
With a hint of damp earth soaking in the January thaw.
The sun bakes me in my little nook –
Bouncing off the pools of meltwater.
And as the sun drops lower,
It releases the diamonds hidden in the snow.
January 19th
My breath is taken away.
In the midst of winter there is a creek bank clear of snow.
An island of warmth amidst the ice.
The sky above is a sapphire bowl –
The green of the pines a welcome sight in January.
The creek bank rises steeply –
Round rock piled upon round rock –
All rolled down from the heights
During some ancient deluge.
Thin sheets of ice cling to rocks in the creek.
Paper thin ice.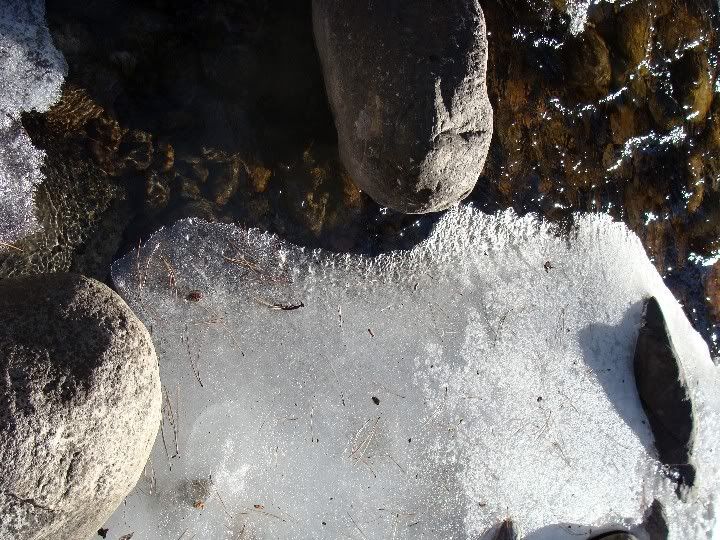 Does anyone enjoy sitting on boulders and listening to the water any more?
January 20th
Oh, boy. Another adventure in the mountains.
Skis, water, snacks, camera. Check.
I never knew that I took antelope for granted.
They are everywhere around Buffalo.
In winter, south-facing slopes often stay free of snow.
But when I went to teach in Kansas,
I soon realized what I had left behind.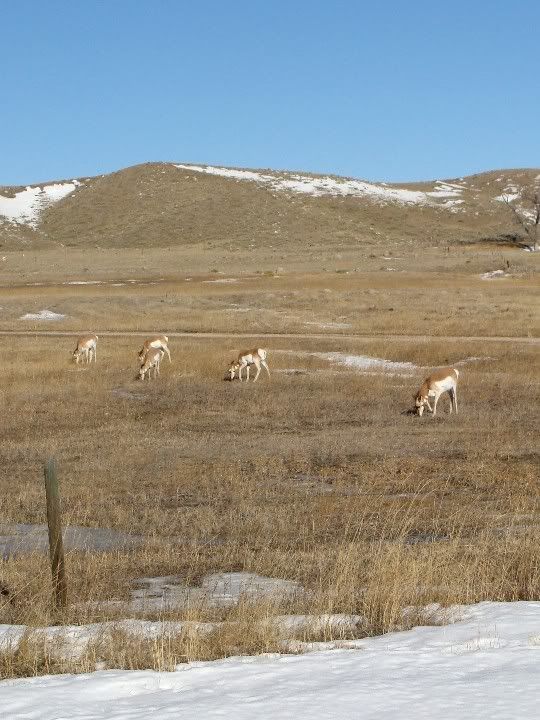 A Tuesday. Nobody around. 50 degrees at 8000 feet.
I left my jacket in the truck – just a sweatshirt.
(By the way – it's tricky working the timer on skis.)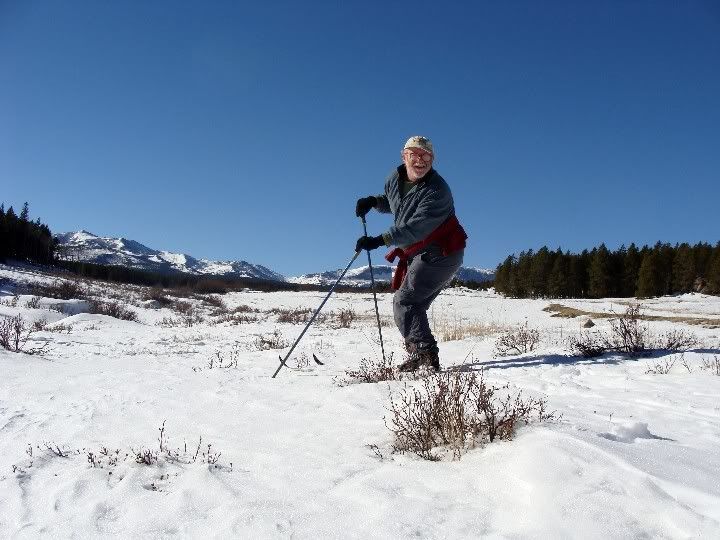 Still a few thin patches of snow.
I've never been able to do the splits,
But when one ski sticks, I come close.
A small price to pay for paradise.
Are you aware that aspens are socialist trees?
Yes, indeed. They are a cooperative species.
In fact, an entire grove is one living thing.
So the aspen, not the sequoia, is the largest living organism on earth.
And notice - snow melts more quickly around the tree trunks.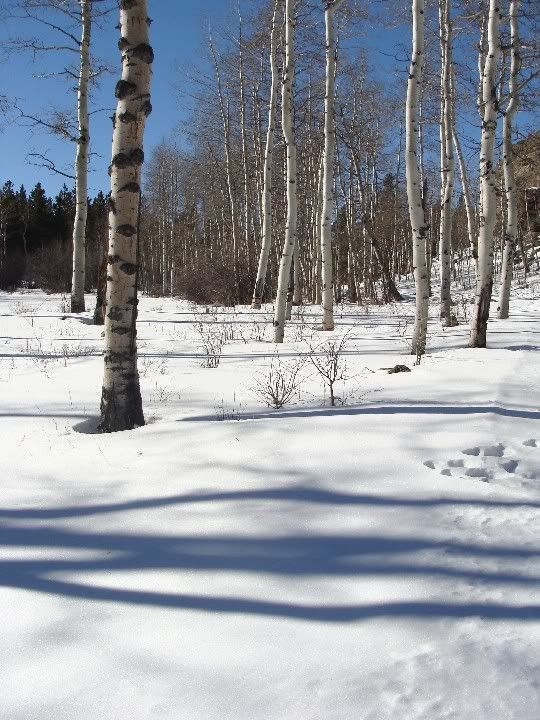 I get to the rocks overlooking Circle Park. Wow!
The high country of the Bighorn Mountains.
The source of Clear Creek. Snow, lakes, springs.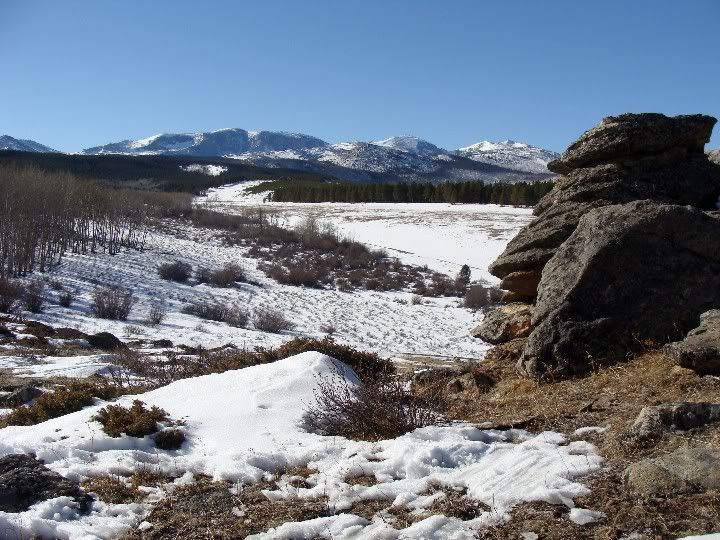 But wait! There's more!
I couldn't resist stretching out in the sunshine.
On the rocks. At 8000 feet. In January.
And snoozing.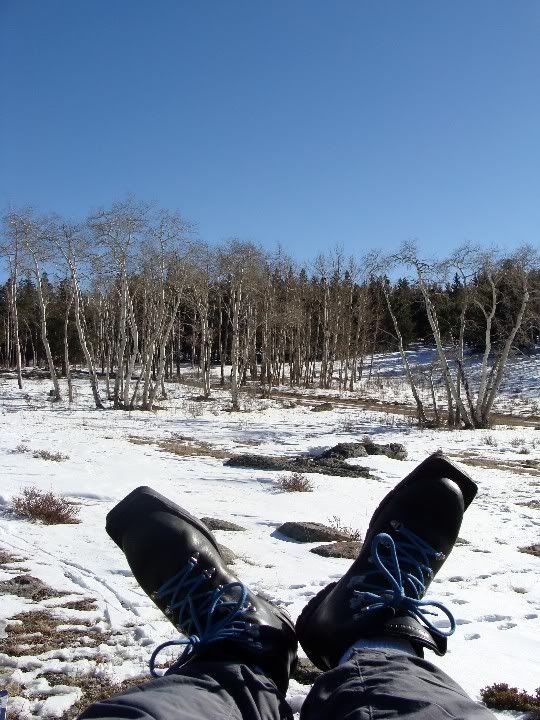 January 21st
The January thaw is going to last one more day.
Gotta get the most out of it.
Where to go?
How about a place that I last visited in the cold and snow?
No skis today. Just hiking boots.
The snow is almost completely gone.
What's left is soft and fragile.
I see perfect wild turkey tracks left in one patch.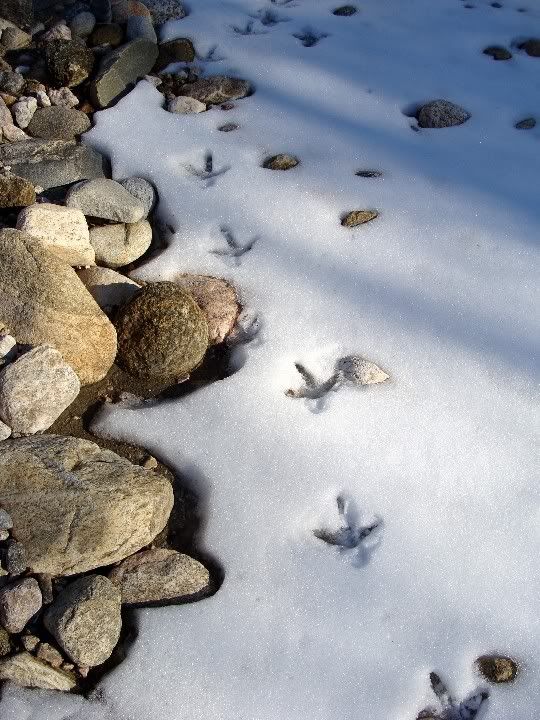 I continue my bad habit of sitting on rocks and just sitting.
Then I decide to imagine shapes in the melting ice –
Like looking up at clouds in the summertime.
Do you see the eagle?
January 23rd
Whew! Bitter cold. Maybe one above.
A good friend sees me walking down the road.
He offers me a ride.
I tell him I am heading out onto the creek.
He gives me a "knowing" look.
But there's plenty to see.
I want to see the ice forming.
I want to see its new shapes and patterns.
I want to see how it grows out from the rocks.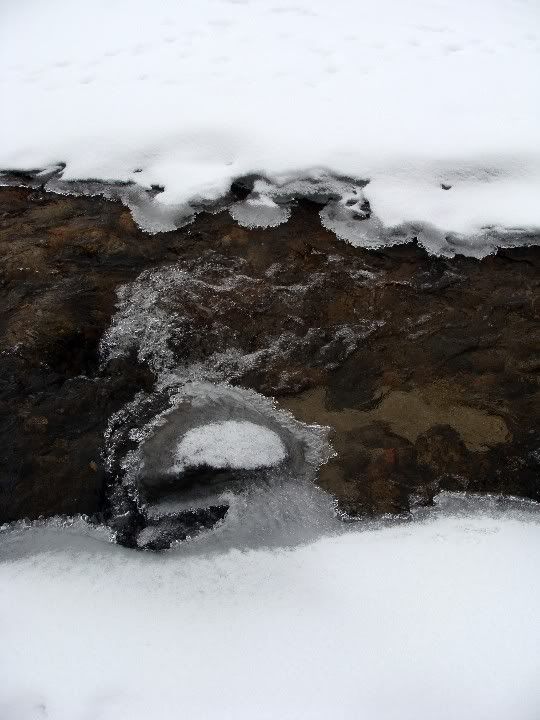 At a bend in the creek it is almost completely iced over,
Where it had been open only yesterday.
The current is visible under the ice.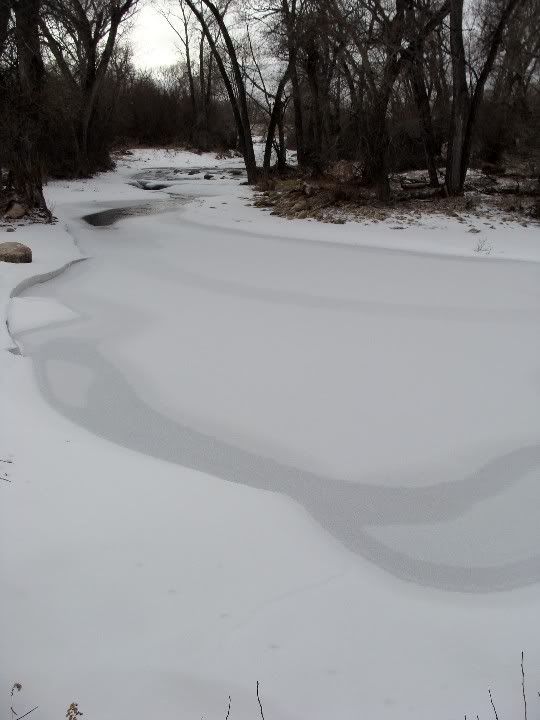 January 26th
Still bitter cold.
It's supposed to get above zero today.
There is very little open water left.
Each thawing and freezing makes ice layers on the creek,
Almost like the geologic layers of Grand Canyon.
And the freeze-up was so quick –
The temperatures dropped from 60 to minus 10 –
That fresh rime bearded the edges of the new ice.
Ruffled borders of delicate crystals.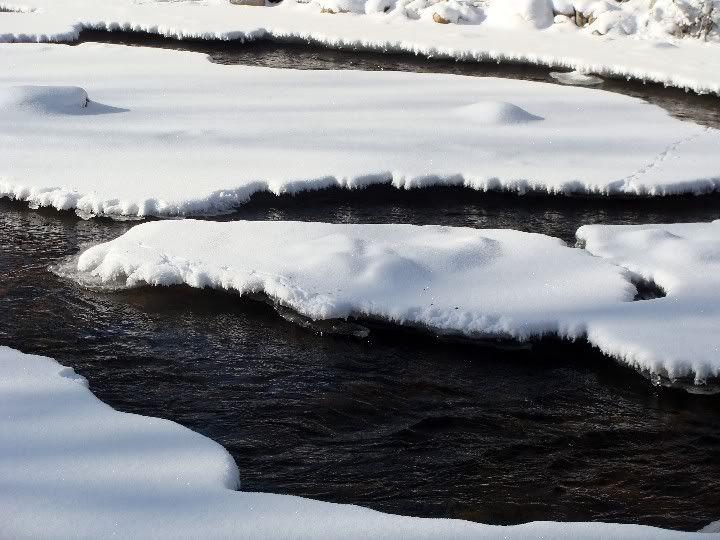 I don't hesitate to walk out into the middle.
Of course, I use a stick and follow deer trails.
I may be foolish, but I am not that foolish.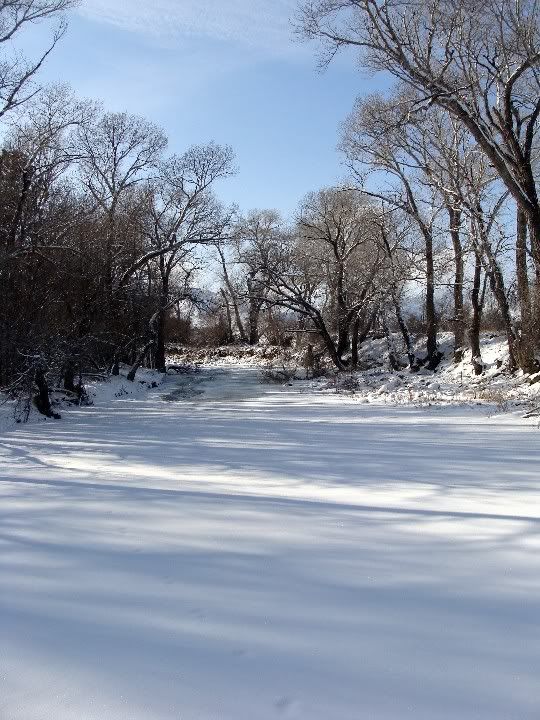 January 27th
I think it is just warm enough – just warm enough –
To go up to the mountains and ski.
Fresh snow, no wind, sunshine.
Not only was it warm enough, conditions were ideal.
Sometimes you slog through sticky snow.
And sometimes you fly over silk.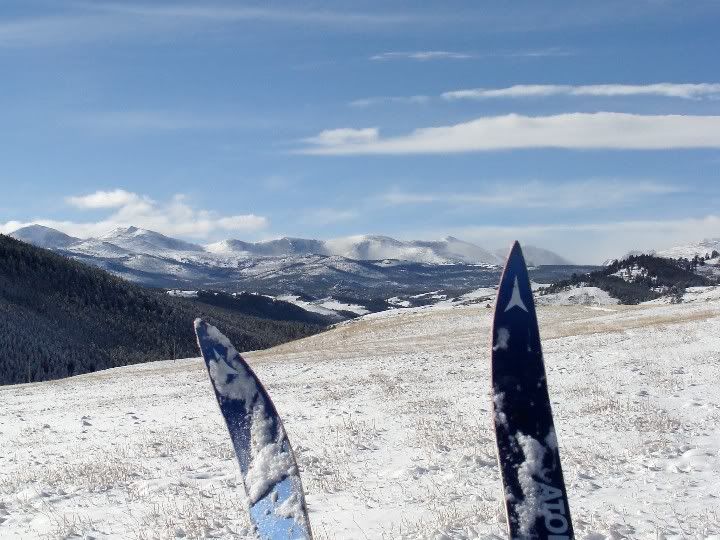 Five months from now this snow will water a field of wildflowers,
But today it covers the earth in a blanket of silence.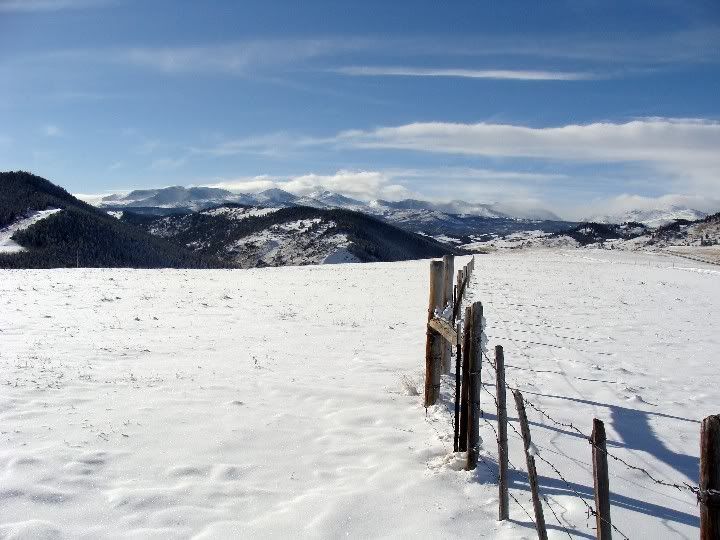 Even in the mountains, south facing slopes are often bare,
While near the water tank the snow is three feet deep.
It makes for tricky skiing, but it is essential for wildlife.
January 30th
Warm then cold, then warm again.
Time to explore the upper creek again.
The sun is higher now. The creek is opening.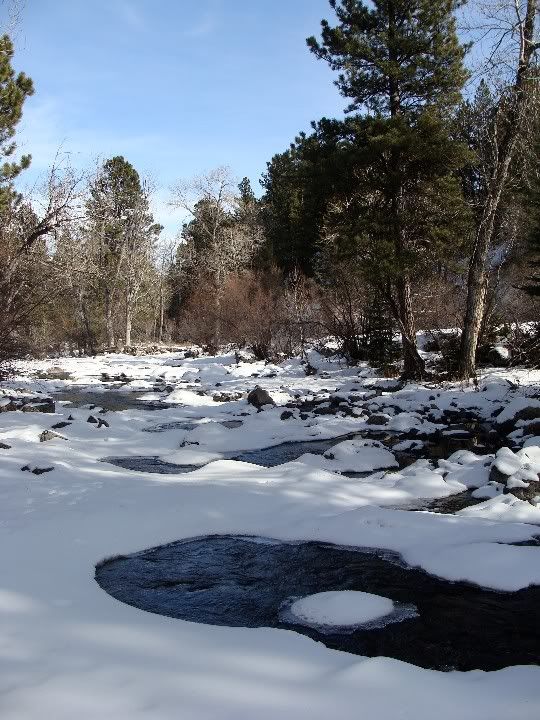 But it is still January. February is yet to come.
The layers of ice are testimony to the flux.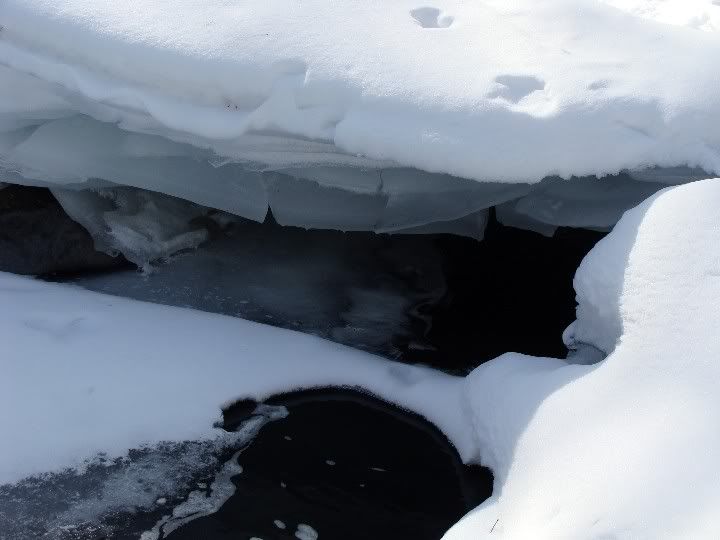 February 2nd
Midwinter.
If bright sun early in the morning means more winter,
Then we will be getting six weeks more.
The rest of the day was leaden.
I went out east of town to help a friend on a ranch.
Clear Creek flows through the ranch –
So, of course, once I finished I had to explore.
Clear Creek slows to a meandering pace in the Red Hills.
In winter it freezes over almost completely.
Then it is topped with an insulating mantle of snow.
Still you can see where the main current flows.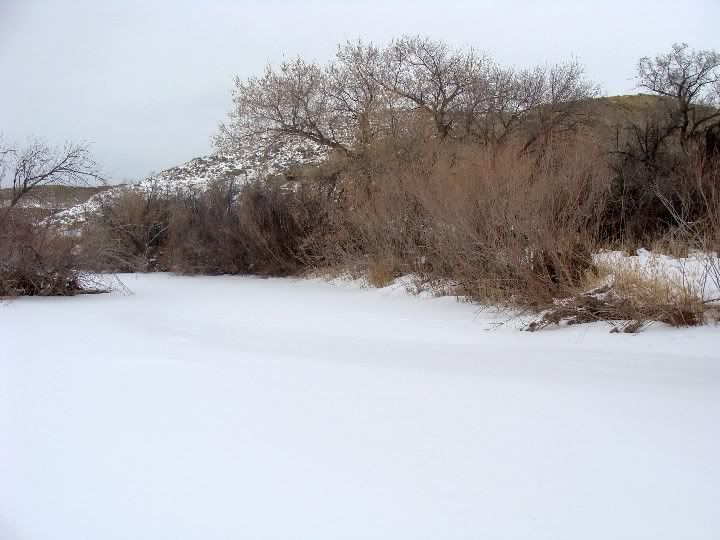 Trigger was wondering what I was up to.
I wasn't there to feed him.
I wasn't there to ride him.
Turning back, I saw the clouds begin to break in the west.
With each passing day the sun would climb higher in the sky.
Although there would me more snow and cold, for certain,
The balance was shifting.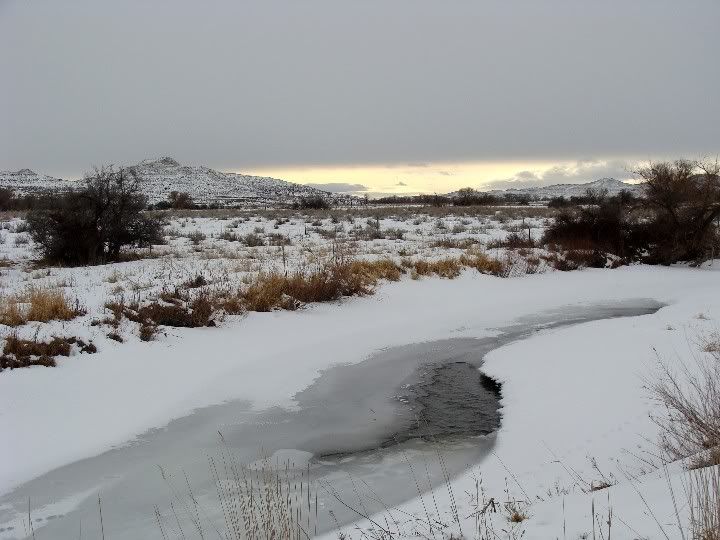 For thousands of years, humans have known this.
We can still know this – if we choose.