I was taking a random walk through the eVerse, and like any walk lacking a destination I didn't wander far from the dKos lamppost. I meander a bit between snarky comments and following the musings of my good friends here and this day I found myself, perchance, reading an interesting article in the New York Times on number crunching. Not a particularly engaging topic for wonks, one might think. But, on this day it has some significance...

Crunching the Data for the Tree of Life
by CARL ZIMMER
More if you'd like...
While the article by Mr. Zimmer was quite interesting, I found that one of the embedded links in the story was a gateway to some fascinating other websites. The following quote will give you a taste of the content.
"Just like Google Earth changed the way people look at geography, a sophisticated tree of life browser could really change the way we look at the life around us," said Mark W. Westneat, the director of the Biodiversity Synthesis Center at the Field Museum in Chicago.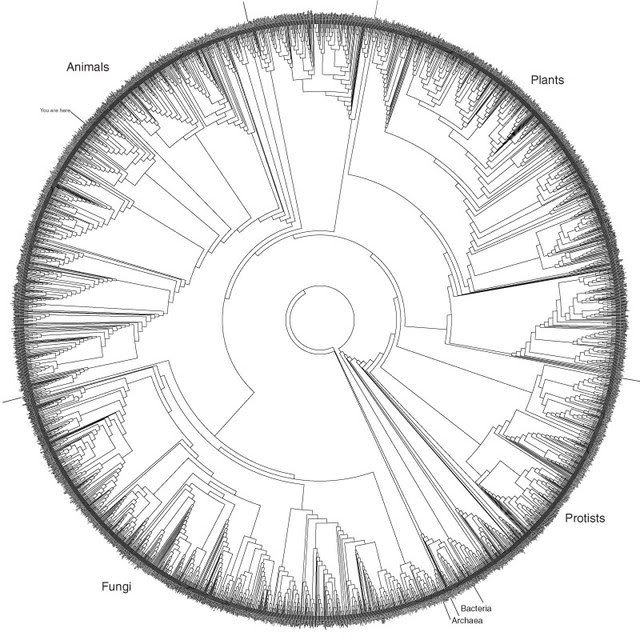 Tree of Life
It may be a little hard to read in the graphic above but liberals, progressives, and even some Republicans can be located in the upper Left (see below). Of course, the rest can be located two slots to the north.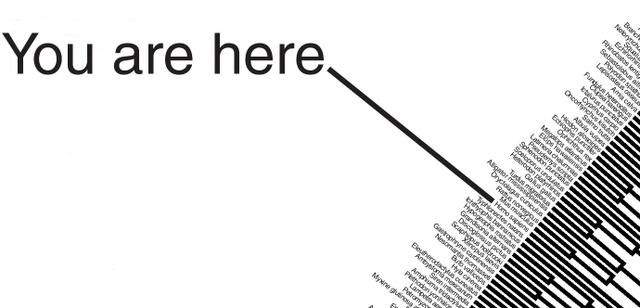 Tree of Life
This file can be printed as a wall poster. Printing at least 54" wide is recommended. (If you would prefer a simplified version with common names, please see below.) Blueprint shops and other places with large format printers can print this file for you. You are welcome to use it for non-commercial educational purposes. Please cite the source as David M. Hillis, Derrick Zwickl, and Robin Gutell, University of Texas. About this Tree: This tree is from an analysis of small subunit rRNA sequences sampled from about 3,000 species from throughout the Tree of Life. The species were chosen based on their availability, but we attempted to include most of the major groups, sampled very roughly in proportion to the number of known species in each group (although many groups remain over- or under-represented). The number of species represented is approximately the square-root of the number of species thought to exist on Earth (i.e., three thousand out of an estimated nine million species), or about 0.18% of the 1.7 million species that have been formally described and named. This tree has been used in many museum displays and other educational exhibits, and its use for educational purposes is welcomed.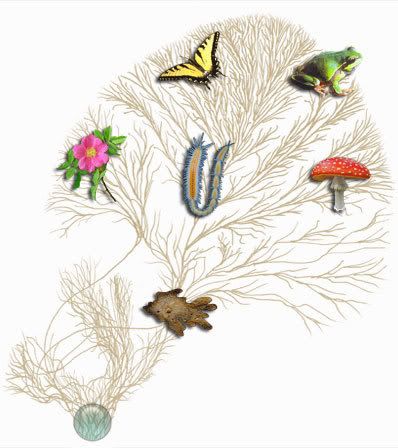 The Tree of Life Web Project (ToL) is a collaborative effort of biologists from around the world. On more than 10,000 World Wide Web pages, the project provides information about the diversity of organisms on Earth, their evolutionary history (phylogeny), and characteristics.
Explore the Tree of Life
Update
snafubar has a great diary on a related subject here.